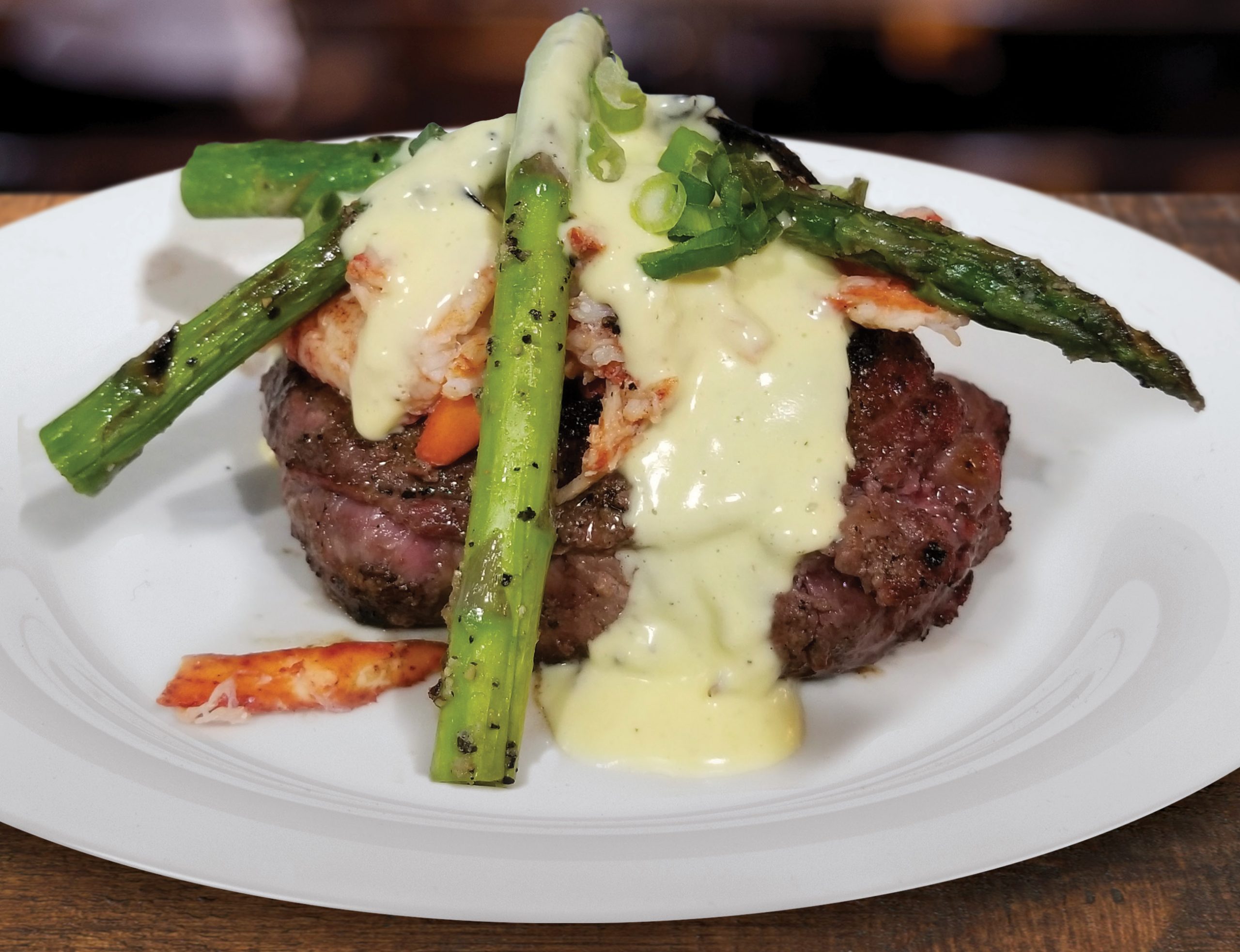 Downtown Buford's premier steakhouse is a "40-year dream fulfilled" for owners Buddy and Gale Maughon
By: Lizzy Kidney | Photos by Raye Baldwin
At 80-years-old, Master Meat Cutter Buddy Maughon takes great pride in preparing the meat each day at Bare Bones Steakhouse. With the help of his son, Buddy hand-cuts each of the steaks to be served later that day. From ribeyes, filets, and strips to massive tomahawks and porterhouses, Buddy's passion and precision are ingrained with each cut of his knife.
"It was a 40-year dream of mine to open a steakhouse," Buddy says. "I wake up every morning and still can't believe it. The community has been so supportive and has helped exceed all of my expectations."
Buddy, along with the help of his wife, Gaye, was able to make his dream of running a steakhouse a reality when they opened Bare Bones in 2015. When asked what inspired the restaurant's name, Buddy says he wanted all of his customers to leave with the bones on their steaks bare. And since opening, Bare Bones has spoiled patrons with its prime-grade cuts of meat, considered by many to be some of the best steaks in town — steaks so delicious it'd be a shame to leave anything on the bone.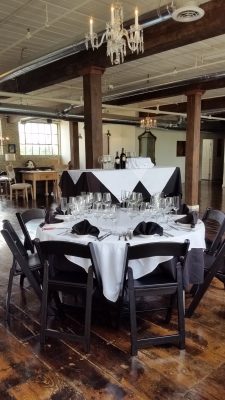 Located in the Bona Allen building in downtown Buford, a former harness and saddle factory dating back to 1873, Bare Bones is filled with nods to the building's rich history, showcasing artifacts, photos, newspaper clippings, and even original saddles produced at the factory. The restaurant's historic vibe is further highlighted in the large wooden beams, exposed brick, and restored hardwood floors throughout the space. The casual atmosphere provides restaurant patrons with what the owners describe as the "common man steakhouse." And although the surrounding community continues to grow, the restaurant maintains a charming small- town feel.
In addition to creating an inviting gathering spot, the Maughons have worked hard to build a family-oriented business — the couple brought on their son Michael as general manager and Gaye's sister, Raye, as head of operations. "Thanks to our family and incredible employees we feel comfortable taking a step back," Gaye says. "Our kitchen staff runs so smoothly for a restaurant this size, and the employees are truly unbelievable."
Bare Bones' menu boasts delicious classics while also putting its own twist on Southern favorites. The team prepares all of the menu items by hand, including the sauces, like the house-made catsup, red wine demi-glace, and B1 steak sauce.
Although menu items change depending on seasonal ingredients, there are a few favorites that have been mainstays since the restaurant opened. One of the most popular is the onion rings appetizer. The rings are piled high on the plate, finished with a drizzle of local Georgia honey and SarVecchio Parmesan cheese. Chili flakes give the onion tower an unexpected but welcome kick. Another crowd favorite is the house-made pimento cheese, a must for any Southern menu, served with homemade crackers.
It's the USDA prime steaks, however, that keep customers filling the seats. From the New York strip to the Tomahawk, all of Buddy's hand-cut steaks are cooked to perfection on the wood-fire grill. For those who want to add a little something extra, restaurant patrons can request for their steaks to be bleu cheese encrusted, blackened, or topped with roasted mushroom, grilled shrimp, or Cajun shrimp alfredo.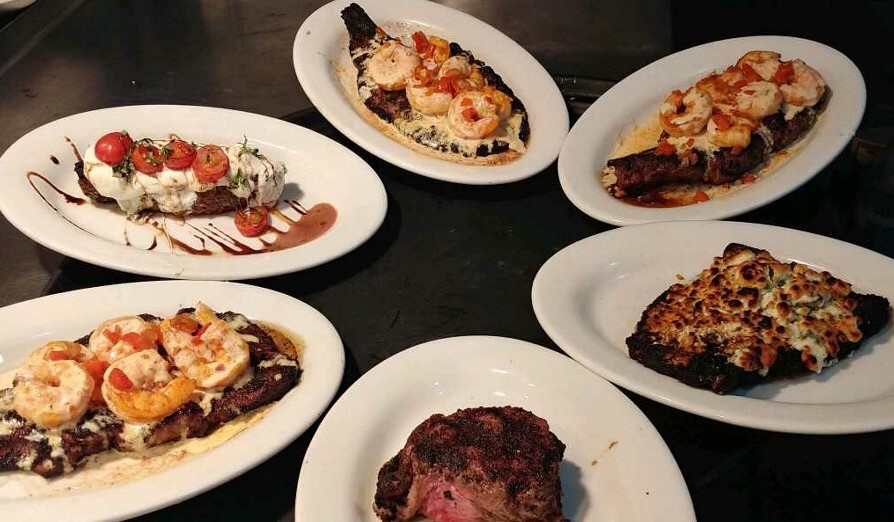 For the non-meat lovers in the group, we recommend the kale Caesar salad with massaged green kale, garlic oil, lemon juice, bread crumbs, grana cheese, red pepper flakes, and Caesar dressing. Another popular salad on the menu is the Iceberg Wedge, featuring bacon and bleu cheese topped with spiced Georgia pecans, grape tomatoes, and chives.
If the appetizers, steaks, and sides don't fill you up, the dessert menu certainly will with decadent standouts such as the Bananas Foster with spiced pecans, Italian meringue, brown sugar, and a spiced rum butter sauce. The Crème Brûlée shines with fresh strawberries, house-made whipped cream, and chocolate sable.
To top off your meal, Bare Bones' bar boasts one of the widest selections of bourbon, beer, wine, and cocktails in the area. The BB Tini features chilled vodka infused with fresh peaches and pineapples. Another boozy favorite is Mikey's Barrel-Aged Old Fashioned, made with Buffalo Trace bourbon, oranges, cherries, bitters, soda, and simple syrup.
While the food is truly the focus at Bare Bones, Buddy and Gaye know they wouldn't be the success they are without the community's support. "We truly owe our corporate and community customers a huge thank you," Buddy says. "They are a big reason why we love what we do."
In return, Gaye and Buddy are dedicated to giving back to their beloved community. "We try to support the local schools and the sports teams here in Buford," Gaye says. "We are big supporters of the local museum, Annandale Village, and we also sponsor the Gwinnett Gladiators and the Georgia Swarm."
With the historic atmosphere and delicious menu, along with Buddy and Gaye's palatable love for what they do and the community they inhabit, there's no doubt that Bare Bones Steakhouse will continue to be a favorite dining spot for years to come.
Bare Bones Steakhouse is located at 115 E. Main St., Buford. Call 470-266-1890 for reservations (recommended). barebonessteakhouse.com.