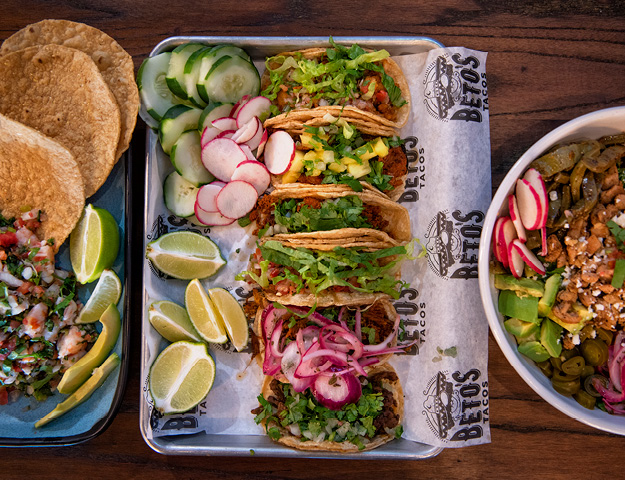 Authentic Mexican street-style tacos on the streets of Suwanee
By: Natalie Stubbs | Photos by Karl Lamb
There's one word to best describe Roberto "Beto" Correa – and that's passionate. Beto, nicknamed by his parents, is the owner and executive chef of Beto's Tacos in Suwanee. Beto's experience in Mexican cuisine and hospitality is anything but minor as he also owns Fusion Catering, where his team caters up to 35 events each week. Back home in Mexico also exists two more restaurants owned by Beto for 30 years now — Tex Burger and Tex Jr. — which are currently being managed by his two sons. Beto's Tacos serves as his newest business venture, which officially unlocked its doors on Lawrenceville-Suwanee Road on May 28 and has been excelling every day since.
When considering opening a restaurant in Georgia, Beto asked himself how he could share a piece of his culture and achieve a sense of "street tacos," just like the individual taco stands traditionally situated on the streets of Mexico. In an effort to replicate this authentic style of selling tacos, Beto decided to maintain a very open atmosphere, particularly including the kitchen, so customers could be a part of the experience. "I want people to see us cook and prepare. I want people to see their food and smell it. And if we're doing something wrong, I want to fix it," explains Beto.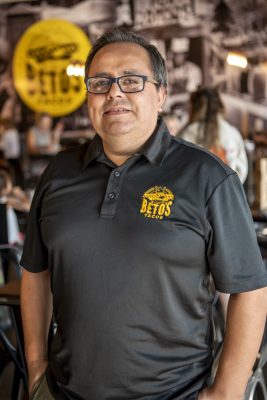 Beto's Passion
Beto's passion for food stems from his appetite (no pun intended) to never stop learning about the craft and cuisine. He originally moved from Mexico to build on his culinary education, but still invests time to travel back to Mexico (and all over the United States!) so he can continue learning new trends, techniques and to try new things. Guests of the restaurant benefit from his research and experiences as they have a vast menu of items to choose from, including 16 different tacos, a significant assortment of tortas (sandwiches), nachos, soups, burritos, and traditional main dishes, such as enchiladas, quesadillas, and loaded tostadas (toasted tortillas) to name a few. All of which can, of course, be paired with sides, queso, and a few of Mexico's favorite desserts. You'll also find that all of the ingredients are made or delivered fresh daily, and you won't find a freezer or microwave on site — which is evident when you take your first bite!
If you ask Beto what he recommends trying, he'll encourage you to taste one of the tortas as it's something he promises you won't find anywhere else! These sandwiches begin with your choice of meat: carne asada (grilled steak), pastor (marinated pork), chorizo (Mexican sausage), carnitas (pork), jamón (ham), pollo asado (grilled chicken) or vegetarian (queso fresco and avocado). Then, they're piled high with lettuce, white American cheese, tomatoes, onions, pickled jalapeños, chipotle mayonnaise, and a refried bean spread before being sandwiched between two pieces of toasted bread. The dish is a handful (quite literally), but you certainly won't regret the incredible combination of flavors these ingredients bring together!
To top off your meal, Beto will then guide you over to a self-serve area where you can choose from four different salsas, with flavors ranging from mild to smoky to extremely hot. There are also additional toppings available in this area, just in case you're missing a touch of sour cream, pickled onions, or slices of lime or cucumber. To wash it all down, Beto has made sure to offer more value and authenticity to your dining experiences with five different aguas frescas (fruitbased refreshments): strawberry, pineapple, tamarindo, mango and horchata (made of rice, milk, vanilla, and cinnamon). If you're looking for more of an American staple, you will also find a soda machine, sweet and unsweet tea and six local craft beers on draft.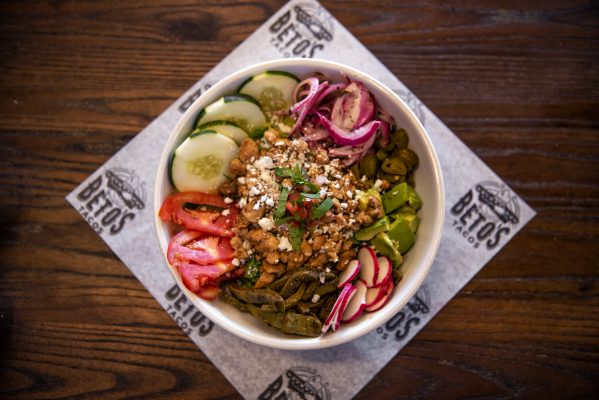 You can bet that Beto's passion absolutely does not stop at food. You can see it beaming through his welcoming smile as you walk through the door, and you can feel it radiating through each of his staff members. He proudly enlightens: "Business is more about people. Every night I think about what I can do better the next day and I get excited to get up again. Every morning I get to work and inject a good feeling into my team — positive energy. My workers are engaged and having fun with the customers. I empower them every day and instill value into them. I tell them, 'You're alive, my friend; you have another chance. Let's make it count.'"
As part of the overall experience, another one of Beto's main priorities is to offer a space comfortable and inviting for anyone and everyone, whether you're eating lunch alone during the work week, coming with friends to watch a big game on the weekend, or enjoying a casual dinner with your family. He's proud of this environment he's created and is overjoyed with the overwhelming amount of positive response from the community. His enthusiasm and appreciation are not only humbling, they're also encouraging for customers and fellow business owners in the Suwanee area. "I'm really happy. God put everything in line and made my dream come true," he says. "When managers from competing restaurants come in for lunch three times a week and say they enjoy the food, when we show the Atlanta United game and it's packed, when we make 6,000 tacos because the grand opening is so busy, I ask myself, 'Is this true? Is this still a dream?' I don't want to wake up from this dream. I'm still super, super excited."
Beto's Tacos is open daily from 11 a.m. to 10 p.m. The restaurant is located at 3463 LawrencevilleSuwanee Road. Visit BetosTacos.com for more information.