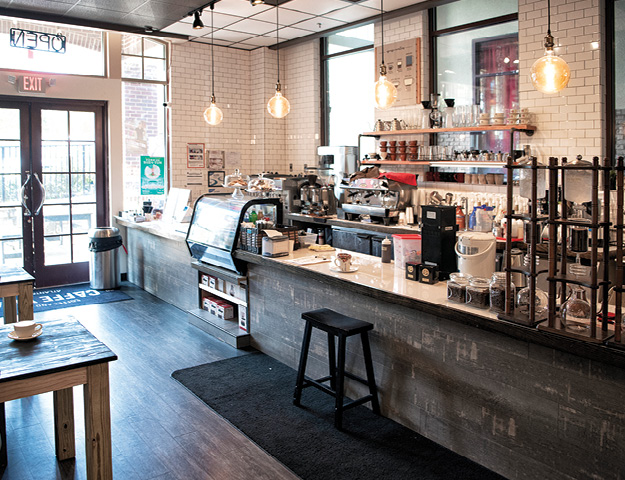 Suwanee's newest coffeehouse serves up handcrafted coffee drinks alongside a curated breakfast, brunch and lunch menu at Town Center.
By: Alicia Carter | Photos by Karl Lamb
Located in Suwanee Town Center, Cafe Amico greets its guests with the strong and satisfying smell of fresh espresso as it swirls together with the sweet flavors of caramel, vanilla, hazelnut and cinnamon, among others, to create the flavorful, and oftentimes playful, drinks it's known for. The decor exudes comfortable coffeehouse cool but with a clean and sophisticated edge. Crisp white subway tile covers the rear wall, a stark backdrop to the kinetic energy behind the bar. Large Edison bulbs hang overhead, illuminating decorative beakers that share space with the handcrafted lattes and frappes waiting to be picked up — the latter of which are especially refreshing on this hotter-than-usual autumn afternoon. There's a steady stream of customers ordering drinks to-go with a few guests sprinkled among communal tables enjoying lunch as they click away on their laptops. Outside, window shoppers stroll by as groups of children run through the fountains in the park. It's truly an ideal setting.
Originally opened in October 2018 under the name Cafe Vita, the Suwanee coffee shop and restaurant is the second location for Cafe Amico, but the first in the United States. The original location is in South Korea, and Korean touches can be found throughout the Suwanee menu, including the Korean BBQ sandwich. Since opening last year, Cafe Amico went through a total rebranding process this past May. Owner Andy Chon revamped the drink and food menus with brand-new offerings, including stand-outs such as the avocado toast and classic B.L.T. alongside indulgent drinks like the crème brûlée latte and signature hot cocoa served with a cornucopia of toppings — but more on that later. Even after completely overhauling the menus, Chon teases that it's only the beginning.
Always one step ahead, Chon says Cafe Amico will soon begin roasting its own coffee beans in-house. The shiny new coffee roaster, handmade in Turkey, sits proudly at the end of the bar patiently waiting to begin roasting Cafe Amico- branded coffee beans this November. In addition, Chon is working to expand the menu from its current breakfast, lunch and brunch repertoire to include dinnertime staples like pasta and steak. Expansion into multiple locations is also a topic of conversation. While the future of Cafe Amico certainly looks bright, it's safe to say the restaurant is also enjoying a rather successful present.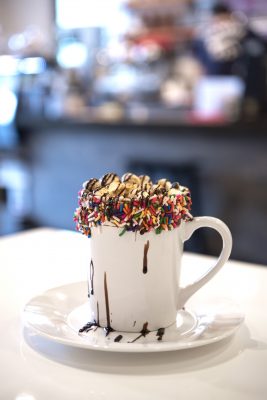 The Goods
Cafe Amico prides itself on using only the most high-quality ingredients. Everything is made in-house with absolutely no pre-made ingredients to be found. In fact, Chon personally visits the market each week to hand-select all the ingredients to be used. While great emphasis is placed on the visual appeal of each dish served — and they are indeed beautiful plates of food — Chon stresses that it must also be the best tasting food possible.
The menu features a rainbow of ingredients: bright green avocado slices shine against crunchy slices of toast; red tomato sits atop a salad of fluffy arugula; and bright yellow cheese peeks out of a sliced croissant on a nostalgic ham and cheese sandwich. Breakfast items are served all day so it's never too late to pop in for the Amico Special. Featuring two runny eggs, arugula, tomato, balsamic glaze and your choice of meat on a croissant, it's perhaps the perfect dish to pad your belly after a late night out. In the mood for something more sweet than savory? You can't go wrong with the popular fruit cronut — a croissant-doughnut hybrid sliced in half and topped with strawberries, peaches and more.
Unique Drinks
While the food menu keeps customers' tummies full and happy, the drink menu is what truly keeps them coming back time and again. The signature menu is home to drinks unique to Cafe Amico, including the Ho Chi Minh City, made with espresso and condensed milk, and the crème brûlée latte, featuring caramelized sugar.
If you're looking for something truly indulgent, however, the standout at Cafe Amico has to be the hot cocoa. But this isn't your Granny's hot cocoa. The Hot Nutella is an Instagramer's dream come true: the rim of a mug is dipped in Nutella, rolled in rainbow sprinkles, filled with hot cocoa then topped with torched marshmallows and finished off with a drizzle of chocolate. It's sure to be a hit with the kiddos as we enter into the holiday season, when dreams of sugarplums, hot cocoa and other decadent delights dance in our heads.
Those less adventurous will find all the coffeehouse classics, including lattes and frappes served with your choice of flavor, along with Americanos, macchiatos, cappuccinos, cortados and the other usual suspects.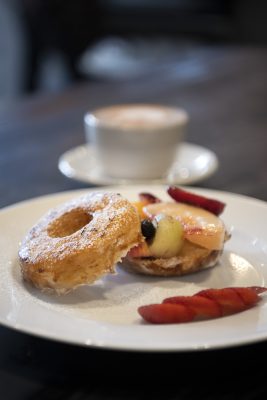 Hometown Appeal
Suwanee Town Center is the ideal location for a restaurant like Cafe Amico. It's an intimate, friendly space that is perfect for grabbing a bite to-go to enjoy in the park as the kids run out their energy or for sipping a hot drink as the weather finally starts to cool. Chon says that more than 60 percent of their business is to-go, touching on their close proximity to housing, offices and retail which allows for the heavy foot traffic that keeps the restaurant in demand. But that's not the only reason he chose Town Center to set up shop. "It's a common area in the city," Chon says. Families come out to enjoy time together. Festivals are on regular rotation in the park. New and old businesses alike create a sense of community.
So the next time you're window shopping at the epicenter of Suwanee, stop by Cafe Amico for a quick pick-me-up to fuel your day or tame your coffee buzz with one of their tasty menu items. If you'd like to hang out for a while, grab the shaded picnic table outside and enjoy all of the artwork and people watching that the park has to offer. Or if you're like us, order the Hot Nutella, snap a carefully framed photo, and post it to social to make all your friends jealous.
Cafe Amico is located at 320 Town Center Ave. in Suwanee Town Center. 678-765-8499. www.facebook.com/cafeamicousa.