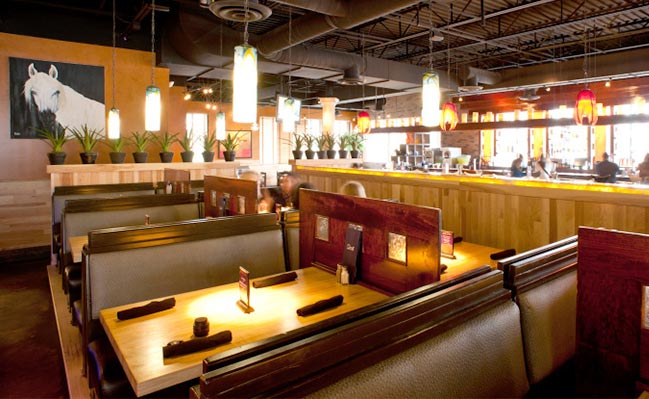 Upscale Suwanee Restaurant serves Mexican food with an attitude
BY: Rachel Fasig
Meticulously prepared margaritas, live music, people dancing, delicious tapas and an energetic patio. Sounds like a scene straight out of Buckhead…or Cinco's After 5 on a weekend night in Suwanee.
While many know Cinco as a cool spot to grab upscale Mexican food, it is also becoming increasingly known as the place to be seen in Suwanee. Named aptly for the nation's beloved post-work drinking hour – Cinco's "After 5" is dishing up more than just some tasty Latin-infused plates.
"Mexican food with an attitude" – that's the slogan of North Georgia's family owned and operated restaurant chain, Cinco Mexican Cantina & After 5 Lounge. Michael Burandt partnered with Cinco's previous owners in 2006 as a financial investment, not realizing at the time that this "investment" would later turn into a life-long passion for his entire family.
By 2010, Cinco was fully owned by the Burandt family, with each member of the family bringing different strengths to the table, which has contributed to the ongoing success of their restaurants. Michael Burandt Sr. as a savvy businessman, his wife Peg Burandt with an eye for interior design, son Michael Burandt Jr. with a background in restaurant operations and bartending, son Todd Burandt with a photography/ graphic design background, and daughter Kelly Lackey with a background in marketing.
Cinco is different than traditional chain restaurants in that they have no plans of franchising. "We're about quality, not quantity," Burandt Jr explained when asked about plans for growth. Although intent on keeping the Atlanta area chain family owned, the Burandt clan has "no plans of stopping at five restaurants though," Lackey explained, "Well, we are called Cinco so we can't just have four!" With restaurants in Suwanee, Cumming, Alpharetta and Atlanta, they're currently scoping out their next location, "ideally in the Perimeter area," said Lackey.
A neighborhood staple for several years now, Cinco is known as one of Suwanee's "go-to" Mexican restaurants for families. In fact, they have recently proclaimed Sunday official "Family Night" where they encourage patrons to "unplug, engage with each other and enjoy one another's company and our delicious fajitas," according to Lackey. Sunday Family Nights began in early March with discounted fajita prices and have been a success so far for both the restaurant and families who have commended the "unplugged" concept.
The restaurant boasts a relaxed, yet upscale environment with food to satisfy all ranges of palates, and the Cinco team is not afraid to voice their own personal favorites. Lackey appreciates the authenticity and simplicity of the Tacos al Pastor – marinated grilled pork with a roasted corn and grilled pineapple pico de gallo and pasilla salsa. Catering Director, Scott Jordan, raves about the salmon a la parilla – a grilled salmon filet with sautéed spinach on a jalapeno potato cake drizzled with a lobster shrimp sauce: just the right amount of savory & spice. Suwanee's General Manager, Nicolas Normand says he could live off of the Carne Asada – seasoned skirt steak grilled with onions, roasted poblano peppers, nopales and queso fresco served on a bed of whipped chorizo mashed potatoes.
The adjacent lounge is a lively "21 and over" hotspot serving tapas-style dishes and specialty cocktails, such as: lobster nachos, smoked salmon tacos, chorizo burger sliders, steak and blue cheese flatbread, and margaritas muddled with lavender.
"We are in the process of changing our menu again. Ideally, we'd like to change it up twice a year – but there are some staples that have been customer-favorites since 2006 that we'll never get rid of," explained Jordan. In terms of Special Events and Catering, he will work with customers to prepare custom menus suited perfectly for their guests. Cinco has the capacity to do large-scale corporate parties, weddings or special family dinners at home. "We even did a summer pool party last year at someone's house with a full fajita and taco bar and we brought our margarita machines," he said.
But, whatever route you go: Family Fajita Night, ladies lunch on the patio, private party in your backyard, or a night out at After 5; be sure to rasie your perfectly-crafted beverage and toast to the Burandt family for a job well-done!