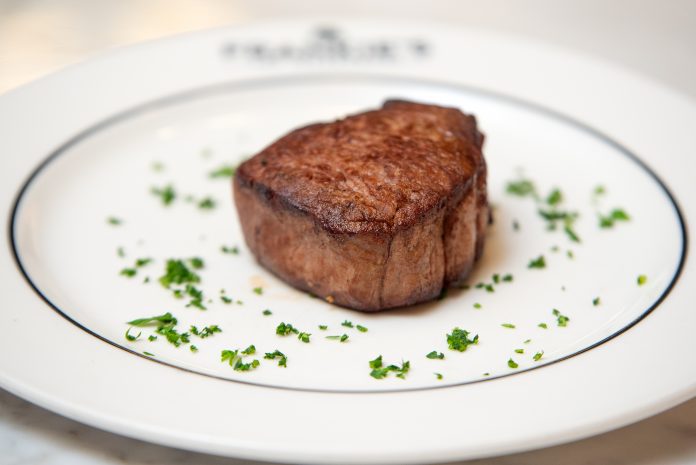 Duluth's Frankie's The Steakhouse embodies the luxe atmosphere of a classic steakhouse, but replaces the stereotypical stuffiness with a lively and welcoming neighborhood feel.
By Alicia Carter | Photos by Karl Lamb
Walking into Frankie's The Steakhouse is like being transported to the prime age of the businessmen who lunch. Pulling inspiration from renowned restaurants of Hollywood's heyday during the 1950s and 1960s, such as the famed Brown Derby, there's an air of formality in the dark wooden accents, white linen table cloths, and dimmed lighting that seems to call for a return to the tailored suits and night caps of that era. You almost expect Frank Sinatra to turn the corner with his Rat Pack of friends, cigars in hand. Ol' Blue Eyes does make an appearance, however, as he softly croons over the speakers while servers carry drinks and steaks from kitchen to table. While the food may highlight modern technique and flavors, the mood is certainly a nod to old-school elegance.
Part of the restaurant group Norsan Restaurants, Frankie's The Steakhouse opened in 2017 on the third floor of the Gwinnett Chamber of Commerce inside Duluth's 1818 Club. The original goal was to bring fine dining to the suburbs of Gwinnett and introduce something new that had never been done in the area. The owners envisioned mixing a fine dining experience with a neighborhood feel, eliminating the stuffy reputation of older steakhouses and replacing it with a welcoming and lively environment. So while Frankie's may harken back to another era in terms of elevated dining, it does so with a warm smile and a wink.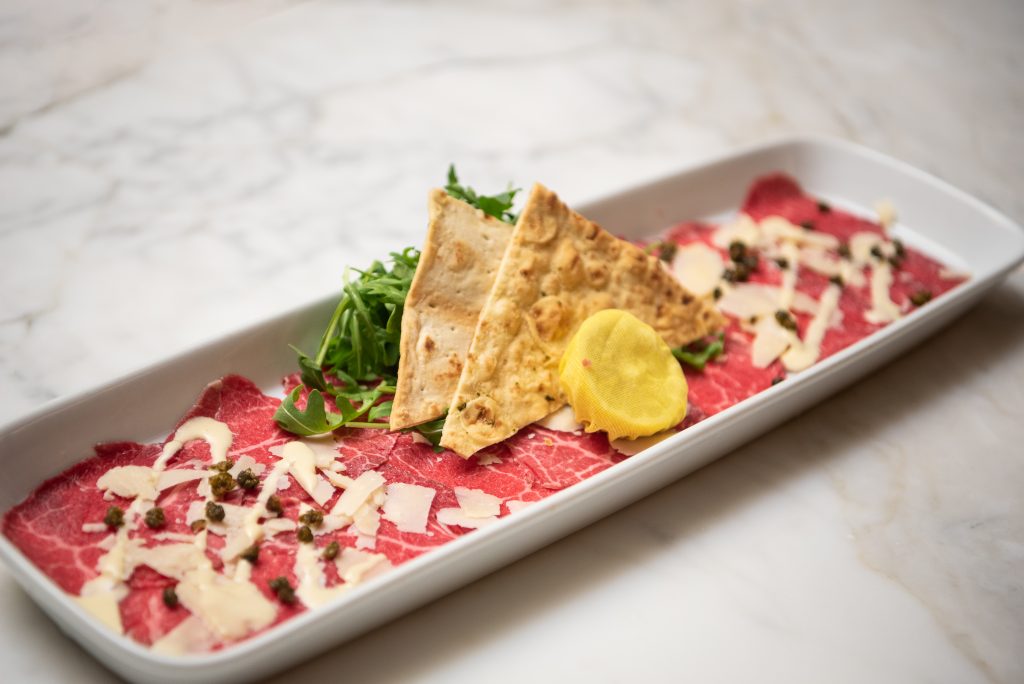 Italian Flourishes
Frankie's menu pulls inspiration from traditional steakhouses, but with an Italian twist. Unlike other restaurants, Frankie's cooks their steaks in broilers, preserving the meat's juiciness and flavor. The most popular cuts on the menu include the center cut 8-ounce filet and 24-ounce bone-in ribeye. An impressive 38-ounce tomahawk is also available for the true steak lover. Italian flourishes can be seen in the cioppino, lobster fra diavolo, and bone-in veal Parmigiana. One of the more popular dishes on the menu is the carpaccio, a traditional Italian appetizer consisting of thinly sliced raw beef drizzled with olive oil.
In addition to the steaks, Frankie's also boasts an impressive selection of seafood almost unheard of for other traditional steakhouses. The selection includes Chilean sea bass, Dover sole, and a seafood tower featuring half of a one-pound Maine lobster, colossal crab cocktail, jumbo shrimp cocktail, oysters, and orange roughy ceviche.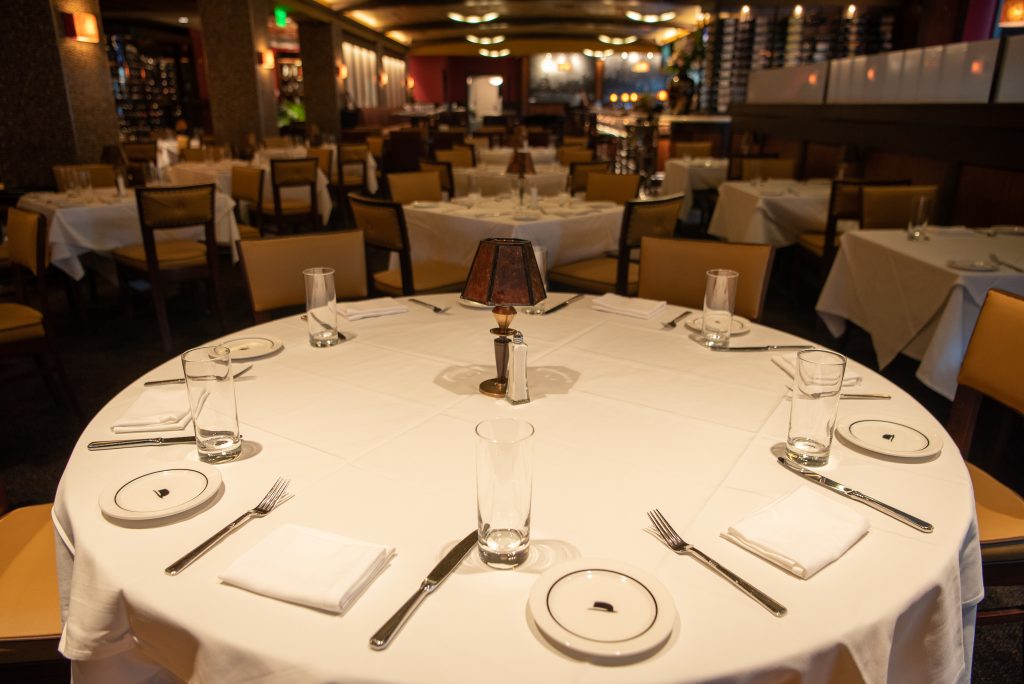 Special Occasions
For those special occasions that call for a level of privacy, Frankie's offers beautiful private dining spaces perfect for all kinds of events, such as a business meeting, celebration or intimate dinner. The Chicago Room is perfect for large events like holiday parties with enough room to seat up to 36 people. There are also smaller spaces perfect for family dinners or closed-door conferences.
While the food at Frankie's certainly takes center stage, the owners and staff have all gone above and beyond in creating a unique dining experience for the people of Gwinnett. Rarely do we have true destination-worthy restaurants right in our backyard, but Frankie's fills that void. It's a place not only for intimate dinners, but also for celebrations. They want guests to feel like Frankie's is the place to celebrate life, from milestones and special family moments to simply gathering with friends. They strive to provide unparalleled hospitality during every visit, no matter the occasion.
It's that old-school service that really sets Frankie's The Steakhouse apart from other fine dining restaurants in the area. The service is friendly and attentive, with servers taking time to get to know guests by name and remember favorite orders. The bar is a communal spot to share a bourbon with friends or try out one of the many delicious cocktails, such as the New Fashioned, made with maple plank-smoked Woodford Reserve Bourbon, Transatlantic Bitters, and Luxardo Maraschino. Whether you choose a center cut filet, grilled oysters or classic bourbon cocktail, there really is no wrong choice at Frankie's.
Frankie's The Steakhouse is located on the third floor of the Gwinnett Chamber of Commerce building, 6500 Sugarloaf Parkway, Duluth. Sunday-Thursday, 5-9 p.m.; Friday-Saturday, 5-10 p.m. 678-395-6447. FrankiesTheSteakhouse.com.