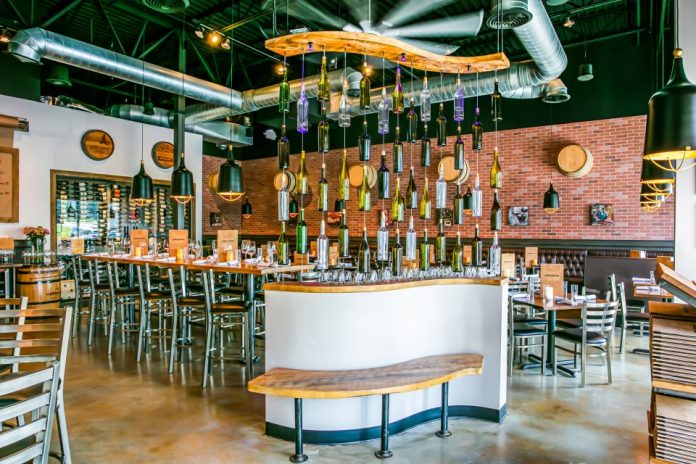 Suwanee's unWine'd & Tap offers wine on tap, shareable plates, and a communal experience that the community loves.
By Alicia Carter | Photos Courtesy unWine'd & Tap
Over the last few years, Suwanee has transformed into a true communal city brimming with life and energy at nearly every corner. Local gathering spots have taken center stage, transforming the city's landscape, and drawing the community closer together one meal and one drink at a time. One such haven is unWine'd & Tap, which opened in October 2022 at the corner of Peachtree Industrial Boulevard and Moore Road. The handsome restaurant is an homage to the wine it serves, with an impressive wine cooler in the back, wine barrels along the wall, and a large U-shaped bar anchoring the space. A communal table that sits 14 can be found in the center of the room inviting patrons to gather together to share one of the many small plates or enjoy conversation with a nice glass of wine.
"It's a comfortable place to gather with a variety of wine, craft cocktails, and other adult beverages," says Mark Hetzel, unWine'd & Tap's co-owner. "We have a wonderful beverage program that appeals to any taste, coupled with great food options and weekly specials."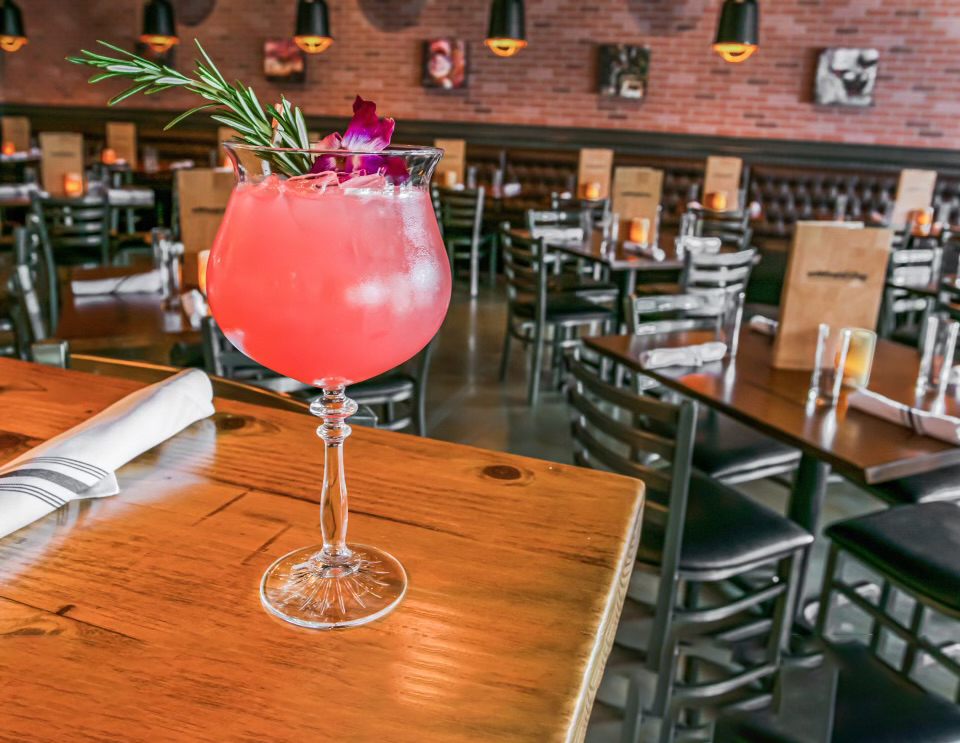 Wine and Cocktails
The restaurant's signature offering is its wine on tap. "When you remove the bottle and label costs, including the natural cork product and the spoilage of bottles opened beyond their shelf life, this brings the cost of wine down significantly," Hetzel says. "The wines we serve are perfectly sealed, free from any oxygen, ensuring an enhanced taste experience." Wine on tap offers customers a top-notch glass of wine at a price that sets unWine'd & Tap apart from other venues.
In addition to wine, unWine'd & Tap stocks a full bar with a unique selection of signature cocktails. They also offer a variety of beers on tap, many of which are local.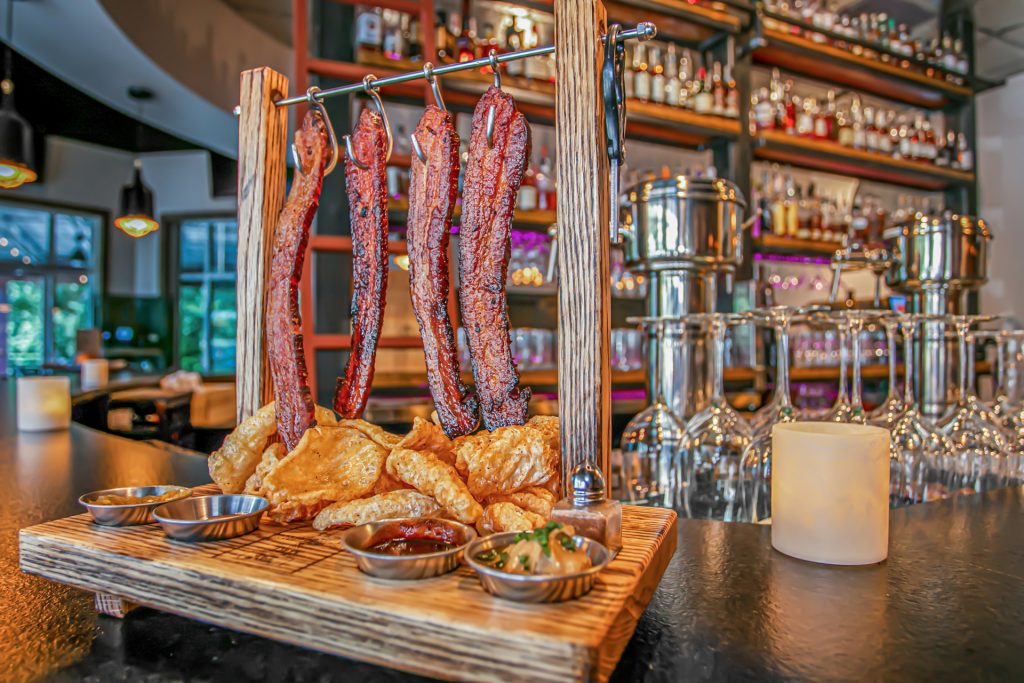 Culinary Offerings
But what's a drink without some delicious food to pair it with? The culinary offerings at unWine'd & Tap range from their best-selling Filet Ciabetta Sandwich to the comforting Chicken Pot Pie and unique Shrimp Bacon Blue, among many other chef-inspired dishes. "Our food is amazing," Hetzel says. "Each week, our specials change, which are posted to our social media. There's always a new soup, taco flavor, prime feature, seafood or fish dish, and a weekly pasta feature. These rotating specials keep the menu fresh and exciting."
In a word, the restaurant's food philosophy is communal. Many of their plates are crafted for sharing, perfect for fostering conversations and bonding. The pairing board is a testament to their dedication to this type of dining experience. "The board features four portions of the weekly specials paired with four drink varieties," Hetzel says. "Depending on the week, it could be wine, or a beer pairing, or even whiskey or margaritas; it all depends on the chef's inspiration."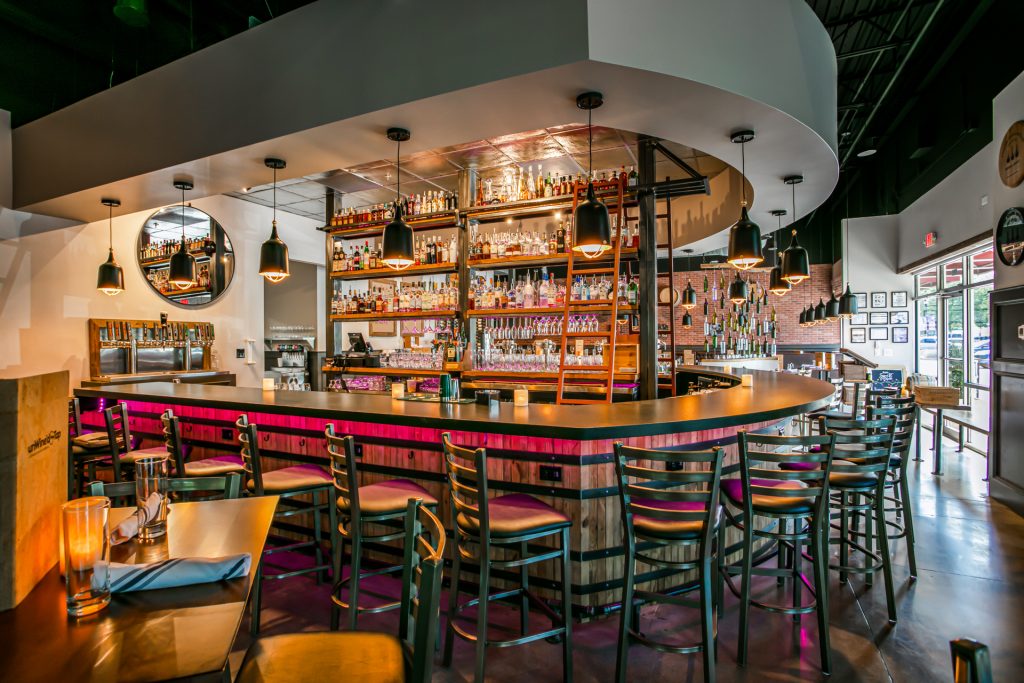 Captivating Ambiance
unWine'd & Tap is not just a restaurant, it's an experience. Whether celebrating anniversaries, birthdays, or just a night out, you can be sure you're in for an unforgettable evening. If you're looking for a truly exceptional experience, be sure to try one of their wine dinners, which draw aficionados and curious diners alike.
At the core of the restaurant's success, however, is its captivating ambiance. "It's about affecting the senses — sight, smell, and taste," Hetzel says. "The excitement of seeing other people or making friends, whether at the bar, dining room, or outside patio, elevates the experience."
So if you're looking for a place to unwind with a good glass of wine, treat your palate to innovative dishes, or simply find a cozy corner to chat with friends old and new, unWine'd & Tap in Suwanee will satisfy all of those senses. Experience it for yourself and become a part of Suwanee's thriving restaurant scene. Afterall, unWine'd & Tap is not just a place to dine; it's an experience that brings together the community, one glass of wine and shared plate at a time.
unWine'd & Tap is located at 991 Peachtree Industrial Blvd., Suite 104, in Suwanee. For more information, call 470-326-5004 or visit unWinedandtap.com.