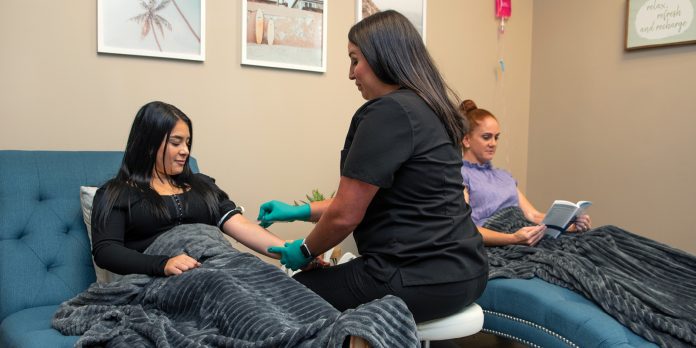 Revive IV Lounge specializes in IV therapies and wellness services to help individuals reach optimal health, function, and performance.
By: Alicia Carter | Photos Karl Lamb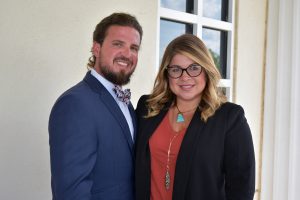 Josh and Dariane Newby take a proactive approach to health with Revive IV Lounge, which specializes in IV therapies and other services to help individuals reach optimal health, function, and performance. Josh, a Certified Registered Nurse Anesthetist (CRNA), has worked for Dr. Lionel Meadows, a noted local private surgeon, since 2015. During that time, he began to explore the idea of infusing nutrients to help patients with healing after surgery. Over time, that exploration led to Josh and Dariane opening a full office dedicated to not only IV therapy and infusing nutrients, but also a number of other cutting-edge treatments that offer preventative measures to help clients reach their health goals.
"From doing anesthesia and being in healthcare my whole life, I always see people who are very retroactive — everything is done after the fact," Josh says. "We have surgery after something has gone wrong. We get on medication after things have gone wrong. Not many people do preventative medicine. We want to offer something that can be preventative. We want to take care of people before they get to where they have problems and need surgery or medications; we can help them have a better lifestyle."
In addition to IV infusions, Revive's other wellness therapies include an oxygen bar, nutrient injections, massage therapies, targeted cryo treatment, Ketamine infusions and more. These treatments are beneficial in a number of areas and can help with chronic pain, fatigue, depression, athletic performance, weight loss, anti-aging and so much more. As Josh puts it, it's a better way to approach your health than by taking medication every day.
As an added bonus, these treatments are administered in a beautiful office building in Buford with private lounges equipped with comfortable seating, pillows, a blanket and a TV, allowing clients to relax and receive their treatments in luxury and privacy. It's first-class service in a first- class environment.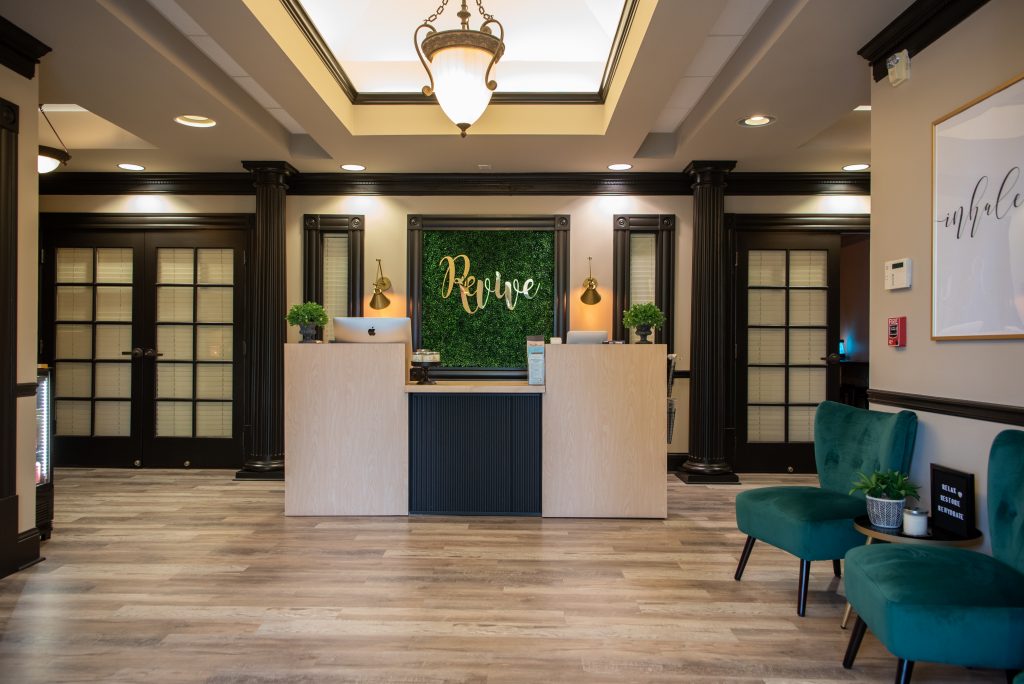 IV Therapy
IV therapy is the use of intravenous vitamins and micronutrients to boost and protect your immune system, increase athletic performance, aid in athletic recovery, weight loss and much more. Infusing nutrients directly into the bloodstream makes them 100% absorbable by the body. "We place a needle into your vein and then we can infuse fluids, electrolytes, minerals, vitamins, and any kind of nutrients into your body. That way you're getting them at 99% bioavailability," Josh says. "Versus taking things orally, where it's watered down and dissolved and you're not getting the full amount of the nutrients. It's a way of getting nutrients directly into your system and into the cells."
With IV therapy, most people notice positive effects after one treatment, however, consistency is key to optimal and prolonged health. Josh and Dariane recommend a minimum frequency of once a month, but weekly infusions are ideal. "It really depends on your body, how depleted you are, and what kind of health gains you're looking to get," Josh says.
For those who are unsure where to start, Revive offers a menu of pre-made infusion "cocktails." The Revive team will talk you through your symptoms or what you'd like to gain from the treatment, then they will pick out an IV drip that is best suited for your needs. "Even though we have pre-made IVs, they are completely customizable," Dariane says. "So if you want to add a little extra something or take out something, we can do that, too."
Once a particular IV infusion is chosen, clients are led to a private lounge where they can receive their treatment in privacy. "That was really big for us because we noticed when we visited a few IV places before we opened — they were set up more like a nail salon," Dariane says. "All the chairs were lined up next to each other and the people sat right next to each other. It was more of a social experience." Revive IV, on the other hand, prioritizes their clients' comfort by offering a private setting where they can take advantage of free Wi-Fi and get some work done or, if they prefer, utilize the social lounge. It's all about the client's individual needs.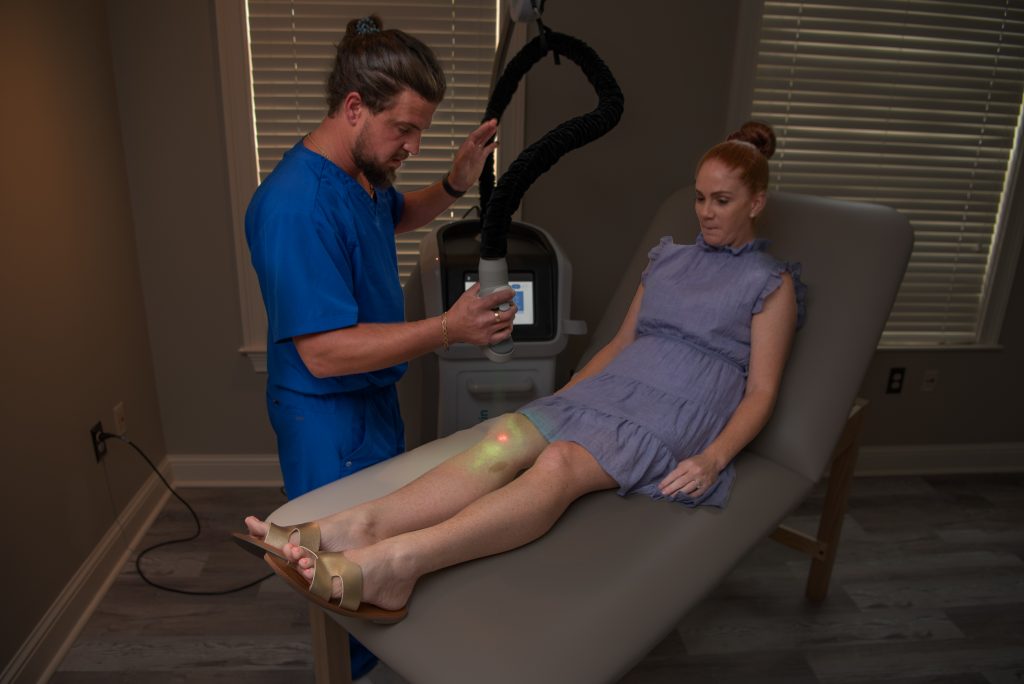 Other Services
In addition to IV therapy, Revive offers a number of other treatments to help maintain health and wellness. The oxygen bar is hooked up to an oxygenator that takes the oxygen and filters it so you're breathing in almost pure oxygen. It helps increase energy, reduce stress and brain fog, improve your mood and concentration, and even helps with hangovers. Aromatherapy can also be added to the oxygen for added benefits, such as reducing anxiety and sinus relief. "Our most popular is our anti-anxiety," Dariane says. "People say it's extremely calming and relaxing."
Josh is especially excited about the Ketamine treatments they offer, which treat drug-resistant depression, anxiety, PTSD, OCD and chronic pain, especially those who are not seeing improvement with medications. "You know when your phone isn't working?" Josh asks. "Before you throw it away, you turn your phone off and wait a few minutes and turn it back on and all of a sudden it works. Well your brain is a complex system that's firing from all cylinders. So when you have these thoughts in your head, whether it's depression or PTSD, they keep flashing in your head and medications try to work on that. What Ketamine does is work on special receptors in your brain and causes a dissociative amnesia that works to reset your brain. It helps to fight those thoughts without taking medication every day." Josh and Dariane both believe Ketamine is the next breakthrough treatment for depression.
Revive also offers therapeutic massage; cryo gun therapy that disperses liquid nitrogen to a specific area on the body to penetrate deep into the tissue and promote healing and repair; as well as injections and boosters such as B12, BCAAs, Tri Aminos and more.
With each of these therapies, Revive IV Lounge is on the forefront of the health and wellness industry, and is truly fulfilling its goal to offer preventative treatments that will help its clients reach their full health potential.
Revive IV Lounge is located at 2725 Mall of Georgia Blvd., Floor 2, in Buford. For more information, call 470-589-1237 or visit ReviveIVLoungeBuford.com.