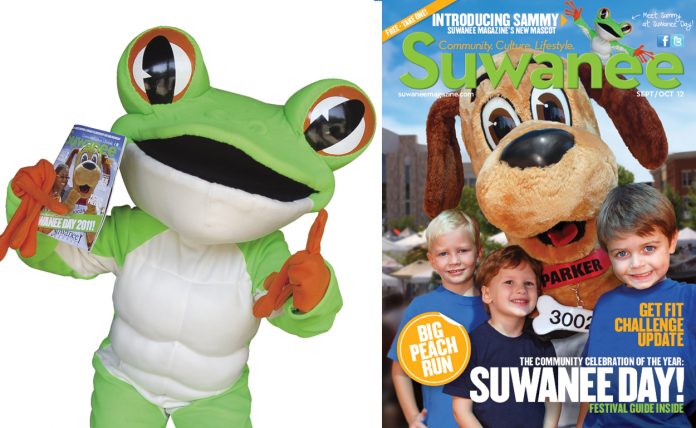 Atlanta Hawks, Jeff Teague offers tips at Suwanee Sports Academy
Campers learned some basketball tips from one of Atlanta's own during the week of July 30-Aug. 2, when Atlanta Hawks guard Jeff Teague and the Atlanta Hawks basketball development team visited the 2012 Jeff Teague Elite Sports Academy at Suwanee Sports Academy. During the camp, boys and girls ages 7-16 were taught speed, agility and other fundamental basketball skills.
Suwanee Resident crowned Miss Georgia 2012

The 68th annual Miss Georgia Pageant has crowned Leighton Jordan, Miss Capital City, as Miss Georgia 2012 on June 23. She is the daughter of Jim and Clemmie Jordan of Suwanee.
For her talent, Jordan, a 19-year-old resident of Suwanee, Ga., performed a ballet en pointe to David Garrett's "He's a Pirate."
Jordan was among the 33 contestants competing in the Miss Georgia Pageant this year. She attends Georgia State University where she has maintained a 4.0 GPA and plans to obtain a Master of Science in Nursing to become a Pediatric Oncology Nurse Practitioner.
In addition to the opportunity to represent Georgia in the Miss America Competition, the new Miss Georgia will receive prizes including a $15,000 cash scholarship, jewelry, wardrobe for the Miss America Pageant and a vehicle provided by Kia for her use as she travels the state throughout her year of service.
While traveling the state promoting her platform, "The Sibling Support Project: Encouraging Special needs Children and Their Siblings," she will be preparing for the Miss America Pageant to be held in Las Vegas in January 2013.
Watch Leighton Jordan in the Miss America Pageant in Las Vegas January 2013!

Town Center Park went "Under the Sea" for Suwanee Performing Arts' 2012
Broadway in the Park Area residents got the opportunity to see perhaps some of their favorite Disney characters up close and personal including Ariel, Prince Eric, Sebastian and evil Ursula on July 27 and 28 as the 2012 Broadway in the Park cast and crew performed Disney's "Little Mermaid Jr.," for Suwanee Performing Arts' annual summer performance and fundraiser. An original one-act play, Filligan's Island, a take on the popular 1960s television series Gilligan's Island, opened the event each evening.
Suwanee Performing Arts is a nonprofit community arts organization founded on the belief that performing arts ignites a passion for excellence within a community. For more information or to make a donation, visit www.suwaneeperformingarts.com.
Moondance Restaurant & Lounge celebrates one year in Suwanee

Moondance Restaurant & Lounge will celebrate its one year anniversary in Suwanee during the month of October. Christine Alestra, owner of the restaurant, said they are thrilled that their vision of having an upscale restaurant with live entertainment right here in Suwanee has resonated so strongly, and
you no longer have to drive to Atlanta or Buckhead.
"We have the same level of food, ambiance, service and entertainment without the long drive," Alestra said.
Check out the restaurant's calendar for special promotions, offers, their annual "adult-only" prom night, cooking classes, and vast entertainment schedule at www.moondancelounge.com.
Vertical Horizon Rocks Town Center Park at the 2012 annual summer concert
Area residents were treated to a summer concert featuring alternative rock band Vertical Horizon Aug. 11 at Town Center Park. The band took the stage and played some of their familiar hits such as, "Everything You Want" from the 1999 Everything You Want album, which eventually went double platinum, selling more than 2 million copies. The band's most recent album is 2009's "Burning the Days."
Jim Ellis breaks ground on new Buick GMC location in Buford

Jim Ellis Buick GMC Mall of Georgia celebrated a groundbreaking at 3612 Buford Hwy in Buford, GA on August 15. Its new and larger state-of-the-art 55,000 square foot facility will sit on 12 acres.
Mark Frost, vice president of GM Brands, explained that when acquiring the Buick GMC franchise two years ago, Jim Ellis leased the current facility from the previous owner.
"The current facility is decades old and is inadequately suited to meet the needs of consumers in today's retail environment," Frost said. "The new facility will be a significant upgrade, befitting of the premium/luxury image of the Buick and GMC brands and will afford Jim Ellis customers the latest in comfort and convenience in sales, service, and parts."
The new facility is scheduled to open in mid-2013.
Parsons Gifts moves to Suwanee
After 15 years in Duluth, Parsons has moved to Suwanee. The new location is in the Suwanee Jubilee Shopping Center, at 1500 Peachtree Industrial Blvd., near The Fresh Market and offers a large selection of unique gifts and name brands such as Pandora, Brighton and Vera Bradley. The store is open seven days a week.
Kyle Maynard Wins ESPY- for the 2nd time!
Suwanee native, Kyle Maynard, recently won the 2012 ESPY award for Best Male Athlete with a Disability. The award is given out annually by ESPN for sports excellence. He was chosen after his successful climb to the top of Mt. Kilimanjaro in January, being the first quadruple amputee to get to the top without assistance. Maynard climbed with a team of wounded veterans, friends and professional climbers.