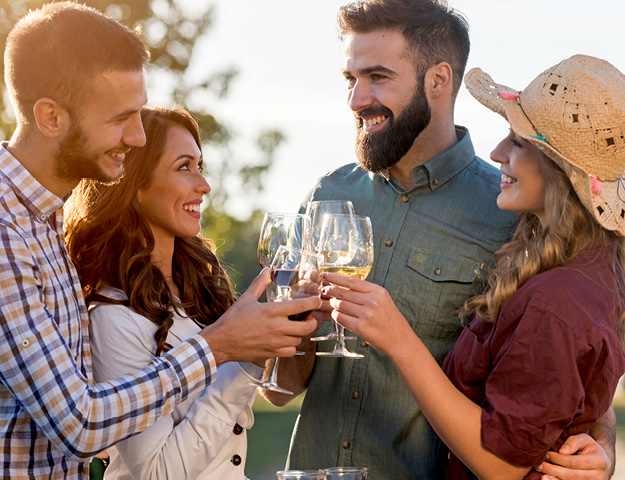 During the warmer months, lighter reds, rosé and white wines take center stage
By: Maurie Collins, CEO and Co-Founder of Sip Happens Wine Shoppe
When looking for white wines that pair perfectly with the outdoors, well, the world is your oyster! Choose varietals that are clean and crisp with great acidity or minerality. Sparkling wines are always a playful addition to summertime. Keep it light and refreshing with sparkling wine New Zealand selection like Peter Yealands, with a hint of jalapeño. from Spain. A Cava, like True Colours, is a perfect bubbly for the outdoors — and partners wonderfully with orange juice for a tasty mimosa.
Looking for something without bubbles? There are plenty of other options. Sauvignon Blanc is a delightful choice. French Sauv Blancs are refreshing and mineral- driven. Pascal Jolivet's Attitude or Sancerre are lovely choices. If you prefer fruit-driven, grassy notes, you won't go wrong with a New Zealand selection like Peter Yealands, with a hint of jalapeño.
Ready to try something new? White varietals keep it fun in the sun. How about a Vinho Verde, Vermentino or a lovely un-oaked Chardonnay? If you're ready to get crazy, try a Muscadet, Picpoul, Arneis, Grenache Blanc or a Rioja Blanco. All of these varietals are excellent selections to chill things down and pair beautifully with seafood dishes.
When talking about wines that keep you cool, we cannot forget to mention the Queen of Summertime Wines — Rosé! Did you know that Rosé is made from red varietals? Their color is determined by the amount of time the juice spends in contact with the grape skin; which is why some are a delicate, pale color and others are a more vibrant pink. We're crazy about Rosé! Try Rosé made from all kinds of varietals: Andis Rosé, made from Barbara; Solarce, made from Tempranillo — Rioja; or Kokomo Grenache Rosé.
If you're in the mood for a red wine, take heart. There are plenty of options to enjoy in the summertime heat. Stay away from heavier, high alcohol reds with big tannins. You'll fare better with red wines that maintain good acidity and have lower tannins.
Pinot Noir fans will always be in a happy place on a warm day. With delicate berry flavors and high acidity, this light to medium bodied wine is a perfect fit. Pinots from Willamette Valley, like Illahe Estate or R. Stuart Love, Oregon, are always a wonderful choice.
Old World wines offer an amazing array of choices when it comes to lighter reds. From France, try a Gamay from Beaujolais. You'll never go wrong with a Côtes du Rhône. These beautiful blends of Grenache, Syrah and Mourvèdre are summertime perfection. Stephane Ogier's Les Temps est Venu or Château du Trignon are excellent selections.
There are a dizzying array of choices from Italy as well. Though not as well-known as Chianti, Brunello, and Barolo, a Valpolicella like Brigaldara, from the Veneto region or a Nerello Mascalese from Sicily are lovely selections. These wines maintain good acidity, low tannins and pair well with most grilled foods.
Don't fret — if your palate prefers to lighten up in the summertime, Sip Happens has you covered. Our goal is boutique wine, simplified. With over 400 wines to choose from, we are happy to help you find the perfect wine to keep the good times rolling!