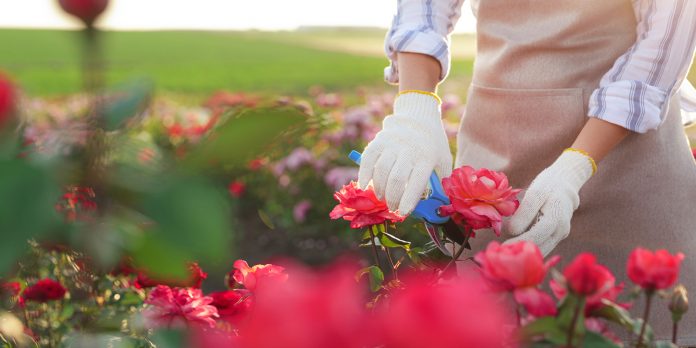 A spring checklist to help take the guesswork out of seasonal home maintenance.
By Alicia Carter
A home is the biggest investment many of us will make in our lifetime. In order to ensure it stays in tip-top shape, it's essential to stay on top of regular maintenance throughout the year. Sure, it can seem daunting, especially for new homeowners, but keeping up with regular repairs and check-ups will save you time, money, and a whole lot of hassle in the future. When planning services for the year, keep in mind that a home tends to stay in sync with the seasons: It comes to life in the spring and begins to go into hibernation mode in the winter. Aligning your home maintenance with the seasonal changes will help keep it running like a well-oiled machine. We've created a checklist to help take some of the guesswork out of scheduling your home maintenance this spring.
Come springtime, most of us are anticipating warmer temperatures, flowers, and a chance to dive into spring cleaning. But while you're cleaning out your closets and pantry, don't neglect upkeep on the exterior of your home! Spring is the perfect time to give your house a good once-over, inside and out.
1. Schedule an HVAC tune-up
Many homeowners don't think about their heating or cooling system until something goes wrong. However, performing regular maintenance will help maximize the efficiency of your system, lower your energy bills, and avoid costly repairs. According to Suwanee's Holtkamp Heating & Air, your HVAC system was designed to receive these important tune-ups twice per year (once for cooling, once for heating) to make sure you're comfortable year-round. Schedule your cooling tune-up in early spring, before the heat arrives and HVAC companies get busy. During these appointments, a technician performs a thorough multi-point inspection of indoor and outdoor equipment, including tightening and lubricating moving parts, changing filters, checking drain lines, cleaning coils, and more. Ready to schedule a tune- up? Give Holtkamp a call at 770-271-7511 or visit HoltkampHVAC.com.
2. Prune crepe myrtles and roses
According to Chuck LeBar of Magnolia Lawn, spring is the perfect time for dormant pruning of crepe myrtles and roses. "Crepe myrtles can be used as hedge or barrier plants but are most commonly pruned to the form of a small tree," he says. "To prune, remove any small 'sucker growth' from the base of the plant. Then the upper branches, including the seedheads, can be pruned down to where the branches are at approximately the diameter of an average person's index finger. If you want the plant to grow higher, prune higher. If you want to reduce the size of the plant, prune lower. Just don't commit what is commonly known as 'crepe murder' and prune down to the main trunks. This invites infestations of insects and diseases." Note: Standard roses can be pruned down to about 18 inches.
3. Clean your gutters
Your gutters control the flow of rainwater on your house, protecting your roof, siding, and foundation. When your gutters are neglected and become clogged, this can cause the roof to leak or water to infiltrate your house. Clean them at least twice a year, or more frequently, depending on how many trees surround your property and hang over your roof.
4. Reseed and fertilize your lawn
Spring is an ideal time to reseed your lawn, filling in empty patches before the summer heat. Plant your perennials, and give them plenty of water. Later in the spring, when the grass turns bright green again, it is time to fertilize the lawn. Be sure to use a fertilizer that provides all of the proper nutrients your lawn needs. It's a great time to contact a professional to learn more about a yearlong fertilization schedule.
5. Aerate your lawn
Simply put, your lawn needs some room to breathe in order to look its best. Grass roots need air, water, and nutrients to grow thick and strong. When soil becomes compacted, it inhibits the flow of the essentials that support thicker, healthier turf growth. This is where lawn aeration comes in. "Annual aeration is good for warm-season grasses like bermuda and zoysia," says Magnolia Lawn's Chuck LeBar. "It is best done in warm weather when the grass is actively growing." The ideal time to aerate your lawn is typically late April or early May. Need more information from the professionals? Give Magnolia Lawn a call at 770-831-6404 or visit MagnoliaLawn.com.
6. Pressure wash your house
It's important to take time to pressure wash your house at least once a year. We recommend giving your house a good wash in the spring, at the same time you're tending to your lawn, planting flowers, and other general outdoor beautification tasks.
7. Pressure wash and reseal your deck
It's vital to thoroughly clean your deck once a year. Pressure washing the wood acts as a natural exfoliant and helps the protective sealers seep deep into the wood. Pressure washing and resealing your deck helps prevent the wood from splitting, graying, or cracking (plus, it get rid of all that nasty pollen!). This is also an ideal time to clean your outdoor furniture!