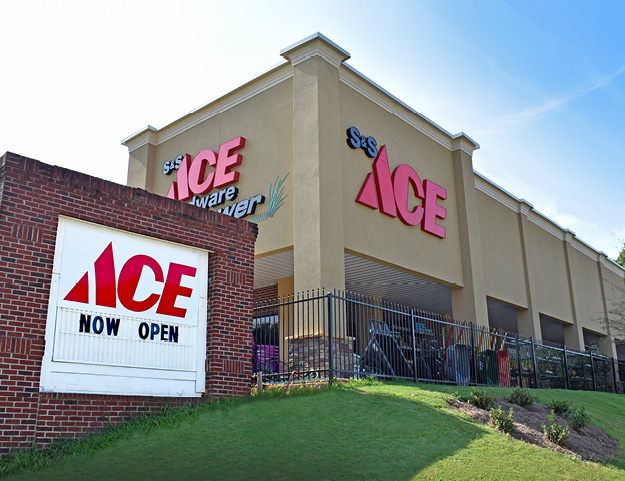 S&S Ace Hardware has opened their brand new location in Buford. The new store is now located off of Highway 20 at 4160 Buford Drive and offers almost anything you may need for home and garden improvement.
Story by Lizzy Kidney | Photos by Walt Wooden
With the consistent growth the business has experienced, owner Scott Snedecor decided moving to the new location would be the best fit for his employees and his customers. They decided to make the move back in April and are enjoying the extra space the new building offers. Scott's family opened the doors to S&S Ace Hardware in 1987. After previously working his way through the corporate sales industry, Scott began to feel stagnant. He wanted a break from the corporate world and had always enjoyed working with his hands on tasks like lawn maintenance and home repairs. He heard about a struggling hardware store in Buford, saw a great opportunity, and turned to his parents for help.
"My parents always had a bit of an entrepreneurial bug," said Scott, "so I basically convinced them to become partners in the company. It became their money and my efforts to help grow the business." Scott took no time stepping into his general manager role, and S&S Ace Hardware has been serving the Buford community for 31 years now.
"We learned early on that someone had to run the company and take initiative as the primary manager," said Scott. "My wife has helped out over the years, mom provided additional support before passing in 2002 and my dad, who is now 87, still comes in to visit and handle financials." Ace Hardware continues to be a family-run business, as Scott's two children, Christine and Case, both currently work for the company as well. His daughter has taken on an office role and handles order processing and deliveries, while his son is one of the store's floor managers.
S&S Ace prides itself on having a team that is dedicated and knowledgeable, and currently has over 30 full and part-time employees who have helped to make customer service the main priority.
The Snedecors opened a second store in Braselton in 2008. Both stores are open seven days a week and have specialized staff members to ensure that customers can ask questions and receive the help they need. "Among the staff, we have some key people who have been working with us for over 20 years," says Scott, "in both our Buford and Braselton locations we have longevity within the company and take pride in being a family business.
On an average day at Ace, you will find Scott working alongside his employees and handling the day-to-day work. "I am trying to taper it down," he says, "but there are days where I get to the store at 6:30 in the morning and don't leave until 7:30 at night."
In addition to being committed to the store, the Snedecor family takes great pride in being dedicated to the community. Scott has been a member of the Kiwanis Club for 30 years now and was on the North Gwinnett High School council at the same time his wife served on the Buford School Council. He also serves on the board for the North Gwinnett Co-op and has been instrumental in fundraising efforts for them. Out of 5,000 Ace Hardware stores, S&S Ace has also been ranked in the Top 5 of multi-level stores for their fundraising for Children's Miracle Network. With this achievement, the store received a grant of $10,000 from Procter & Gamble to donate to Children's Hospitals in Atlanta.
What sets the team at S&S Ace apart from other local stores can be summed up in two words: customer service. In an age where more and more businesses are taking people out of the equation, the Snedecors remain determined to give the best service possible. The store is now interacting with acehardware.com and has begun offering ship-to-store features that will allow customers to order products online that may not be found in the store while still interacting with an S&S team member. "We seem to have found our niche between the big box store and the internet," states Scott, "and the common denominator is customer service."
S&S Ace is much more than just a hardware store. On top of the paint, plumbing, and electrical equipment, they also carry sporting goods, hunting and fishing clothing, Yeti products, outdoor accessories, shoes, boots, and more. If you're looking for a knowledgeable and dedicated hardware store, be sure to stop into S&S Ace Hardware in Buford.