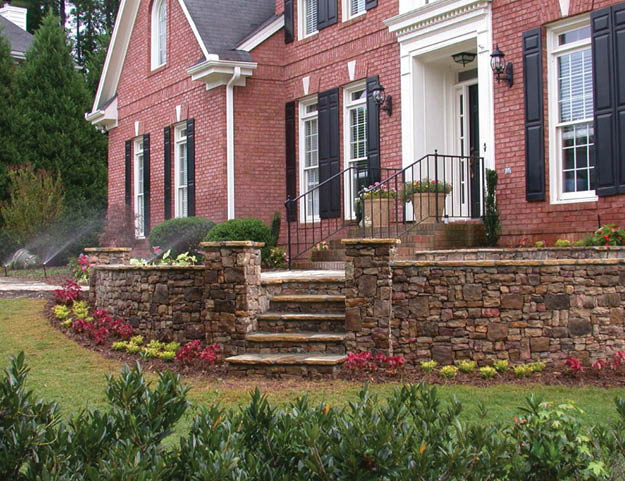 The team of Ed Szczesniak of Georgian Landscape Design and Jeremy Talboy of installation partners, North Georgia Landscape share how they've become successful and continue to grow, along with their array of services.
Q: How does a relatively small firm like yours keep growing such a loyal client following?
A: We think we're easy to work with. We listen, advise, and follow through on our promises to make our clients pleased with our work. We strive to deliver 110% of their expectations on every project – big or small.
Q:What type of services do you offer?
A: We're really a "one-stop" landscape management firm. There is virtually nothing outside of the home that we don't do ourselves, or in combination with our long- term partners who do our large tree removal or pool construction – and in those situations where we need to bring in these specialists we manage and control their work to meet our standards.
SERVICES INCLUDE:
• Design / Build services
• Landscape / Hardscape
• Grading / Drainage
• Fireplaces / Fire-pits
• Water Features
• Irrigation Systems
• Landscape Lighting
• Decks / Pergolas / Arbors
• Natural Stone / Manufactured Stone / Pavers
• Patios / Walls / Benches
• Borders
• Fencing
• Dry Creeks
• Seasonal Colors
• Turf Maintenance
• Irrigation
• Landscape Maintenance (Mowing, Blowing, Edging, Pruning, Turf Treatment, Seasonal Color)
• Mulch/PineStraw
Q: How do you compete with the many larger firms in the Atlanta market?
A: We don't try to compete with them. We're local. As owner operators we are hands-on in every project – big or small. For most projects, we not only get involved with the initial client visit ourselves, but hold daily team meetings with our design/ install or maintenance teams to review design criteria, plant and material selections, ensure proper crew assignments, and conduct site visits throughout the project to ensure that the client expectations are met. Our clients know who we are, meet with us on-site, and are one phone call away if changes or questions arise.
Georgian Landscape Design
Ed Szczesniak: 770-417-8737
Jeremy Talboy: 404-423-8448
______________________