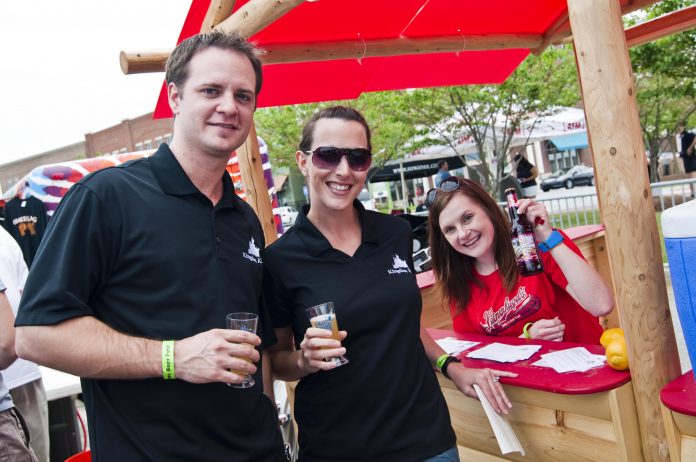 Local Boy Scout Troop visits Suwanee Magazine
Troop 538 came out to the Suwanee Magazine office on March 22 to learn about how the magazine is created and published. Their visit was part of earning a Merit badge.
2012 Suwanee Beer Fest draws Thousands to Town Center Park
The weather was beautiful for the second annual 2012 Suwanee American Craft Beer Fest on March 31st. Beer tents lined the sidewalk around Town Center park and tap trailers serving beer lined the street in front of City Hall. The event featured over 300 beers available to taste from 100 breweries, Kroger chefs cooking with beer and sharing recipes, a home brew contest and more. Mellow Mushroom, The Beer Growler and other vendors added to the fun with a variety of games, awesome food and prizes. The VIP area was a huge hit with food catered by Cinco and a large selection of casks (some made just for the Suwanee Beer Fest). Live music by 3 bands played throughout the day. The Beer Fest plans to have more restrooms at multiple locations in 2013. A portion of the festival proceeds, the Home Brew contest entry fees and Silent Auction proceeds went to benefit Kingdom Kids and Suwanee Sculpt Tour. For more on Kingdom Kids, visit supportkingdomkids.com.
Mickey steps off the ice to visit the Suwanee Library
On March 29, the Suwanee Branch of the Gwinnett County Public Library was filled with children, anticipating the appearance of Mickey Mouse and a guest, fresh off the ice from Disney on Ice show at Gwinnett Arena.
During his visit, the perhaps most popular mouse in the Magic Kingdom, took part in a meet and greet with his young Suwanee fans. The event also included a book reading.
For more information about events at your local library branch, visit www.gwinnettpl.org.
Planet Smoothie celebrates two years in Suwanee Town Center
Planet Smoothie in Suwanee has served up smoothies and healthy fruity drinks to area residents in Suwanee Town Center for two years now and is celebrating its anniversary in May.
Planet Smoothie owners, Kristin Scott and Karen Strickling, have made it a point to be involved and support the local community by holding events such as school spirit nights and helping area residents celebrate birthdays at the smoothie shop. Scott and Strickling said they both love being a part of the community in Suwanee.
"Suwanee is such an amazing place to work and live," they said. "We love all the wonderful people who make our job fun and a success. Thank you, Suwanee, for two fantastic years of business. We look forward to many more!"
Planet Smoothie is committed to "changing the way the planet eats" and "dedicated to make healthy living fun and enjoyable" with menu offerings that include smoothies that promote weight loss, protein, wellness, energy, cool blended fruit smoothies and even smoothies specifically for children ages 10 and younger.
For more information, visit Planet Smoothie online at planetsmoothie.com or find Planet Smoothie Suwanee on Facebook.
Atlanta's Greatest Hits Birthday Bask Rocks Suwanee Town Center
Atlanta's Greatest Hits radio station 106.7 celebrated its birthday in Town Center Park April 14. Festivities began at noon and included a free listener appreciation concert performance by the self-proclaimed, "#1 Yacht Rock Band in the Universe."
Yacht Rock Revue, named "Best Cover Band" in Creative Loafing's 2010 Best of Atlanta competition, paid tribute to the smooth hits of the 1970s and '80s playing the music of Boz Scaggs, Jackson Browne, Kenny Loggins, the Bee Gees, Rupert Holmes, the Doobie Brothers and Hall and Oates, among many others.
Special opening guest performer was Yacht Rock Schooner, a "fast, light, backwards version of…Yacht Rock Revue."
The event started at noon, with Atlanta's Greatest Hits music, festival food, vendor booths, giveaways, and an area especially for children with inflatable bouncy houses, games, prizes, and more. Admission was free.
Suwanee Plans 2013 Budget
As the City of Suwanee begins to consider its fiscal year 2013 budget, the city invited residents to send comments and suggestions to budget@suwanee.com by April 23.
The budget for fiscal year 2013, which begins July 1, is expected to be adopted at the June 26 City Council meeting.
Suwanee's fiscal year 2012 budget is approximately $11.8 million with a millage rate of 5.65. FY2012 general operating budget funds were allocated as follows (see attached pie chart): Police – 35%, Parks and Public Works – 15%, Bond Payments – 14%, Council and Chief Executive and Financial Services – 6% each, Administrative Services, Economic Development, Planning, and Non-Departmental (e.g., legal, technology, and buildings) – 5% each, Capital Contributions – 4%.
More information about Suwanee's 2012 budget can be found at suwanee.com. Click on the Docs and Downloads link at the top of the page and then click on the Financial Documents link. From this page, residents can access the Fiscal Year 2012 Citizens Operating Budget, a 24-page document that offers an overview of revenues and expenditures, as well as the 400+ page Fiscal Year 2012 Budget Document, which provides much more detailed information.
Snap Suwanee Photo Winners Announced
Thirteen winning photographs in the 2012 Snap Suwanee photo competition are on display at Suwanee City Hall through the remainder of the year beginning March 1. The winning photos represent a variety of Suwanee locales, including a variety of parks and the historic district.
In all, the city received 129 entries from 43 photographers in the annual photo competition. The photos will be on exhibit along the lower-level back foyer at City Hall, located at 330 Town Center Avenue. A gallery of winning photos is available at suwanee.com.
20/20 Vision Strategic Plan Draft Unveiled
The City of Suwanee unveiled its vision for tomorrow at an event that's a throwback to tradition at an old-fashioned Southern potluck picnic, April 29, where the draft of its community-driven 20/20 Vision strategic plan was released. The communitywide picnic/celebration was held at the Suwanee Music Barn, located on Blue Grass Trail, off Stonecypher Road in historic Old Town.
The City of Suwanee and community members have collaborated the past 10 months to craft a vision for the kind of community Suwanee should be in the next decade. Some 435 people participated in 10 different activities at the strategic plan open house last July; six community focus groups were formed; and through the fall and winter 100 conversations were held by 25 roundtable groups.
During the picnic, a mini open house captured feedback. Entertainment was provided by one of the Suwanee Music Barn's house bluegrass bands.
Annandale Village Breaks Ground on New Amy Somers Center for Continued Care
Annandale Village broke ground on a new chapter in its rich history of providing programs and services to individuals with developmental disabilities and their families. The ceremony that took place March 2 commemorated the addition of a new 10,000 square-foot facility designed to meet the needs of individuals experiencing a decrease in independent living skills due to aging and/or characteristics of their developmental disability. When complete, The Amy Somers Center for Continued Care will expand Annandale's capacity to serve the growing disability population, effectively doubling the number of individuals served at the nationally recognized Laura Grier Center for Special Care and the D. Scott Hudgens Center for Skilled Nursing.
Annandale Village is the only nonprofit organization in the state of Georgia to provide a continuum of service and care for people with developmental disabilities and traumatic brain injuries. This significant milestone has a regional and statewide impact for families affected by developmental disabilities.
Local Man runs 100 miles to raise funds in memory of his brother
Johan Desmet ran 100 miles in the Athens to Atlanta Publix 100 Charity Run in memory of his brother Dan Desmet who died from leukemia last December and in support of Dan's wife Linda, currently battling multiple myeloma. Runners raised more than $7,500 for the American Cancer Society. The runners started in Athens on March 17, running 74 miles to Atlanta and continued to run in the Publix marathon on the morning of March 18. Several runners joined them for portions of the run.