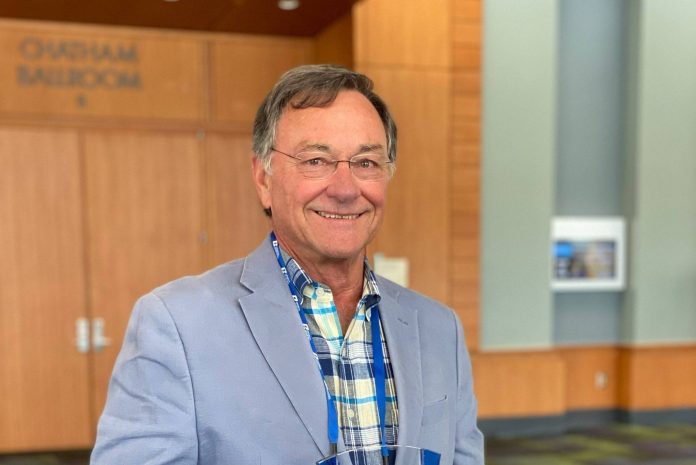 The Georgia Cities Foundation (GCF) awarded Suwanee Mayor Jimmy Burnette the 2022 Starr Award at the Georgia Municipal Association's Annual Convention in Savannah on June 27. Established in 2019, the Starr Award recognizes an individual who has made a significant contribution toward creating a unique and vibrant environment in the downtown area of a city in Georgia.
Burnette has served as Mayor of Suwanee since 2012 and previously served as a member of the City Council from 1996 until 2011. He was a charter member of the Downtown Development Authority (DDA), serving for 12 years until he was elected mayor.
Burnette regularly served as the liaison between the DDA and City Council, forging consensus to continuously grow, develop, and foster a vibrant environment in downtown Suwanee. He advocated for acquiring and rehabilitating Pierce's Corner — one of Suwanee's oldest structures — in order to activate Old Town Suwanee, the original city center.
Burnette has also been intricately involved in every Comprehensive and Downtown Master Plan for more than 25 years, with the most recent project — the redesign of Buford Highway into a walkable urban boulevard — nearing completion.
"Mayor Burnette has provided long-term leadership and vision as Suwanee has grown into a regional leader in all areas of smart managed growth, downtown development, and open spaces. He is always thinking about what is next, how to improve, and how to bring people along," said Suwanee Economic Development Manager Chris Hardin.
The Starr Award is given annually in memory of Mike Starr, who served as the Georgia Cities Foundation's President for two decades until his death in 2019. The Georgia Cities Foundation seeks to create this permanent legacy in President Starr's memory by celebrating those who emulate his best traits: visionary, innovator, servant leader, and champion for downtowns.