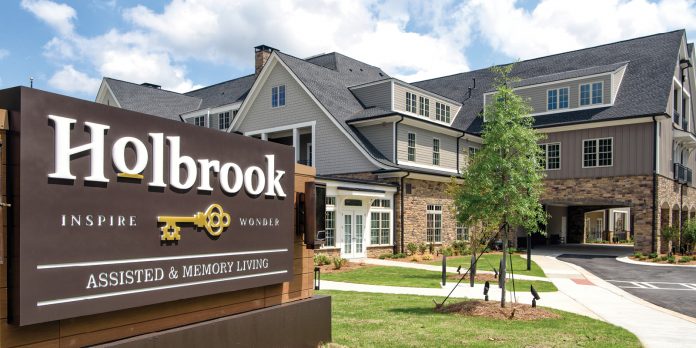 Gwinnett's newest assisted living community encourages its residents to embrace this next chapter of life with an active lifestyle and enriched activities.
By Alicia Carter | Photos by Karl Lamb
Located within walking distance to Sugar Hill's vibrant downtown, Gwinnett's newest senior living community is reinventing assisted living and memory care services. Holbrook Sugar Hill shies away from old-school ideas surrounding senior living, and instead emphasizes socialization, wellness and activities in a sophisticated environment that inspires its residents to fully embrace their next chapter of life. With six locations across the Southeast and more on the way, Holbrook's modern approach is catching on, with more and more people seeking out this refreshing take on senior living.
"We've completely re-engineered what senior living is," says Chairman Al Holbrook. "We don't use 'senior,' we don't use 'retirement.' We call our assisted living 'enriched living.' We call our memory care 'inspired living,' and our independent living option is called 'active passionate.'"
By eliminating the stigma behind aging and the needs that come along with it, Holbrook fully encourages independence while also offering the support and amenities for its residents to be successful. When entering Holbrook Sugar Hill, guests will find a modern, elegant and comfortable community with resort-style offerings and plenty of room to mingle. In fact, socializing is encouraged through a number of common spaces, regular activities and events, and even matchmaking services. Overall, Holbrook isn't offering end-of-life care, but the opportunity to begin a brand-new life.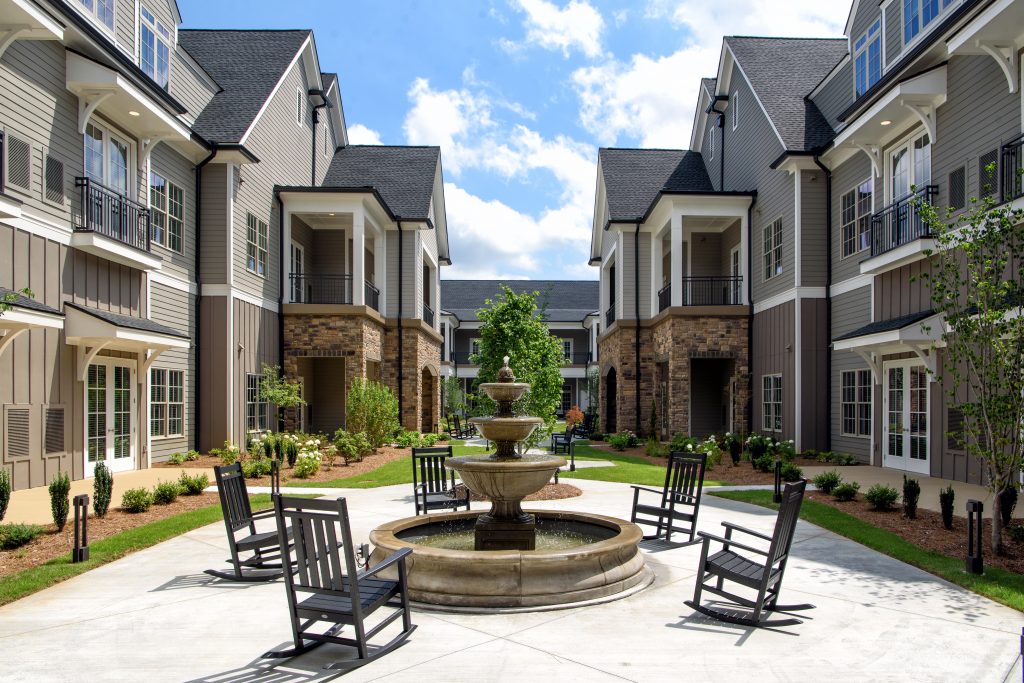 Enriched Living
In addition to the beautiful pet-friendly apartments, which include studio, one- bedroom and two-bedroom suites, residents will also enjoy Holbrook's stunning grounds with a sunny courtyard, walking paths and landscaped gardens. Residents can also take advantage of the community's library, exercise facility, TV and game rooms, as well as an onsite beauty salon and barber services.
For its enriched living community, residents will work with Holbrook's professional team of nurses to create an individualized care plan. This can include holistic wellness and fitness programs, daily activities and life enrichment programs, as well as weekly devotional and spiritual gatherings. Residents will also be able to enjoy three delicious, therapeutic meals a day along with healthy snacks provided in its onsite bistros.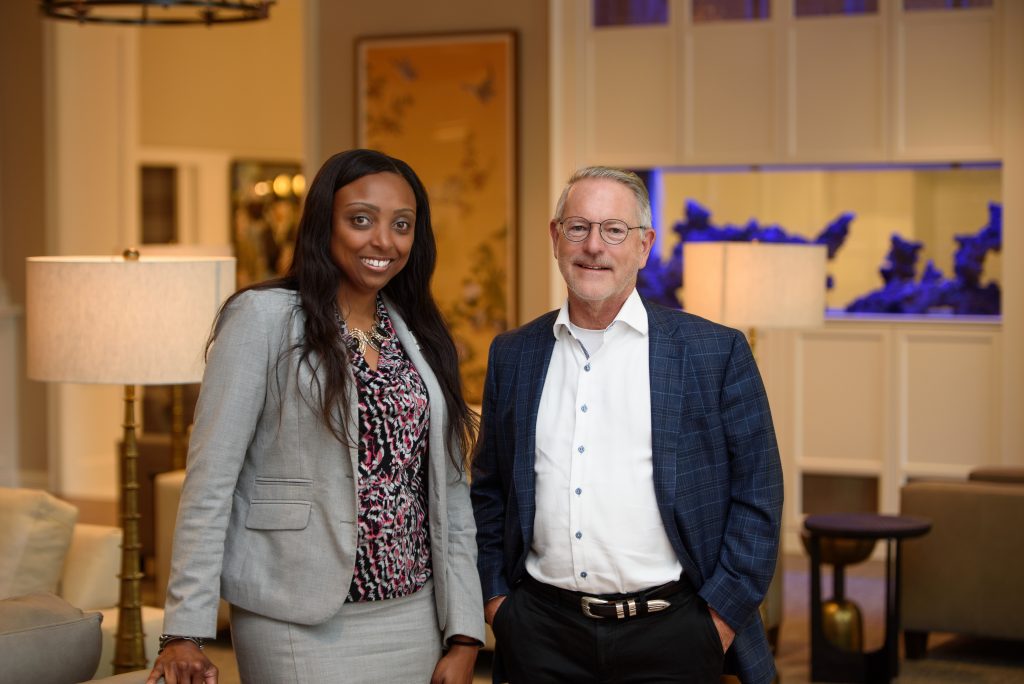 Inspired Living
Holbrook Sugar Hill also offers memory care services, which they refer to as "inspired living." The Inspirations Neighborhood is a secure, independent section of the community that meets the unique needs of individuals with Alzheimer's and other memory impairment conditions, overseen by Holbrook's team of specially trained caregivers.
Inspired living residents can receive non- drug therapy programs, which help access long-term memories that are more resistant to dementia and can help root residents in a sense of time and place. Incorporating activities, sounds, scents, and innovative surroundings, the inspired living residents will enjoy programs that help stimulate the senses for memory recall to keep them feeling connected.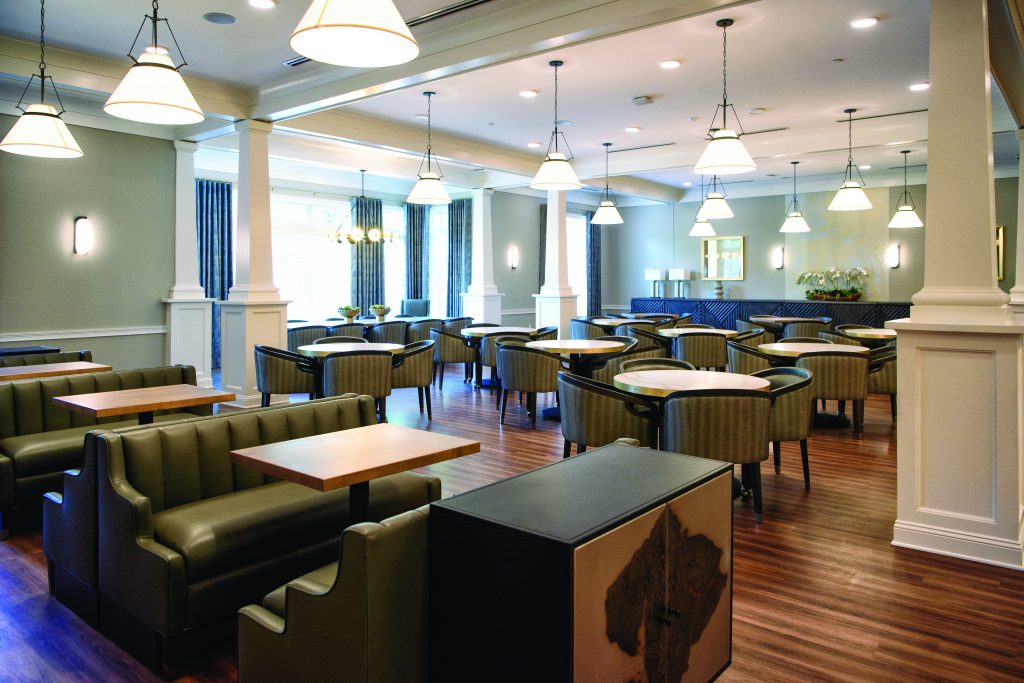 Food With a Purpose
Holbrook hired Tom McEachern — a former contestant on the Food Network's "Chopped" cooking show — to oversee the menu of all of its locations. With more than 25 years of experience as an executive chef in award-winning restaurants, McEachern has a true passion for food. In fact, the James Beard Foundation named McEachern as a Rising Star of American Cuisine and featured him as a guest chef twice. Hiring a chef with a resume like McEachern's is a clear sign that Holbrook takes the food it serves seriously.
"Food is your medicine, medicine is your food — we live by that," Holbrook says. "We attempt in every way to know where the food we serve is coming
from and where we can have local farms deliver. We are developing a menu that tells you what the food does to the body. Let's say you have a B12 deficiency, which is pretty common in older women and results in depression, etc. So we serve shrimp, which has a high vitamin B12 content. So on the side of the menu with each entree and side item, it will tell you what the mineral and vitamin content should be."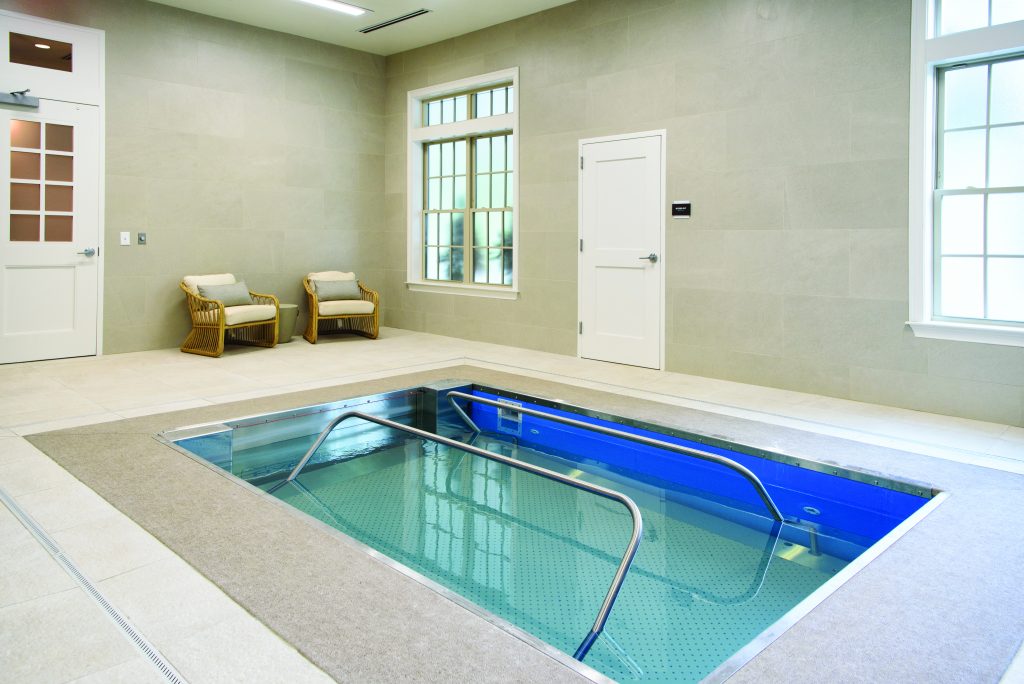 High-Tech Healing
Holbrook places an emphasis on overall wellness for its residents, who will enjoy filtered water and air, as well as UV lighting. "Our buildings are some of the safest in the world with the UV lighting and negative ion emission in the HVAC system to kill viruses," Holbrook says. "Our full building water filtration systems limit foreign particles that stress our immune system."
Holbrook also offers hydrotherapy to its residents, which is a unique offering among senior living communities. This revolutionary therapy uses HydroWorx aquatic therapy pools to help residents improve balance and stability. The benefits of hydrotherapy include conditioning for older adults, which helps improve sleep quality, flexibility and joint pain. It can also be utilized for neurological and spinal cord rehabilitation to help regain lost motor skills. Finally, hydrotherapy can encourage weight loss by reducing pressure on the joints and improving balance, making it easier for people to exercise.
Holbrook's unique approach to senior living ensures that families will feel confident that their loved ones are getting the most out of this next season of life. By incorporating wellness, a multitude of activities, and an environment that encourages socialization, Holbrook is writing the next chapter in care for our senior community.
Holbrook Sugar Hill is located at 5135 W. Broad St. in Sugar Hill. For more information, call 404-445-7777 or visit HolbrookLife.com.