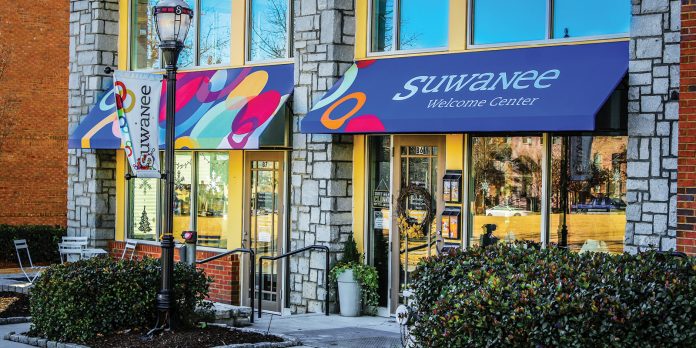 Tucked away on a side street in Town Center is an unassuming space with a cheerful blue awning and turquoise café tables and chairs, harkening the bright, colorful interior that awaits.
The City of Suwanee and Suwanee Arts Center (SAC) partnered in 2016 to create a joint Welcome and Arts Center, allowing the SAC to have much-needed gallery and class space in Town Center, while also providing the city with a staffed Welcome Center. Thanks to a strategic partnership with a valued nonprofit art organization, visitors and locals alike are welcomed to the City of Suwanee not by a boring desk with pamphlets and maps, but with a high-energy, beautiful, art-filled space in Suwanee Town Center.
"The combination Welcome and Arts Center allows the city to have a presence that extends beyond normal business hours," said Marty Allen, Suwanee's City Manager. "City Hall is closed on weekends and after 5pm, which is when a large percentage of our visitors are in Town Center. Collaboration with SAC allows us to have a welcoming presence when Town Center is at its busiest."
Located at 3930 Charleston Market St., half of the 2,300-square-foot facility is dedicated to welcoming visitors with information, Suwanee swag, and an art gallery, while the other half hosts art classes, camps, and workshops for the community. The SAC is a nonprofit organization dedicated to promoting the appreciation of local art through exhibitions, festivals, and other media. The SAC maintains an open membership policy where artists of all types, art lovers, and even students are welcome to be a part of the organization.
The city's annual contract with SAC to host the welcome center in the art gallery is funded out of the hotel/motel tax fund, which is intended to go toward such programs. The unique partnership won a 2018 Georgia Downtown Development Award. In addition to staffing the Welcome Center, the SAC hosts two community-wide arts events in Town Center Park annually.
"What better way for Suwanee to say 'Welcome!' than with art?" commented Suwanee's Assistant City Manager Denise Brinson. "Public art has become an integral part of Suwanee's identity. It's not enough to simply create a place. That place has to come alive – through art, events, activities, and just making things fun. People need a reason to keep coming back and connecting."
"Arts and cultural activities are at the heart of Suwanee. The partnership between the SAC and the City of Suwanee Welcome Center does just that, helping to bring that energy to the community."
---
Suwanee Arts Center's Superheroes! 5K Run/Walk
Saturday, April 24, 8 a.m. @ Suwanee Town Center
Be a superhero for the arts! The Suwanee Arts Center is hosting its Superheroes! 5K Run/Walk on April 24, and is encouraging participants to get in the spirit and come dressed as their favorite superhero! You can dress as your mom, a nurse; your dad, a first responder; or any character you choose, such as Superman, Spiderman, the Black Panther, Wonder Woman or the Hulk. Maybe it's a Disney princess or maybe it's a Disney villain — no judgement here!
There will be a staggered start for social distancing and chip timing so your time starts when you cross over the start line. This race is a Peachtree Road Race qualifier! In addition to the race there will be lots of fun including an awesome T-shirt, photo ops with superheroes, and awards to the Top 3 Overall male and female, Top 1 Overall Masters male and female (50 years old +), Top 1 Overall Grand Master male and female (60 years old +), and the Top 1 male and female in a variety of age groups. There will also be awards for Best Dressed Pet and Best Dressed Family!
For more information and to register, visit: RunSignUp.com/Race/GA/Suwanee/SuwaneeArtsCenterSuperHeros5K
---
Artist Spotlight: Richard Shivers Pottery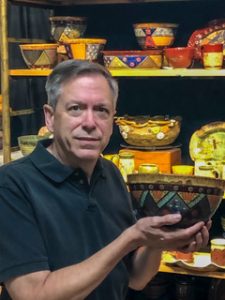 Local artist Richard Shivers created A Measure of Clay from a blend of his musical career and his artistic interest in pottery. His journey to becoming the respected potter he is today began after retiring from a long career in education as a music specialist. In 2004, Shivers began participating in pottery classes and learned from some of the best teachers in the metro Atlanta area.
A Measure of Clay features wheel- thrown and slab-built clay pottery in functional ware. "The greatest joy is using a piece of pottery in a functional everyday use, whether it is a mug, tumbler, plate, tray, small bowl, etc.," Shivers says. "Gathering around the table with family and friends is a wonderful part of life, and using pottery pieces is a very hospitable way of enhancing that time." Shivers' pottery is created in food-safe glazes for functional purposes, although he also creates pieces for more artistic appeal. "I especially enjoy using nature's leaves to enhance portions of the piece or become the whole piece, making a one-of-a-kind artistic statement," he says.
Shivers has volunteered at the Suwanee Arts Center for the past four years as the Education Director and Pottery Instructor. He has also participated in the Arts Center's exhibits in the gallery and has pottery pieces for sale in the gallery shop.
For more information on Richard Shivers and A Measure of Clay, visit Facebook.com/RichardShiversPottery.