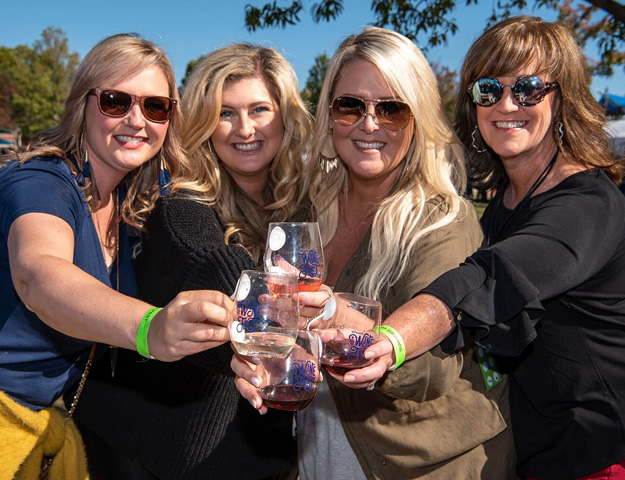 Fall is finally here, and with it comes the return of some of our favorite fall festivals! With events like Suwanee Fest, the Duluth Fall Festival, and Taste of Atlanta, there is something happening in and around our community almost every weekend. However, there is one festival in particular that warrants a special place on your calendar: the seventh annual Suwanee Wine Fest on November 2. Truly a wine lover's dream, the festival features unlimited samples of more than 150 wines from around the globe, the majority of which are carefully hand-selected by the wine experts at Beverage SuperStore. Organized by the team behind the award-winning Suwanee Beer Fest, this festival offers a wine experience for novices and experts alike.
By: Lizzy James | Photos by Karl Lamb
Sip, Stroll, and Shop!
Recognized as one of the premier wine events in Georgia, Suwanee Wine Fest gets bigger and better each year. As festival attendees sip their way through Town Center Park, they have the opportunity to shop from local vendors, taste delicious food from some of the area's most popular food trucks, participate in backyard games like giant Jenga, and listen to live music from local bands.
Beer, Bourbon and College Football in the Craft Beer Tent!
Beer lovers in the crowd can make their way over to the beer tent sponsored by Taco Mac, StillFire Brewing and Slow Pour Brewing. J.R. Revelry will be pouring bourbon samples for liquor lovers in attendance. Here attendees will be able to enjoy a few brews while watching the University of Georgia take on the Florida Gators. Once the festival is over, head across the street to StillFire Brewing for a Wine Fest after party!
Georgia Wine Trail Passport
Making its return to the festival this year, the Georgia Wine Trail allows participants to visit local wineries throughout the festival to get their "passports" punched after trying exclusive wine samples brought just for them! After visiting all the wineries, take your passport to the Suwanee Magazine tent for a special surprise!
Drink for a Cause
The event organizers are committed to continuing to create the best wine tasting experience while also giving back to the community. A portion of the Wine Fest proceeds will be donated to Annandale Village, a Suwanee organization that provides care and life assistance to adults with developmental disabilities or traumatic brain injuries and enables them to maintain their independence in the least-restrictive environment possible.
---
Early bird ticket prices start at $49 per person and feature unlimited samples of wine and beer in the park from 1-4:30 p.m. with the prices increasing to $55 on October 13, or $60 the day of the festival if still available. Purchase tickets now at
SuwaneeWinefest.com
.
---
Featured Georgia Wineries at Suwanee Wine Fest:
Cenita Vineyards, Winery and Tasting Room
CeNita vines are planted on the site of the family's first dairy farm, so the soil is perfect for growing balanced wines. Their families have been farming for four generations, and understanding the soil, climate and growing seasons is paramount in the making (growing) of wine. CeNita produces 1,000 + cases a year from their estate vines and is continuing to grow every year. Their Handcrafted Estate Wines are made from the finest of Vinifera & Hybrid Vines, including Merlot, Cab Franc, Cab Sauvignon, Vidal Blanc, Chambourcin, etc. and flourished in the rich North Georgia soil. Greg and Carol Crumley strive to grow the finest fruit and let the vintage speak for itself. 591 Dock Dorsey Road, Cleveland, GA 30528, cenitawinery.com, 706-865-7478
Kaya Vineyards
Kaya's Winery and tasting room are located in Dahlonega, built atop a ridge that is 1,600 feet above elevation and offers the most panoramic mountain view in North Georgia. All Kaya wines are made exclusively from estate grown grapes produced from their property. The vineyards are planted with classic European, Italian and American varietals. Their techniques are meticulous; the secret lies in the management of the vineyard. The Kaya team loves to produce handcrafted complex wines that cater to the serious enthusiast. Their tasting room goal is to provide an educational experience for those with a passion to learn about wine. 5400 Town Creek Rd, Dahlonega, GA 30533, kayavineyards.com, 706-219-3514
Sharp Mountain Vineyards
In Jasper, Georgia, lies one of the oldest vineyards in North Georgia: Sharp Mountain Vineyards was established in 1995 and has been producing award-winning wines since 2004. Eleven varieties of European Vinifera are all produced and bottled on-site. The family owned business prides itself on the personal attention they give to every vine, wine, and most importantly guest. Drink in the beautiful scenery of rows of espaliered vines with a commanding view of Sharp Mountain. Browse the tasting room and gift shop while enjoying the pavilion, patio, live music, and a bottle or glass of wine. From start to finish, SMV wines are handcrafted in the Old World fashion. It's more than a wine: it's an experience. The winery is open Friday, Saturday and Sundays. 110 Ratheb Trail, Jasper, GA 30143, sharpmountainvineyards.com, 770-735-1210
Sweet Acre Farms
Sweet Acre Farms Winery is a small husband and wife run farm located in the beautiful foothills of the Northeast Georgia mountains. After growing blackberries and keeping bees for some time, they have turned their u-pick farm into Hall County's first winery. They specialize in fruit, or "country wines," that are reminiscent of those our Southern families used to make. They honor our state's agricultural diversity by using the finest ingredients from their farm and farms alike. All of their fruit wines are 100% all-natural fruit; and never use any flavorings, coloring or concentrates. 7584 Bill Wilson Rd, Alto, GA 30510, sweetacrefarms.com, 678-769-5335
Three Sisters Winery
"Thar's WINE in Them Thar Hills" ™ at Three Sisters Vineyards & Winery! Celebrated as "Dahlonega's First Family Farm Winery," Three Sisters holds the distinction of being Dahlonega's first bonded farm winery since prohibition and the first of the five vineyards established in Lumpkin County proper. The estate is located in the "Heart of Georgia Wine Country" and situated on 184 acres between Dahlonega and Cleveland. Laid-back and fun, Three Sisters small farm agribusiness is dedicated to growing the finest grapes that Georgia can grow and making beautiful handcrafted wines. They invite all wine lovers to come and taste for themselves! 439 Vineyard Way, Dahlonega, GA 30533, threesistersvineyards.com, 706-865-9463