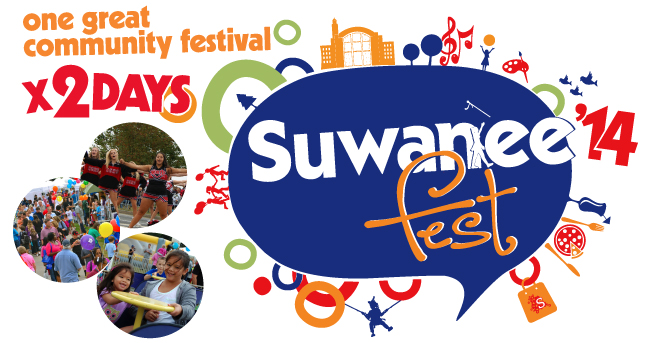 After thirty years of the City of Suwanee celebrating its community, heritage, families, businesses and culture – the traditionally 1-day event has grown into a two-day festival called "Suwanee Fest".
The 2014 Suwanee Fest, sponsored by 12 Stone Church, will take place September 20-21st at Town Center Park and is themed "Heroes – Red, White & You". The City of Suwanee
is grateful to 12 Stone and other generous sponsors, including: Choices to You, Atlanta Classic Cars, Keurig Green Mountain, Member's Auto Choice, PNC Bank and more for their support in helping to create a community festival that reaches tens of thousands of people.
To get in the Suwanee spirit early, the Suwanee Fest Classic races will be held the weekend before
Suwanee Fest on Saturday, September 13th with a 1k fun run, 5k and 10k courses available. A portion of proceeds from this event will benefit "Cure Childhood Cancer of Atlanta" and runners are encouraged to dress in superhero costumes to honor those touched by childhood cancer.
Suwanee Fest will kick off in the same way it has for over two decades – with a parade on Saturday at 10am, with former U.S. Army Capt. Luis Carlos Montalván and his beloved service dog named Tuesday as grand marshals. The deadline to register for the parade is September 10th.
Following the parade, Saturday's festivities will continue in Town Center Park until 7pm with hundreds of art, craft and jewelry vendors, food vendors, live music, carnival games, rides and a variety of entertainment taking the main stage. Sunday's festivities will resume at noon and go until 6pm.
This event, which hosts approximately 50,000 people, has come a long way since its origination in 1984 when 75 people were in attendance, yet demonstrates how even amidst the tremendous growth of our City – we have retained the same tight-knit community culture. Rain or shine, the citizens of Suwanee will gather together and celebrate the awesome City that we call home.