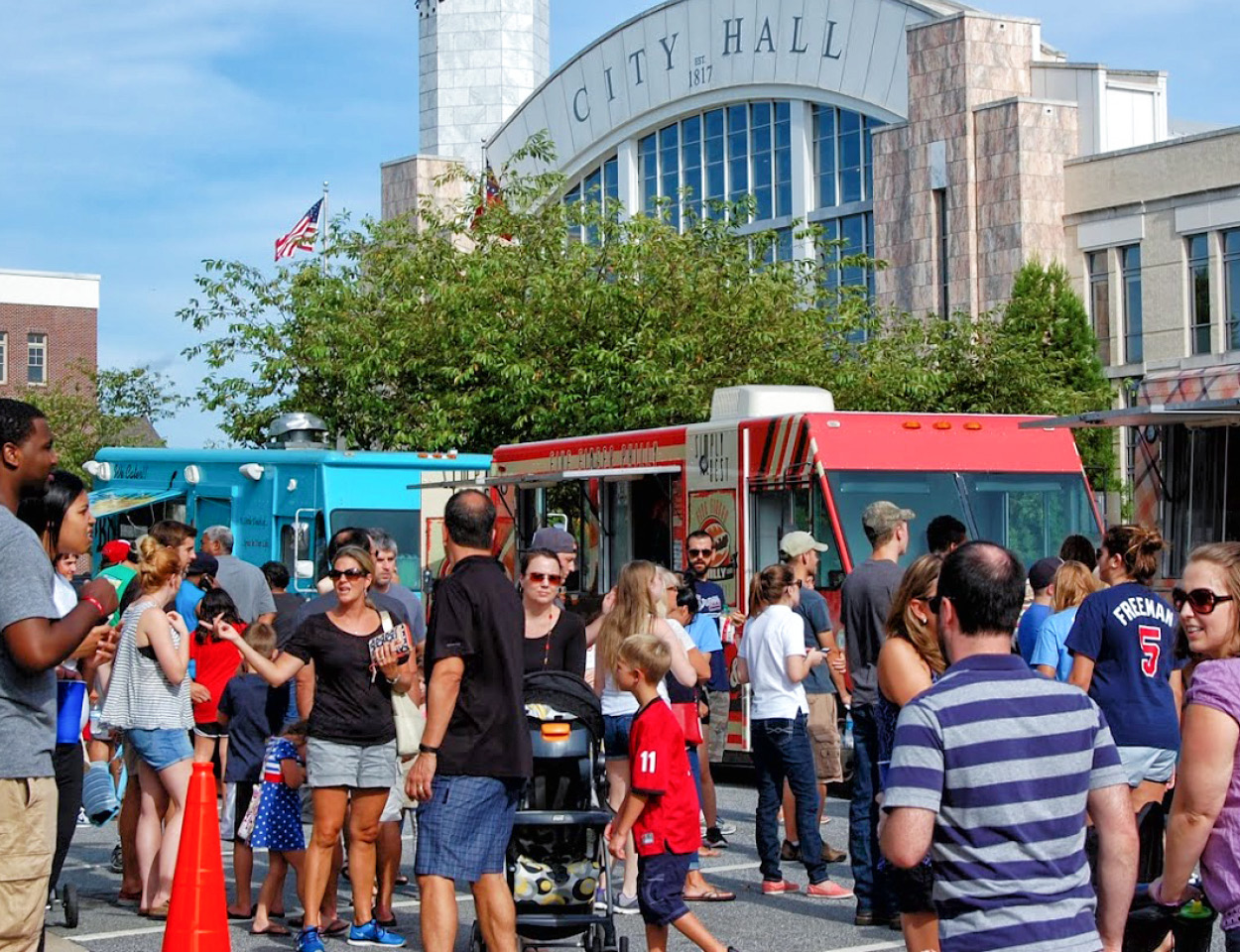 Springtime is the official kickoff to food truck season and those trucks will soon converge on Suwanee Town Center for the annual Food Truck Fridays event.
By: Alicia Carter
It's springtime in Suwanee, which means it's time to turn off Netflix, break out of the house and spend the days soaking up the sun for some much needed Vitamin D. Food Truck Friday happens to be one of Suwanee's most popular events, because let's face it, meals are more enjoyable when taken to-go and paired with people watching in the park. This year, each Food Truck Friday event will have a different theme: May is the annual Night of Jazz and will feature three local high school bands. June will be a throwback, featuring the band Denim Arcade playing '80s covers. The Suwanee Youth Leaders have taken the helm of planning the August and September nights, and will be choosing everything from the theme to the music as well as helping to select the food trucks. When it comes to choosing the trucks that participate in Food Truck Friday, the City of Suwanee's Abby Wilkerson says there's a method to the madness: They look for food that isn't readily available in the park and that doesn't compete with existing restaurants; trucks that are familiar with handling large crowds; as well as a diversity of food options to please every palate.
In celebration of their impending return, we've highlighted a few of our favorite food trucks to preview before the event officially kicks off in May. For more information about Food Truck Friday, visit suwanee.com.

CATTYWAMPUS GRILL
Cattywampus Grill serves down- home classics like burgers, chicken and waffles, and a grilled cheese sandwich alongside fries, grit fritters and mac and cheese. Owners Shane Betterton and Shayla Brown strapped into the food truck fast lane in 2016 and haven't looked back since. Theirs is one of the more popular trucks in Atlanta, and a favorite of Suwanee's Food Truck Friday. When asked why they got into the mobile food biz versus a brick-and- mortar location, Shane credits the adaptable schedule and freedom to take their food to new places. "We were attracted to the idea of bringing our food to the people and not having to rely on them coming to us," he says. "We enjoy having our regulars along with being able to meet new people and see new places each day." As far as their most popular menu item, Betterton notes their Barn Burger, made with a hand-crafted beef and chorizo patty topped with sharp cheddar, dill pickles, a beer-battered onion ring and topped with their house chipotle cilantro mayo served on a brioche bun. "It's extremely unique and bold in flavor," Shane says. Learn more about Cattywampus Grill at cattywampusgrill.com.
---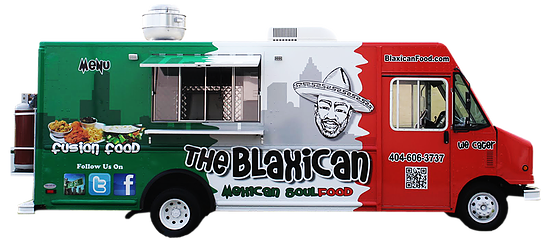 THE BLAXICAN
The Blaxican boasts a creative menu of Mexican Soul-Food fusion items like blackened fish tacos, "Mexy" macaroni and cheese, and their most popular dish, collard green quesadillas. In 2018, the Blaxican opened a brick-and-mortar location off of Peachtree Industrial Boulevard and Medlock Bridge Road in Norcross. Since then, people have been able to come to the restaurant for their signature blend of Mexican/ Latin cuisine and Southern home cooking. But the heart of the Blaxican still lies in its restaurant on wheels. When asked about the appeal of an event like Food Truck Friday, owner Will Turner says, "We love to share our creation with a diverse group of people, and Suwanee has become one of Georgia's most progressively diverse cities." Learn more about the Blaxican at blaxicanfood.com.
---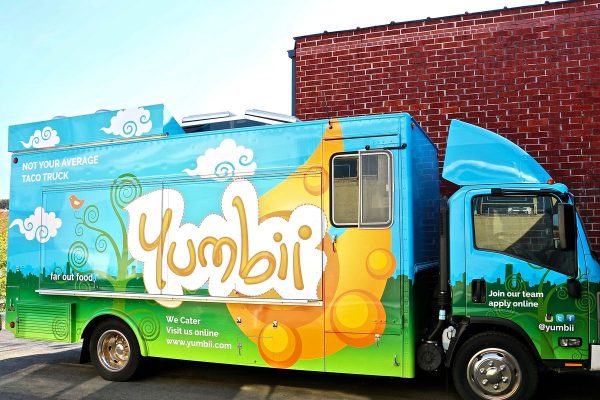 YUMBII
Since 2010, Yumbii has offered up a unique blend of Mexican and Asian flavors, with taco, burrito and quesadilla flavors ranging from spicy pulled pork to stir-fried tofu. But their most popular draw is hands down the sesame fries. "They're fried up fresh, tossed in Yumbii's own special blend of spices, and served with our homemade chipotle ketchup," says owner Thom Pate. Yumbii has been on the scene for nearly a decade, and as a seasoned food truck owner, Pate knows how to stand out in the crowd. "Yumbii was the first food truck in Atlanta," he says. "We've been at it for eight years, and some of our guests have been with us the whole time. Our consistency, unique flavors, attention to detail, and rapid service has really helped with our success." Events like Food Truck Friday allow trucks like Yumbii to branch out and reach new customers. It's also a "great time to catch up with some of the other operators in the city to talk shop," Pate says. Learn more about Yumbii at yumbii.com.
---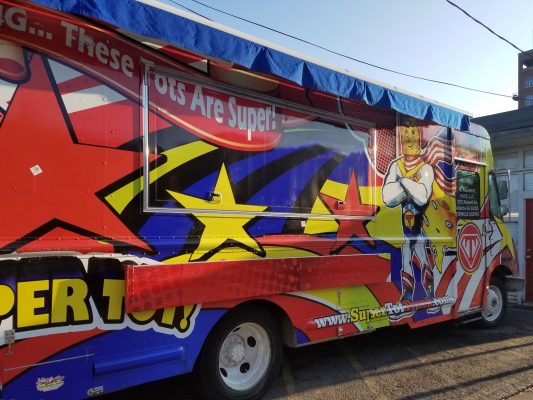 SUPER TOT TRUCK
Is there a better food than tater tots? The compact little bites of fried potato can manifest as both highbrow and lowbrow dishes, sharing equal footing on late-night party plates as they do next to expensive steaks — it's all in the presentation. And perhaps no one presents tots better than Super Tot Truck. According to their website, "All our tots are made from real potatoes and spices — they are gluten-free and vegetarian. Our toppings and sauces are made from scratch with real cheese, real meat, real vegetables — we do not use artificial stuff." A quick glance at the menu finds the potato poppers smothered in varying ingredients ranging from smoked brisket to Buffalo fried chicken. Try the Super Tots, seasoned tots topped with cheddar cheese sauce, sour cream, buttermilk ranch, hardwood smoked bacon, and green onions. "Food Truck Fridays are a fantastic way to interact with great people," says Super Tot Truck owner Giovanna Rosenfeld. "As a chef, we constantly strive for approval and on a truck you get 'instant' gratification — it's a quick-serve environment and we see happy faces right away." Learn more about the Super Tot Truck at supertottruck.com.