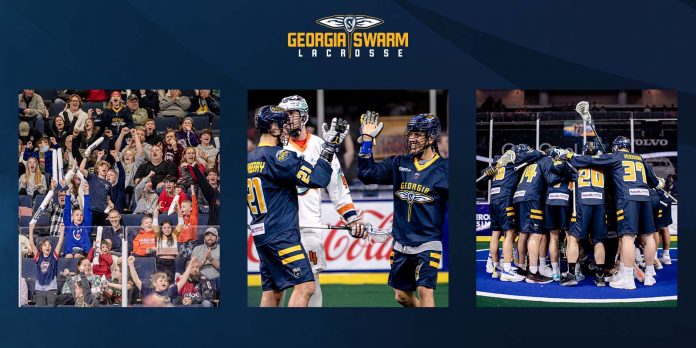 The strains of The Fratelli's "Chelsea Dagger" swell through Gas South Arena's infrastructure, shaking the building on Sugarloaf and Satellite to its core while the thousands in attendance — in reflexive fashion after another physics-defying goal by the iconic Lyle Thompson — stand in unison to do the simple but incredibly infectious and unashamedly mechanical arms up, arms down communal movement.
The Goal Dance.
A simple ritual that defines a much broader fan experience and serves as the hallmark to a two-hour evening out that's gaining meteoric traction throughout Gwinnett County and Metro Atlanta.
The Georgia Swarm of the 36-year-old National Lacrosse League (NLL), who migrated from Minneapolis, Minnesota in 2016 and brought the city of Atlanta its first major pro sports Championship in 22 years by winning the Champions Cup in 2017, quickly developed a devoted fan base of season ticket members.
Swarm Co-owners John and Andy Arlotta have built a winner around lacrosse legend Lyle Thompson — considered by most the best lacrosse player on the planet. The Swarm have made the playoffs each season since the team flew south, and the pace of the sport has drawn crowds made up not just of lacrosse aficionados, but of anyone who deems two-plus hours of action, energy, and physicality their brand of fun. But the hallmark of a Georgia Swarm game is the music — in addition to the traditional dance after Georgia scores, fans bask in the diverse and edgy music track that's orchestrated by DJ Chance, one of the Southeast's preeminent deejays.
Lacrosse itself is the fastest-growing scholastic sport in North America, and the Atlanta area now sends dozens of high-school athletes to D1 lacrosse programs across the country each year. But an NLL game only slightly resembles its outdoor counterpart. Played on hockey-sized rinks, indoor or "box" lacrosse is faster, generates more contact, and usually results in double-digit goals for both teams.
Played primarily on Saturday nights between December and April, the Swarm Experience harnesses energy that other sports envy. If you haven't been let in on Atlanta's best kept sports secret, it's time to head down to the 10,500-seat Gas South Arena in March or April and see what the buzz is about!
MORE INFO: