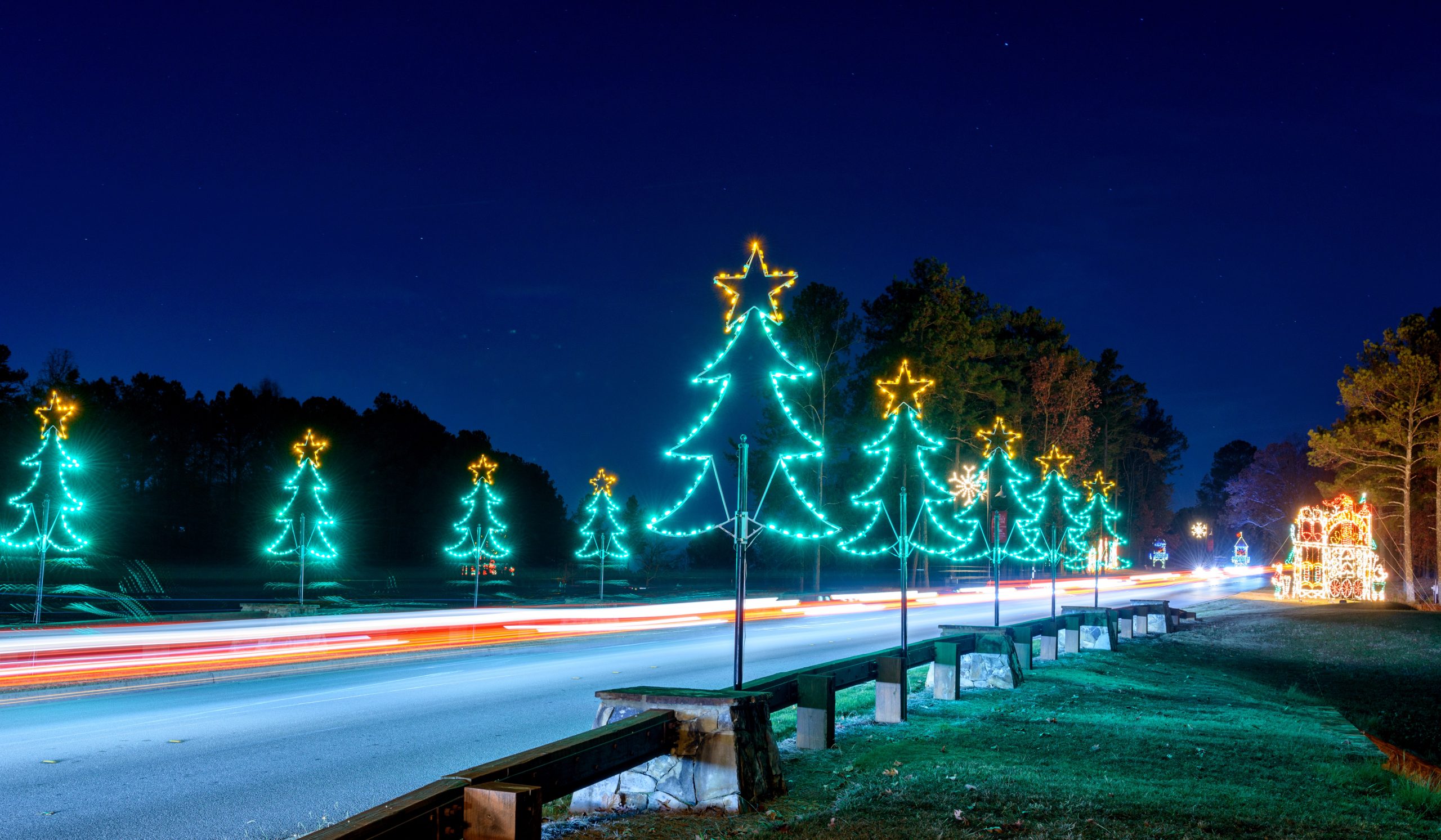 As the song goes, it's the most wonderful time of the year, when there's much mistletoeing, hearts are all glowing and loved ones are near. Lucky for us, there's plenty of good cheer to be had with loved ones around town this year. From tried-and-true holiday events like Lanier Islands' Magical Nights of Lights and Aurora Theatre's annual Christmas Canteen to new family favorites like Jingle in the Park and License to Chill Snow Island, there's a little something for everyone. So go ahead and mark your calendars and let's all have the hap, hap, happiest Christmas since Bing Crosby … well, you know. Happy holidays!
1. Magical Nights of Lights
This year the beloved annual lights display received a bit of a facelift with the addition of an extra mile of lights and 19 new displays, some of which will be Margaritaville-themed like the "It's 5 O'clock Somewhere" clock to tie into the park's new attraction, Snow Island (see below). Classic favorites such as the "12 Days of Christmas" will also make their return. Through Jan. 6, 2019. Entrance starts at $43 per vehicle. Tickets For more information, visit www.lakelanier.com/magical-night-of-lights.
2. License to Chill Snow Island
The new holiday attraction weaves traditional holiday revelry with maritime flourishes and features tons of activities for the family, including winter-themed carnival rides, an ice-skating rink, snow play areas, fire pit s'mores, a Santa photo op beneath the Fin Dunker, and specialty winter drinks at Landshark Landing. The star of the island is the all-new snow tubing hill, which is said to be the fastest in North America. Through Feb. 24, 2019. Tickets to License to Chill Snow Island begin at $24.99. For more information, visit www.margaritavilleatlanierislands.com.
3. Illuminate
Head over to Sugarloaf Mills for a brand-new holiday event all the way from China. Immerse yourself in a world of wonder and light as you wander through a maze of illuminated sculptures scaling nearly 30 feet tall. Explore the Forbidden City and meet the Terracotta Warriors before passing through the belly of the whale for a glistening look at life Under the Sea. Prepare to be awed by dazzling acrobats, but don't forget to leave time to visit Christmas Village! Through Jan. 1, 5-10 p.m. Sugarloaf Mills. www.illuminategeorgia.com.
4. Happy Feat's Jingle in the Park
Head over to Suwanee Town Center on Dec. 15 for Jingle in the Park, a family-friendly holiday event benefiting HappyFeat, a local nonprofit whose mission is to create inclusive opportunities for people living with disabilities. The day will kick off with a 5K, and will be jam-packed with festive fun, including a gingerbread house competition, a kids area dubbed the Candy Cane Forest, and the Mistletoe Marketplace with eclectic items from local vendors and makers to help kick off your holiday shopping. There will also be live entertainment throughout the day, including performances by Walnut Grove Elementary School, Jones Middle School Chorus, Mill Creek Show Choir, North Gwinnett Middle School Guitar Club, Suwanee Academy of the Arts, and more. Sat., Dec. 15, 10 a.m.-6 p.m. Suwanee Town Center Park. www.jingleinthepark.com.
5. Tacky Sweater
Get ready for a fun-filled evening in which The Actor's Company presents a side-splitting improv show highlighting the fun side of Christmas. $10. Sat., Dec 8, 7 p.m. at the Suwanee Academy of the Arts "Mainstreet Playhouse," 341 Main St., Suwanee. www.suwaneeacademy.com.
6. Nutcracker Tea
Imagine an enchanting tale brought to life through magical storytelling and delightful dancing by the Suwanee Ballet. $28, $10 for an extra observer. Sat., Dec. 8, 11:30 a.m. and Sun., Dec. 9, 3 p.m. at the Suwanee Academy of the Arts "Mainstreet Playhouse," 341 Main St., Suwanee. www.suwaneeacademy.com.
7. Best of The Nutcracker
Selections from The Nutcracker will be performed by the Suwanee Ballet, where you'll see everything you love about the classic holiday ballet, including dazzling costumes and exciting performances. Sat., Dec. 15, 11 a.m., 3 p.m. and 6 p.m. at The Eagle Theatre, 5029 W. Broad St. N.E., Sugar Hill. www.suwaneeacademy.com.
8. A Christmas Carol
Aurora Theatre's one-man Charles Dickens' A Christmas Carol returns for a limited four-week engagement. The theater will be transformed to make you feel as though Mr. Dickens has personally invited you into his parlor. Through Dec. 23. Dates and times vary, see website for more information: www.auroratheatre.com.
9. Wonderful Life
A touching stage adaptation of one of the most popular and heartwarming films ever made comes to Lawrenceville's Aurora Theatre through Dec. 23. Atlanta actor Jeremy Aggers will inhabit all of the wonderful characters from Clarence, Mr. Potter, Uncle Billy, Mary, Mr. Gower, yes even Zuzu. As well as the undeniably iconic George Bailey, who learns that it takes a lot more than money to be the richest man in town. Through Dec. 23. Dates and times vary, see website for more information: www.auroratheatre.com.
10. Christmas Canteen
Gwinnett's longest-running theatrical holiday tradition, Christmas Canteen 2018 returns for its 23rd year. The musical revue makes The Most Wonderful Time of the Year even more wonderful. Brimming with songs, comic sketches, trips down memory lane and a sprinkle of Christmas magic, it's the holiday show with something for everyone. Through Dec. 23. Tues.-Sat., 8 . p.m.; Sat.-Sun., 2:30 p.m. Tickets from $30. Aurora Theatre, 128 E. Pike St., Lawrenceville. www.auroratheatre.com.
11. Lawrenceville Christmas Parade
Lawrenceville's annual Hometown Christmas Parade will feature Santa Claus, live reindeer, community floats, fun activities and more! Guests can also visit with Santa at the Historic Courthouse Gazebo following the parade. Fri., Dec. 14, 7-9 p.m. Downtown Lawrenceville, South Clayton Street. www.lawrencevillega.org.
12. Stone Mountain Christmas
After visiting some of your favorite Stone Mountain Park attractions like Summit Skyride and Scenic Railroad, among others, immerse yourself in holiday magic with evenings full of festive music, millions of dazzling lights, spectacular shows, and visits from holiday characters! New for 2018, engage your senses at The Polar Express 4-D Experience and watch the Enchanted Tree Lighting Ceremony each night before the Christmas Parade! Through Jan. 6. See website for more details: www.stonemountainpark.com.