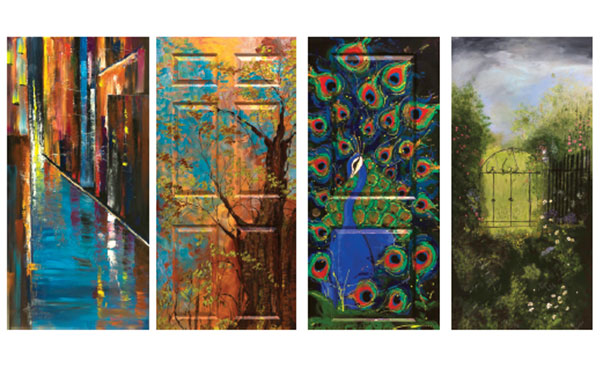 Doors to Homes and Hope:
Art exhibit benefits Gwinnett Habitat for Humanity/ ReStore and ArtWorks! Gwinnett.
A unique art exhibit of about 150 artist-painted doors was on display in locations throughout Gwinnett County during the month of October, including at Suwanee's Sims Lake Park. The Doors to Homes & Hope exhibit was designed to support both families in need of decent, affordable homes and the arts in Gwinnett County. Proceeds from auctioning/selling the doors benefited Gwinnett Habitat for Humanity/ReStore and ArtWorks! Gwinnett. Through October, doors were exhibited at Sims Lake Park with a few more displayed at Town Center Park. Other doors were displayed in various locations throughout Gwinnett County, including in Duluth, Norcross, and Snellville. ■
North Gwinnett Association holds the fall Plein Air Event:
All around the area artists could be seen sketching, painting, taking photos and more during the North Gwinnett Arts Association's fall Plein Air event held Oct. 19 and 20. According to the organization's website, En Plein Air refers to the 19th century style of painting "in the open air" on location and is a juried event. Winners were announced at a reception held Oct. 20 at Uptown Grill in Suwanee.
Winners included Vickie Johnson, David Phillips, Brandy Posey, Kristen Coldiron, Akasha Wood, Victor Kennedy, Jessica Kennedy, and Adrienne Kinsey.
♦ First Place Judges Winner: Vickie Johnson
♦ 2nd Place Judges Choice: Jill McGannon
♦ 3rd Place Judges Choice: Brandy Posey
♦ The People's Choice Award: Jessica Kennedy
♦ Artist's Choice: Gabriel Campoy
For more information about the event and organization visit ngaa4arts.com. ■