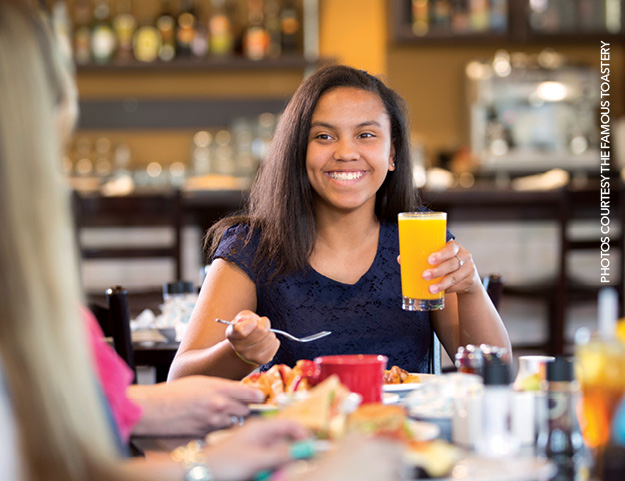 The Famous Toastery, recently named one of CNBC's "6 hot restaurant franchises to watch," has taken the city of Suwanee by storm. From its healthy (and not-so-healthy) menu items to its upbeat atmosphere, this brunch spot is sure to provide a dining experience the whole family will love.
Story By: Lizzy Kidney
What started as a single breakfast location in North Carolina, has quickly grown into a popular franchise that has made headlines across the country. Known as the small-house-turned brunch spot that is famous (no pun intended) for their "every server is your server" motto, the Famous Toastery is continuing to break through the boring casual breakfast segment.
Carisse and Ebony Moody were drawn to this concept of an American brunch location that was changing the way restaurants served breakfast seven days a week and fell in love with the food camaraderie and "family environment" the Famous Toastery location in their hometown offered.
As young women growing up in North Carolina, the Moody sisters didn't always want to be restaurant owners. Carisse has an extensive background in medicine and finance, while Ebony is an attorney. Although they were both successful in their fields, the two were motivated to get involved in the restaurant business and assist their parents in retirement. "My parents sacrificed a lot for us with school and basketball growing up," states Carisse, "and we wanted to get ourselves into an environment that could help them retire early."
Looking to make their dreams a reality, the Moody sisters decided to open the first Georgia franchise of the Famous Toastery.
"We had made multiple scouting trips to Georgia, and we really fell in love with Suwanee because it reminded us of our hometown," says Carisse. "We spent time in Town Center Park and saw the diverse group of people that were at the Farmers Market that day and knew this is where we wanted our restaurant to be."
The restaurant officially opened its doors at 1120 Peachtree Industrial Blvd. last November and has quickly become a popular brunch spot for the Suwanee community.
LET'S DO BRUNCH
Open daily from 7 am – 3 pm, the restaurant features pretty much any brunch dish you can imagine, including stuffed French toast, avocado benedict, a variety of omelets and breakfast sandwiches, as well as lunch items such as wraps, sandwiches, salads, and burgers. They also offer seasonal special dishes specific to Georgia including peaches and cream crepes, S'mores waffles, and the popular Georgia Dawg Bowl.
"Our Georgia Dawg Bowl was only supposed to be on the menu for a week," says Carisse, "but it became so popular that it is now a regular menu item."
The Georgia Dawg Bowl, named after the University of Georgia Bulldogs, of course, is the perfect brunch dish if you're looking to satisfy a big appetite. The dish features delicious house-roasted red potatoes, onions, peppers, melted pepper jack cheese, house-made sausage gravy, two eggs, and chorizo added to top it all off.
There are also more health-conscious menu options such as their quinoa bowl and gluten-free flapjacks, waffles and French toast. The restaurant also doesn't own a fryer, so they like to get creative with menu items. For O.J. lovers, the freshly-squeezed orange juice is also a must-try!
EVERY SERVER IS YOUR SERVER
Setting themselves apart from other brunch places in the area, the Famous Toastery is based off of an "every server is your server" motto in which customers can stop anyone working in the restaurant and receive immediate help. The popular brunch spot is also changing the breakfast game by offering alcoholic beverages ranging from Bloody Marys and freshly- squeezed mimosas to cocktails, wine, and beer. Restaurant patrons can enjoy these beverages from 9am-3pm Monday-Saturday and any time after 12:30 pm on Sundays.
Having settled in nicely, the Moody sisters have embraced the Suwanee community and proudly participate in fundraisers for the Suwanee Business Alliance, New Directions Autism Group, and local schools in the area.
"Community involvement is a huge deal for us," says Carisse, "the city of Suwanee has embraced us, and we want to give back as much as possible, while also getting the opportunity to show what sets us apart and makes our concept unique."
Everyone who walks in the doors of Famous Toastery is immediately welcomed and greeted with the smell of something to satisfy every craving… brunch enthusiasts are sure to have an experience that is fit for the whole family.