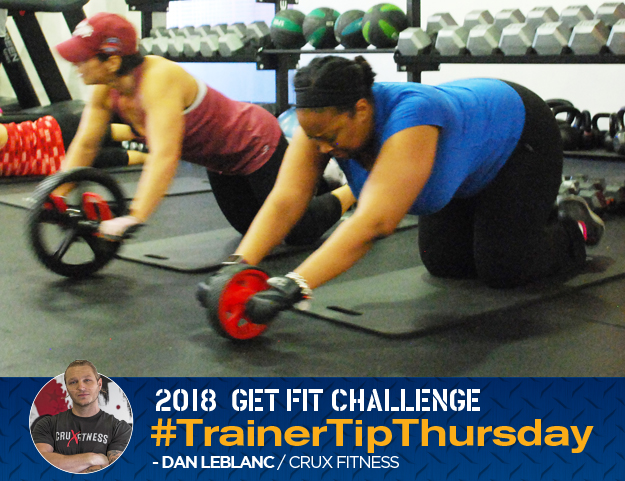 For our first installment of our Get Fit Challenge's #TrainerTipThursday, Dan LeBlanc of Crux Fitness offers advice on how to challenge yourself every day:
"Start each day with purpose that relates to your goals. Challenging yourself daily, specifically first thing in the morning, will set the tone for the day, and contribute to the productivity of the day, week, and overall success of whatever goals you have. Try this: three basic exercises that lay the foundation for everything else you pursue in fitness: push ups, sit ups, and burpees. Do as many of each exercise as you can for a minute. Now try and increase that number by 2 every single day for a week. Log your progress. Continue this for a month. As you get better, increase the intensity by changing things up like adding weight, varying time, or challenging a friend. No matter what, form, technique, and safety are paramount, as these aspects are what will guarantee muscular breakdown and guarantee a biological change in the brain, and the body."
Dan LeBlanc, Crux Fitness
With more than 10 years experience in the fitness industry, Certified Personal Trainer and Sports Nutritionist Dan Leblanc opened Crux Fitness in June 2017, implementing the H.I.R.T. (high intensity resistance training) program. H.I.R.T. focuses on targeted strength training for fat loss that breaks down muscle as quickly as possible so the body can naturally restart the rebuilding process. In his career as a trainer, Dan has rendered over 10,000 personal training and nutrition counseling sessions, and taught thousands of group classes.