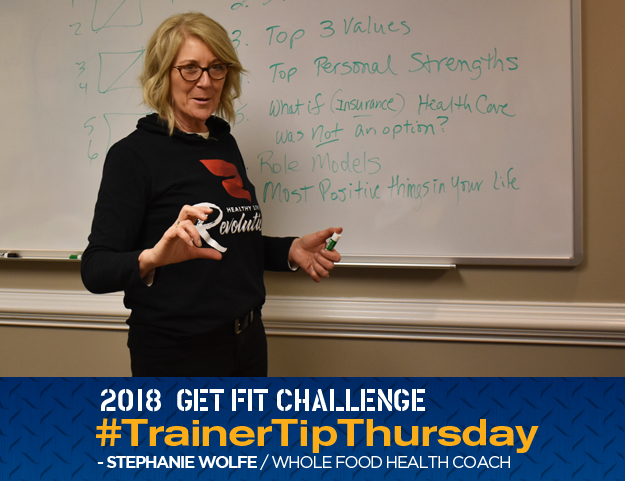 For this week's installment of our Get Fit Challenge #TrainerTipThursday, National Board-Certified Health and Wellness Coach Stephanie Wolfe offers advice on healthy eating:
"You are what you eat, so don't be cheap, easy or fake! Most of the worst cheap, easy, fake food is found in boxes, bags, cans, and jars. This processed food is making many weak, sick and overweight. Read the ingredients on every label, if you can't pronounce it don't eat it, if it has a number, reject it. Don't care about the number of calories, care about the number of ingredients and the nutrition from those ingredients. Adding, enriching, or enhancing is little more than a selling point for manufacturers and fake-food producers. Skip the diet and just eat real food. Wild Caught Salmon is a lean protein, rich with Omega-3s, and the all-important Astaxanthin. This fat-soluble antioxidant is one of 700 different carotenoids but it may well be the most powerful antioxidant in existence. It is 65 times more powerful than Vitamin C. It brings effective support to the brain, helping to protect it from abnormal functioning. Astaxanthin is a super anti-inflammatory as well. Astaxanthin is derived from the algae which gives flamingos and wild salmon their orangey-pink color. The recipe I have provided is one of my 'entry level' recipes for those who do not think they like salmon. Even my Healthy Kids Campers (ages 5-15) like it, but I have plenty more where this came from!"

Stephanie's Salmon Salad
Here's another way to get some great salmon into you or your children's diet. It is yummy, healthy goodness for your taste buds and your body fuel!
Ingredients:
• 2 Tbs. Honey Mustard
• 2 Tbs. Plain Yogurt
• 1 6oz. Can 365 Everyday Value Alaskan Wild Salmon, drained
• 1 red bell pepper chopped
• 1 stalk celery, chopped
• ¼ cup red onion, chopped
• ½ green apple, diced (optional)
• 2 Tbs. Slivered Almonds
Directions:
In a large bowl, whisk together honey mustard and yogurt. Add salmon, pepper, celery, onion, apple, and almonds, stir gently until combined.
Serve on top of Woven Crackers (365 Whole Foods brand) or a Rudi's Whole Spelt Wrap or on top Arnolds Thins or Flat Out or on a wedge of Romaine/Bibb Lettuce!