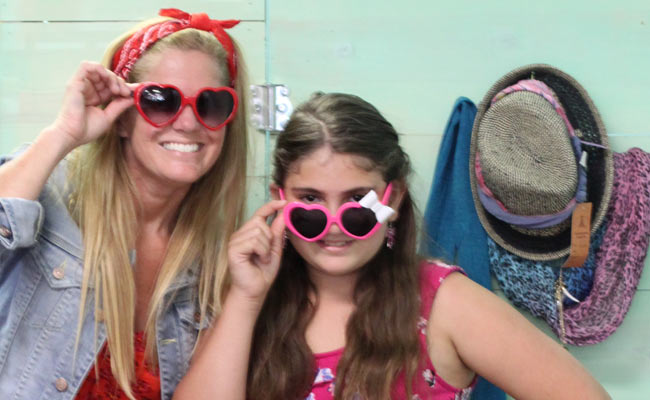 Web Exclusive
A popular and trendy consignment boutique, Psycho Sisters, with several locations around Atlanta such as Sandy Springs and Little Five Points has come to Suwanee, bringing with it some fun and trendy styles in clothing, shoes, and accessories.
The consignment boutique, now located on Lawrenceville-Suwanee Road near IHOP, opened in early May. Owner Angie Boger said she is excited to bring the trendy shop with a funky fashion sense to Suwanee.
And when you visit the boutique don't be surprised if you see Boger's 10-year-old daughter, Ari Kassatly, behind the counter. Ari has been helping her mother with the Suwanee location since the planning stages.
Boger, who has 22 years of business experience, said she enlisted her daughter to help because she wanted Ari to learn about business at an early age and from her example.
"Because I have made so many mistakes along the way, and I was so impressionable with everybody else, at some point I just started setting a trend and finding my own confidence," Boger said. "And I want her to have that."
Boger added that Ari, a rising sixth grader who will attend North Gwinnett Middle School next school year, adds a lot of fun to the business.
After helping her mother with the set up of the Suwanee location, Ari said she feels a sense of accomplishment. And now that the store is open, she continues to help on a daily basis with merchandising, handing out flyers, accompanying her mother on buying trips, and can sometimes be found behind the counter working with customers.
As with any consignment store, Boger said they are looking for consigners to bring in current mall fashions, styles and designer labels and anything vintage. In addition to consignment, about 30 percent of the inventory includes designer label samples and closeouts.
"So it's everything that other consignment shops do, but we do it a little more funky and a little more playful," Boger said. "It's got to have something unique about it like a ruffle or sequins. And each garment is hand-picked so it can coordinate and all work together as an outfit."
According to Boger, there's not a concern if an item is worn, and she added that what's important is a "coolness factor." Selling all sizes and specializing in Junior to Misses sizes to bridge the gap for the mother and daughter shopping experience, they pay cash on the spot or can sell on consignment current season clothing, and for off-season items, they offer an in-store gift certificate.
They also carry a variety of accessories, and Boger boasts the sunglasses, a season must-have, are fun and the best value in the Atlanta area selling for about $10 a pair.
"It's a place to accessorize and have fun," she added.
Boger said every single customer counts, and the staff is trained in personal shopping so they can layer and coordinate an entire ensemble unique to the customer's individual style.
"We're going to shock the Suwanee market and pump up the fashion a notch," Boger said. Whether it's a mom or a teen, Boger said they want to give area residents fashionable and affordable options in clothing, accessories, and shoes that have never been seen in Suwanee.
Boger is planning a grand opening celebration in early August. For more information about Psycho Sisters, visit the website at www.psycho-sisters.com.