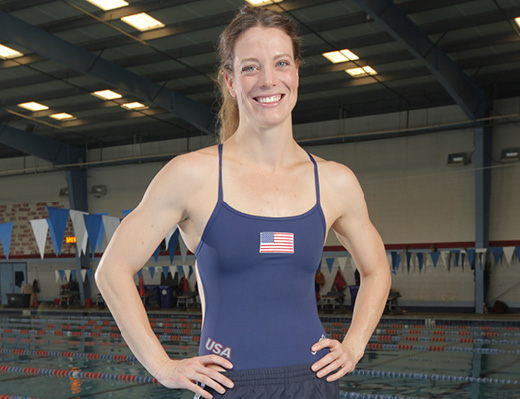 By: Rachel Pillow
Photos by: Paul Perdue of Perdue Vision
Standing at an imposing 6'1" tall, 30-year-old AMANDA WEIR certainly attracts the attention of other swimmers at SwimAtlanta. Many of the young swimmers know her reputation and legacy and look up to her as a role model. "But they also still push me," she said in regards to training with the high school senior boys' team. With the Olympic trials beginning June 26th, Weir's training schedule is rigorous. But the two-time Olympic medalist took time out of her busy day for an exclusive interview with Suwanee Magazine at the pool that raised her.
Amanda Weir started swimming at age 8. "I've loved being in the water for as long as I can remember," she said. At age 10 she started swimming at SwimAtlanta, the nation's largest swim club, in Lawrenceville. It didn't take long for the coaches and staff to realize her potential. "At age 12 I broke the national age group record and things started to progre
ss pretty quickly," said Weir. She went on to help bring four consecutive Georgia Class 5A state championships to her Gwinnett school, Brookwood High School and then to compete at the collegiate level at University of Georgia, followed by University of Southern California. The summer before her freshman year of college, Weir brought home two silver medals from the 2004 Olympic games: in the 400m freestyle relay and the 400m medley relay. After one year at UGA, Weir transferred to USC, but in 2006 when she broke the national record in the 100m freestyle she decided to become a full-time professional swimmer. Missing the mark for the 2008 Olympics did not deter her vision and Weir was back in the water competing at the 2012 London games where she brought home a bronze in the 4x100m freestyle relay.
Now, at age 30, Weir is one of the most seasoned swimmers whose sights are set on Rio de Janeiro this summer. Another Olympic-hopeful is her 24-year-old brother, Caleb Weir, also a freestyle swimmer, who swam for the Texas Longhorns. "Caleb has made incredible leap
s and bounds in this sport and his determination, excitement and fearless attitude inspire me everyday! I never thought I'd be swimming long enough to be attending meets with him – and that might be the thing I'm most grateful for out of everything," she said. But, by treating her body as a well-oiled machine, Weir has amazingly been able to extend her career far beyond what she imagined. "As an athlete, everything goes into training – not just the work, but also the rest, fuel and recovery. I work just as hard outside the water as I do in," she explained. Weir is currently under an intense training schedule with former world-record holder and Olympian, Coach Doug Gjersten, at SwimAtlanta's Georgia Tech location. "He [Gjersten] has pushed me further out of my comfort zone in training than I thought possible," said Weir.
So, what does a day in the life of an Olympian look like? Weir explained her crazy schedule – which starts with waking up at 4:45am for practice. With swim workouts from 5:30am – 7:30am and 4:30pm – 7:30pm, and cross training in the afternoon (weight training, Pilates or Yoga,) there is little time for much else than sleeping or eating in between. "And I can put down some calories!" she said. Her typical diet is full of lean meats, lots of vegetables, protein, whole grains and fruit. But on Sundays, her rest days – "it's not a good weekend if I don't have coffee and a pastry. I need a muffin or cinnamon roll," she confessed. Other than indulging in a delicious pastry on her "rest day" she also enjoys spending time (out of the water) with her husband, SwimAtlanta coach, Chris Davis, and making renovations to their historic bungalow in Decatur, GA. Weir has taken a keen interest in interior design. When they purchased their 1925 home she handled almost all of the planning and design work  that went into the renovation project. Although it is hard to picture a career after swimming, she does have a passion for design that she hopes to utilize as well one day.
"I can't stand the thought of life without swimming, it breaks my heart to imagine," Weir admitted. "It will always be a part of my life in some way: whether it be in coaching or speaking or visiting swim clubs and sharing my experiences," she said. Weir has already started to "give back" to younger swimmers by coaching swimmers, ages 4-12, a few times a week. "My advice to young swimmers is to let swimming take them as far as they want to go! If you work hard, set goals and see yourself achieving them, there's no limit to how far you can go! Also, I love to remind young swimmers to always have fun," said Weir. She has spent a lifetime in the sport, has gone to the highest levels and back, and everything in between and hopes to be able to give back to the sport, with the knowledge she has accumulated over the years.
Right now, though, Weir is steadfastly focused on the short-term: making it to the 2016 Olympic games.
"I'm in it to win it for trials this summer," she said. "My personal goal for this Olympics is to take advantage of every opportunity I'm given – in my preparation, in the races I will swim, and in being a teammate and an Olympian." Weir has an amazing support system that includes her husband, Coach and family. She shared that her parents have maintained an unwavering belief in her abilities through all the ups and downs of her swimming career. "And, no matter what happens this summer, being able to be on the pool deck alongside my brother at Olympic trials and sharing the same goal of representing the USA is something that I will cherish for the rest of my life."