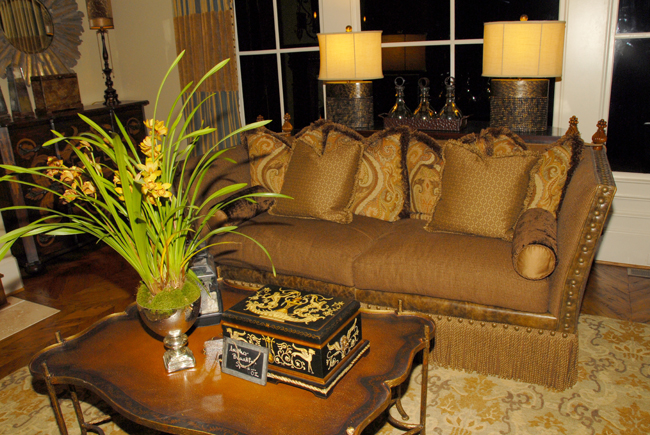 From the design professionals at Outrageous Interiors
Enjoy the merriment of the season with friends and family! However, when you finally start to take down the decorations, use this time with a fresh eye pointed at your surroundings. As we pack away our holiday treasures, the magic need not disappear along with the tinsel and tree. You can create year-round appeal by taking cues from the decorations heading to the basement. Some of these solutions may call for a bit of handy work but most don't require deep pockets.  All inspirations can easily be swapped out as the seasons change or the mood strikes. Just as we vow to update to better ourselves, let's update and better our surroundings!
Here are 4 tricks and trends to consider:
1. Pillow Toss: 
Nothing perks up a drab sofa or chair more quickly than a pillow… or two or three. These little packages deliver a wallop of pleasing geometry, color and texture that is disproportionate to their size. Refresh the look you have by layering pillows of different shapes and sizes into your seats.
2. Simple Style: 
Your home's transitional spaces get the most foot traffic but their design doesn't often reflect their prime location. How about rolling out the carpet for style in a hallway with a cushy new runner? Or, if you need a big splurge, replace the entire area rug for an instant room rebirth!
3. Power of Paint: Coating one room or even a single wall in a vibrant and compelling color will breathe new life into your home. Popular trends include sleek and glossy surfaces and vibrant colors, combined with elegant and classy gray, white, golden and silver tones. Soothing and elegant—who doesn't want that in the new year?
4. Light Up Your Life: 
A big part of the holiday season's appeal is unexpected lighted décor as well as the tree in the corner. Translate that charm to the everyday by using portable lamps to illuminate any remaining dark or dreary areas in your house. The point is to ease your tasks and also create a more uplifting atmosphere with both upward and downward lighting.
As with all decorating, an experienced interior designer can enhance your style by adding the unexpected chic of a professional. Outrageous Interiors offers a beautiful mix of home furnishings and accessories with complimentary design services serving metro-Atlanta for more than 23 years with stores in Marietta (East Cobb), Kennesaw, Alpharetta and Suwanee.