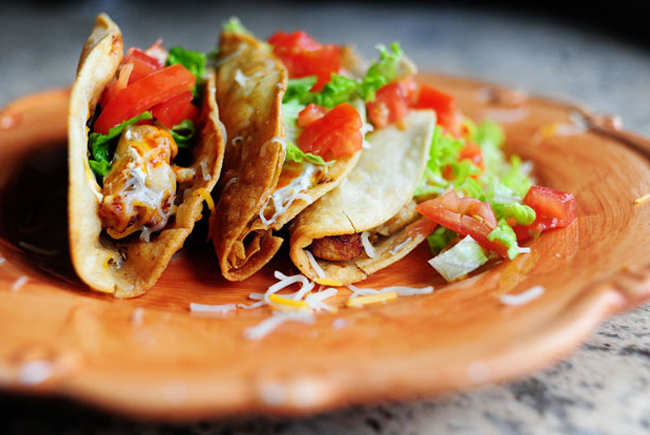 From your friends at Lucky Dog Catering!
Chipotle Lime Chicken Tacos
Ingredients:
1 whole chicken for roasting
3 tablespoons chopped fresh cilantro, divided
2 tablespoons light sour cream
2 tablespoons fresh lime juice
1 tablespoon chipotle chilies in adobo sauce
1/2 teaspoon minced garlic
1/4
teaspoon sea salt
1/4
teaspoon freshly ground black pepper
1
cup chopped romaine lettuce
1
tablespoon seasoned rice vinegar
2 radishes, sliced thin
8 tortilla shells (hard or soft)
1/2 cup salsa verde
Instructions:
1. Pre Heat oven to 350 degrees, season chicken with salt, pepper and place in oven for 20-30 minutes until chicken is 165 degrees. Let chicken rest for 10-15 minutes.
2. When chicken has cooled pull chicken off bone and place in bowl with cilantro, garlic, 1 tablespoon of lime juice, and chipotle peppers. Toss to incorporate.
3. Slice radish and lettuce and place in serving bowls so your guests can put as little or as much of either item.
4. To Assemble : Place taco shell on plate, spoon chicken mixture onto shell, place 1 table spoon of salsa verde on top of chicken, finish with slices of radish and lettuce and enjoy!