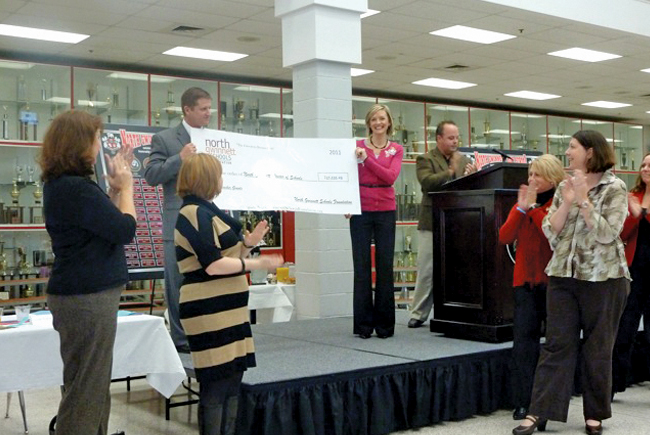 Big T'do raises big funds
The North Gwinnett Schools Foundation serves a six-school cluster that includes Level Creek, Suwanee, Riverside and Roberts Elementary schools, as well as North Gwinnett Middle School and North Gwinnett High School. Since 2001, the NGSF has provided more than $380,000 in the form of grants that teachers apply for, and administers six scholarships for high school seniors at North Gwinnett High School.
Since 2001, the North Gwinnett Schools Foundation has raised more than $380,000!
Anyone wishing to support the Foundation may do so by making a monetary donation, providing auction items or by sponsoring a table at the Gala. Visit the North Gwinnett Schools Foundation website at
NorthGwinnettSchoolsFoundation.org
for more information.
Level Creek Elementary named 2011 School of Excellence
Recognizing the progress its students have made, the Georgia Department of Education announced today that Level Creek Elementary is a 2011 Georgia School of Excellence. As such, the school is recognized as being among the state's top schools for the work its teachers and community have done to improve student achievement.
Level Creek Elementary earned recognition in the "Greatest Gains" category. This year's Georgia Schools of Excellence receives a $1,000 monetary award from Georgia Natural Gas. Level Creek Elementary plans to use the grant for teacher staff development opportunities. United Healthcare also serves as a sponsor for the state program.
Still undefeated!
The Peachtree Ridge Ice Hockey Team remains undefeated and in first place after a 5-1 win against the Mill Creek Hawks Dec. 11 at the Ice Forum in Duluth. The team resumes the season after the winter break. Way to go Lions! Keep up the good work!
Act Out Loud Contest Seeks to Prevent Teen Car Crashes
What if you could save the life of one of your students and earn $10,000 in cash for your school? If so, you'll want your school and students to participate in the 2011-2012 "Act Out Loud Contest" sponsored by the National Organization for Youth Safety and The Allstate Foundation.  It's a fun easy way for teens to share safe driving messages next spring, just before the deadly summer driving months. More information is available at www.ActOutLoud.org.  Participating schools must register for the program by January 31, 2012.
Have some fun at Interactive Neighborhood for Kids
If you're looking for a place to spend some fun time with your preschooler, it may be a good time for a visit to the Interactive Neighborhood for Kids (INK) just down the road in Gainesville. At INK, children are encouraged to learn in a unique kid friendly, hands-on learning environment.
During the visit make sure to check out the many exhibits such as the SunTrust for Kids exhibit aimed at teaching children age-appropriate skills about money and finances, the medical clinic designed to help children learn about the doctor and dentist, the Jane Green Beauty Salon for some stylish fun, the Stage to keep those creative juices flowing, the Courtroom to help children learn about the judicial system and much more.
INK is located at 999 Chestnut Street, in Gainesville. For more information about INK, the cost, hours of operation, events and directions, visit the website at www.inkfun.org.