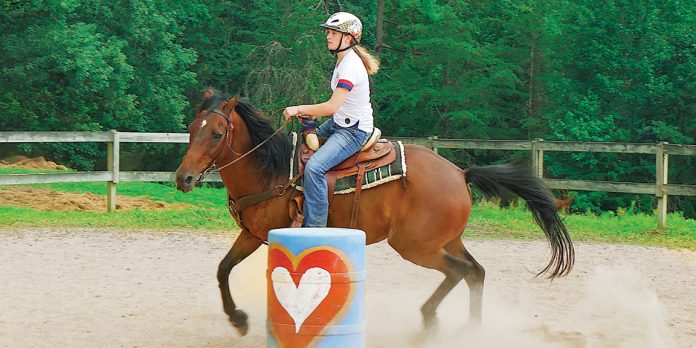 Valley View Ranch Equestrian Camp for Girls teaches campers more than just horseback riding. They learn life skills they can carry with them forever.
By Angela Veugeler | Photos Courtesy Valley View Ranch Equestrian Camp
Summer camp is an opportunity for kids to make new friendships, develop new skills, become more independent and confident, and make memories that will last a lifetime. Growing up, I was absolutely obsessed with horses. I was very fortunate to be able to take riding lessons near our home in Michigan and have the opportunity to attend a week- long overnight horse camp during the summer, where my older cousin had gone for several years. I was only seven years old my first year as a camper there, and I still remember the name of the horses I rode each year. We put on a show for our parents at the end of the week and I remember getting to lead the drill team as we broke free of our side-by-side pinwheel formation and performed the next pattern on a bay Quarter horse named Kraut. I loved that horse and every horse I rode there, and I loved every minute of camp. It was one of the best experiences my parents could have given me growing up.
Located on 600 acres atop Lookout Mountain in northwest Georgia, Valley View Ranch Equestrian Camp for Girls offers campers the full opportunity of horsemanship through instruction in the ring, time in the saddle on trails, and the care and responsibility of having their very own horse. They offer the opportunity to participate in several riding styles: English and Hunt Seat, Western Stock Seat, Barrels and Gymkhana, Trails and Vaulting. At the end of the two- week session, campers can show off their skills on horse show days. Advanced riders ride over fences on a cross-country course while beginner and intermediate riders participate in a flat or jumping show in the ring. On rodeo day, campers dress up themselves and their horses and cheer each other on as they race against the clock to perform the tightest turn and compete for the fastest time. There are some riders who may perform a synchronized riding drill team demonstration, and vaulters get to show off their newly acquired gymnastic techniques performed on horseback.
While the focus is certainly horses, they also offer lots of recreational opportunities including eco-education, canoeing, swimming, crafts, pottery, archery, group games, theater and dance. Camp is available for girls ages 8-17 and enrollment is limited to 50 campers each week.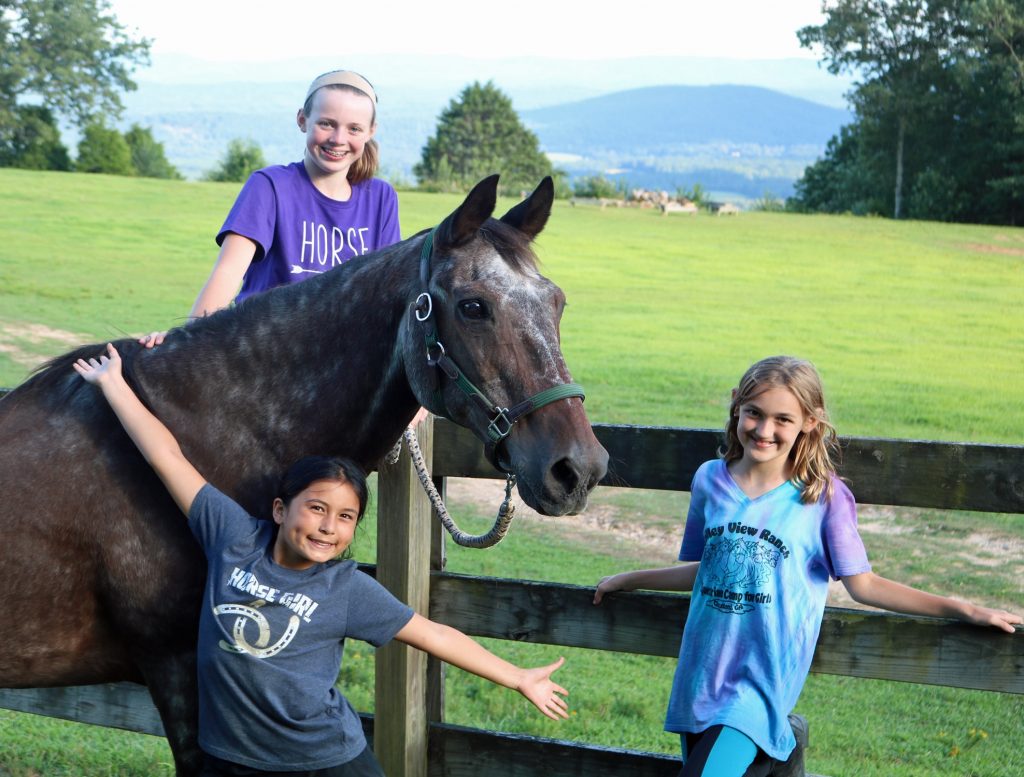 A Family Affair
Established in 1954, Valley View Ranch was a cattle farm Jack and Olive Jones purchased with the dream of building an equestrian camp for their four daughters. The four sisters grew up at the camp and it is still owned and directed by one of the daughters, Nancy. Three generations of horse lovers manage Valley View Ranch, with several of the grandchildren helping to run the camp and manage the property.
According to Valley View's website, "Only women of high ideals, strength of personality, and integrity of character are chosen as counselors. Almost all of our counselors have come to VVR as campers and return year after year to carry on the legacy and traditions. One wrangler is assigned as the immediate counselor to a group of five girls, with at least two counselors in every bunkhouse. Naturally, the counselor who spends time with a group of girls has the opportunity to become well acquainted with them. She gains the friendship, admiration, and confidence of each girl. She is able, by example and advice, to encourage self-confidence and personal growth."
A Lasting Impact
Kris Hall, a previous camper turned counselor, shared of her experience at Valley View growing up, "Lifelong friendships begin at Valley View Ranch! I attended VVR as a camper, and then worked as a counselor and program director for a total of 12 years as a child and young adult. It had such a positive and lasting impact on my life that I can't imagine not having this wonderful experience. As campers, girls learn horseback riding (of course!), independence, teamwork, self-reliance, a love for nature and animals, respect for themselves and others, and so many other valuable life skills they will carry forever. The skills and work ethic I learned at VVR have been of great influence in my personal and professional life! Now in my 40s, I still maintain close friendships with several of the girls I met at VVR. We visit each other across the country, have epic road trips, and meet every year at camp for reunions where we revert to horse-crazy campers for a weekend. I'm so thankful that my parents found VVR and made it possible for me to be a camper there. It truly is my 'home away from home' no matter where I am!"
Chelsea C. Manning, Assistant Director of Valley View shared, "We are looking forward to welcoming campers back this summer and seeing them be reunited with their favorite horse. Watching the personal growth that happens in these girls and the tremendous fun they have here, while at the same time greatly improving their riding abilities is so rewarding."
For more information on Valley View, visit ValleyViewRanch.com.