Suwanee's favorite annual event returns to Town Center Park on March 19th to reclaim its title as the best craft beer and St. Patrick's day weekend festival in Gwinnett.
After a red-white-and-blue detour last summer, the 11th annual Suwanee American Craft Beer Fest makes its return to Town Center Park on Saturday, March 19, 2022, to reclaim its title as the best St. Patrick's Day weekend party in Gwinnett. The festival, which draws more than 6,000 thirsty beer lovers from around the country, has grown into Gwinnett's premier craft beer festival, as well as one of the most anticipated events of the year. It's no wonder USA Today named Suwanee Beer Fest as one of the 10 Best Beer Festivals in the U.S. Each year, event organizers line up an impressive selection of craft beers from around the country, and this year, festival attendees will once again line up to sample more than 350 craft beers, with many new breweries making their beer festival debut.
Almost more impressive than the selection of beer is that the Suwanee Beer Fest team is always looking for ways to improve the festival experience for attendees. Last year, the team weathered the storm of the pandemic and made the best of the situation by pivoting to a summertime date and patriotic theme. They also added giant beer pong and axe throwing to the list of festival games, which turned out to be new fan favorites. This year, they're dialing it up a notch by inserting an old-school arcade smack dab in the middle of the festival. Beer and video games?! Excellent!
In addition, Suwanee Beer Fest has also organized an amazing lineup of musical entertainment, shopping, and food vendors. Not a fan of beer? No problem. Attendees can also enjoy samples from White Claw Hard Seltzer, Mike's Hard Lemonade, and select spirits from Sugar Hill Distillery, along with ready-to-drink cocktails, seltzers, meads, ciders, wine and kombucha.
Consider this your handy guide to Suwanee Beer Fest, a festival made for beer lovers by beer lovers. Cheers!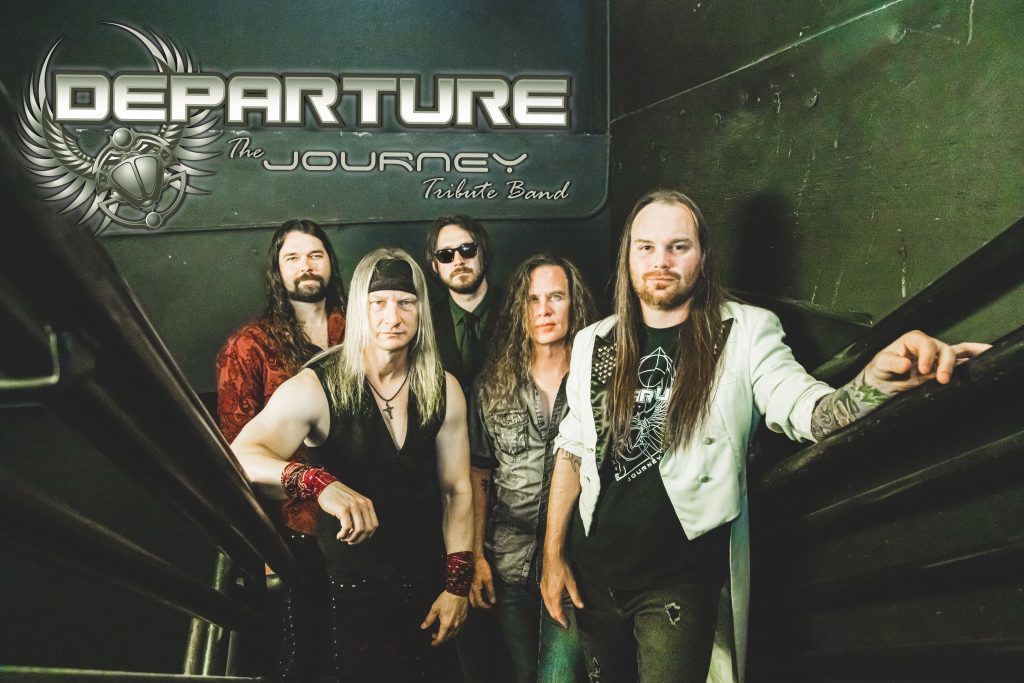 LIVE ENTERTAINMENT
After playing the inaugural festival, DEPARTURE is set to return to the Suwanee Beer Fest main stage. DEPARTURE is the most respected Journey tribute band in the nation, replicating the look, sound and feel of the original '80s rock supergroup. Their incredibly high-energy stage show is sure to have Beer Fest patrons up on their feet dancing! Opening for DEPARTURE will be Atlanta native Jeff Chandler, director of Emerge Entertainment and a platinum songwriter and producer. He and his eclectic band of local friends from all walks of life do what they do because they believe music is not just for entertainment and celebration, but that it can also be used as a catalyst for positive change.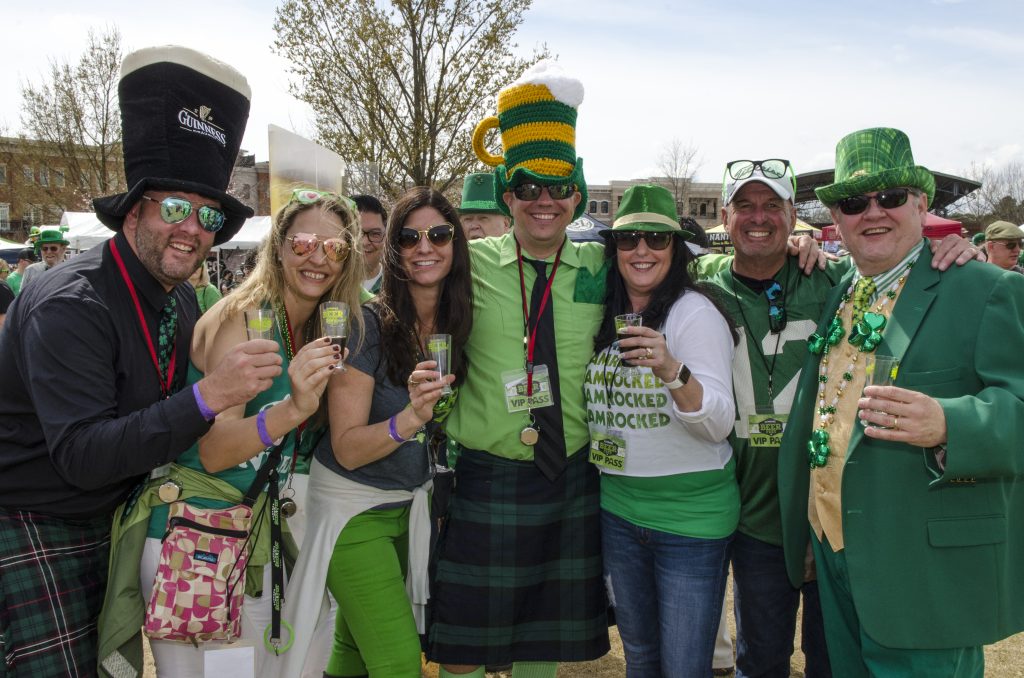 VIP EXPERIENCE
The VIP Experience continues to offer an exclusive beer experience for VIP ticket holders. Dimensional Design, a local design and branding firm, returns as a sponsor of the festival and has partnered with organizers to bring a one-of-a- kind experience to the VIP tent. From beautiful floral arrangements from Suwanee Towne Florist to Dimensional Design's high- end finishings, the VIP tent is the place to be for true beer connoisseurs and features more than 30 exclusive beers, including one-offs, casks, specialty brews and more. Marlow's Tavern, known for featuring the "best of the best" in American tavern fare, returns with a unique menu designed just for VIP patrons.
FUN AND GAMES
It's not a true beer festival experience without festival games! In addition to tried-and- true favorites Giant Jenga and Peach State Cornhole, the 2022 festival will also see the return
of giant beer pong and mobile axe throwing! Grab a friend for a round of the super-sized version of everyone's favorite drinking game, then swing by Axecessive Entertainment's mobile axe throwing cages to (safely) test out your axe throwing skills.
PLUS, New for 2022: Mitsubishi Retro Arcade!
Sure, we may be living in peak modern times, but who doesn't love an old-school arcade? After all, the '80s and '90s are back in style. (We're looking at you, scrunchies and mom jeans.) So dust off your Sony Walkman and pop in a copy of Slippery When Wet as you step back in time at Suwanee Beer Fest's all new on-site arcade, presented by Mitsubishi Electric Trane. While DEPARTURE croons the songs of Journey on the main stage, step inside the retro arcade, where you will be greeted by the sounds of Ms. Pac Man, Donkey Kong and other popular arcade games. Game on!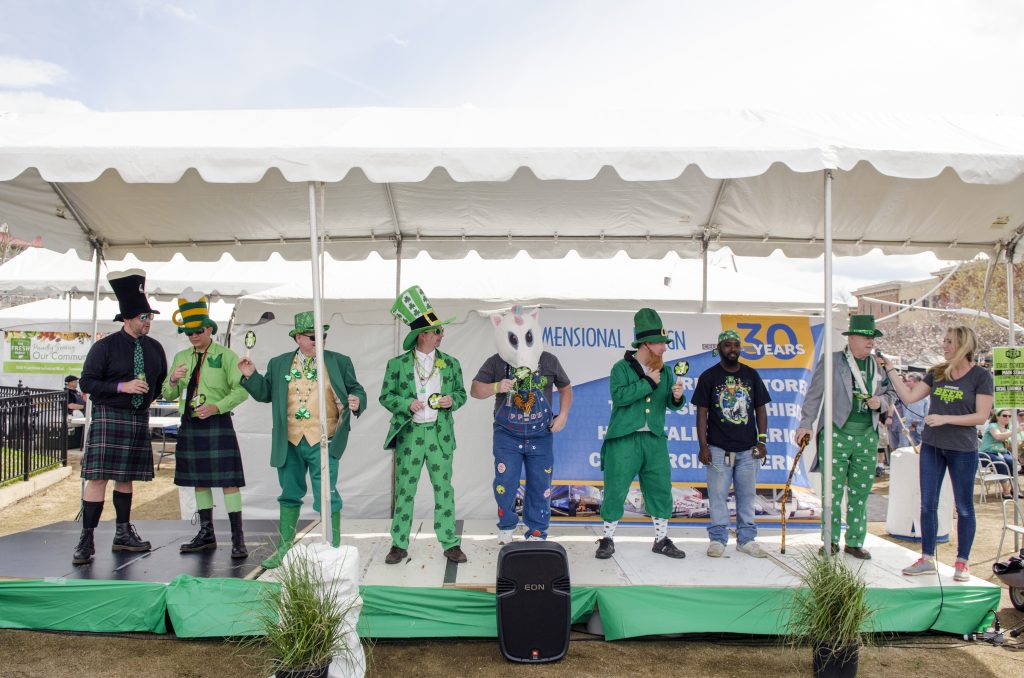 ANNUAL COSTUME CONTEST
For those of you coming decked out in your St. Paddy's gear, enter yourself and your friends into the 2022 Suwanee Beer Fest costume contest. In order to participate, sign up at the St. Paddy's Tent by 2:30 p.m. on the day of the event. The contest will officially kick off at 3 p.m. and will be based on the following categories: best beard, best costume (male and female), best kilt, and best-dressed couple. Winners will be announced at the St. Paddy's Stage and will receive awesome prizes!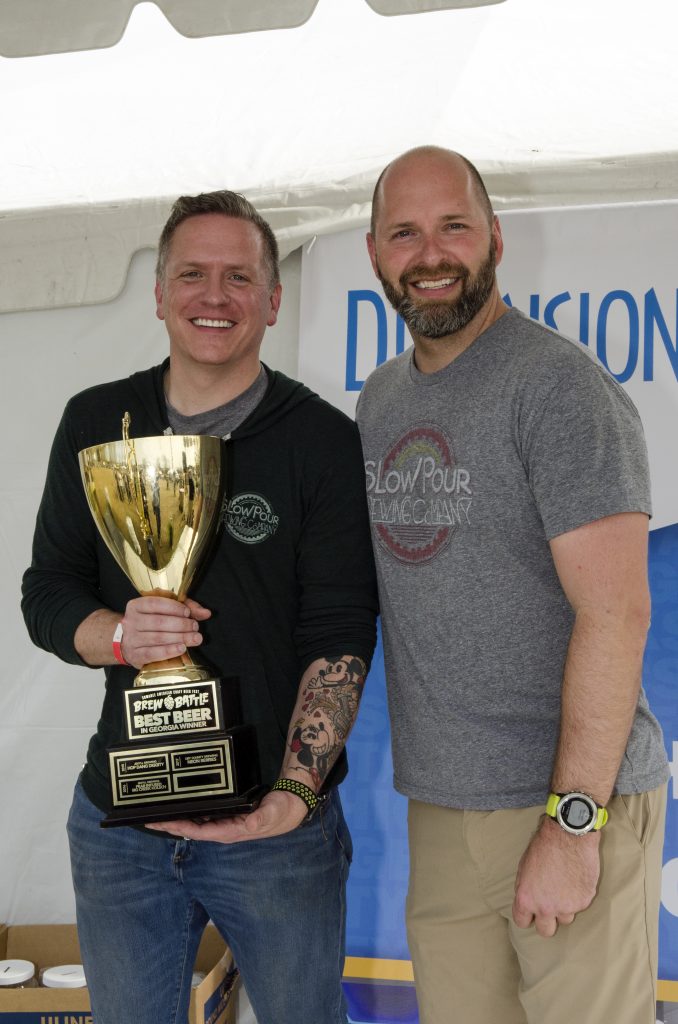 2022 GEORGIA BREW BATTLE
Each year, Peach State breweries offer up their most popular brews to compete for the title of Georgia's Best Beer in the festival's annual Georgia Brew Battle. All attendees will receive a voting token upon entering the festival that they can use to cast their vote for their favorite brewery after sampling beers in the Georgia Beer Garden. As the popularity of the annual contest has grown, festival organizers decided to up the ante by pulling together a group of qualified judges, hand-selected by festival sponsor Brew Depot, to help crown a winner. All attendees should cast their vote by 3:30 p.m. on the day of the festival. At that time, the tokens will be collected and counted and the top four breweries will be submitted to the judges. From there, the judges will select one of the beers to be crowned Best in Show. The winner will take the coveted Golden Cup Trophy back to their taproom where it will reside until next year's festival. May the best brew win!
2022 HOMEBREW COMPETITION
The 2022 Suwanee Beer Fest sees the return of the Homebrew Competition, organized by Georgia's number one home brewing store, Brew Depot. To celebrate the popularity of IPAs, this year's competition will be a Best of the Best IPA Challenge and will be limited to 100 entries. Homebrewed beers in this competition are judged based on a strict set of criteria, including mouthfeel, aroma, appearance, flavor, and overall impression. Judging will be for Category 21 and subcategories 21a, 21b, 21c, and will cover all IPA styles, including Hazy, Imperial, American and more. Ribbons will be awarded for first, second and third place in each subcategory. The Best of Show winner will be announced at the festival.
For those who are interested in learning more about homebrewing and want to consider entering the competition next year, Brew Depot offers home brewing and home wine making courses. Bob Carlton, owner and operator of Brew Depot, has had many Georgia Master Brewers from some of the most popular microbreweries learn the craft of brewing in his classes. Brewers from Jekyll Brewing, Monday Night Brewing, Three Taverns, Blue Tarp, Red Hare, Cherry Street and Wrecking Bar all have a history with Carlton and Brew Depot. Before becoming some of the best breweries in metro Atlanta, they too competed in local home brew competitions – several as veterans of the Suwanee Beer Fest Homebrew Contest.