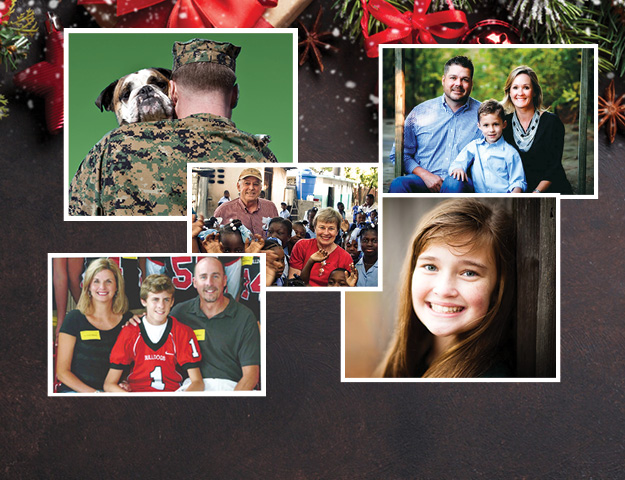 The holidays are a time to reflect and, when we can, give back to those less fortunate. Each year, we dedicate space in our Holiday Issue to highlight local ways we can give back to our community. From donation and volunteer opportunities to sponsoring a child in need, there's no shortage of ways to contribute during the most wonderful time of the year.
By: Lizzy Kidney
1. Shop AmazonSmile and designate Square One for Youth as your charity of choice.
The mission of Square One for Youth is to help Gwinnett County's in-need youth succeed personally, academically and, ultimately, professionally. By investing in the lives of local youth through vocational guidance, mentoring, academic tutoring and golf instruction, the organization helps open doors to opportunities that allow students in need to achieve success. Square One for Youth is always looking for people to get involved, and even offers the option to purchase supplies on Amazon and donate at the same time! To learn more about how you can get involved with Square One for Youth visit SquareOneForYouth.org.
2. Donate your skills to Pets for Vets.
Pets for Vets serves as a bridge that brings together military veterans and rescue animals. The organization works to assist veterans who are transitioning back into civilian life while also providing a second chance to shelter animals by rescuing, training and pairing them with servicemen and women who could benefit from having a companion animal. The Atlanta Chapter is seeking individuals looking to volunteer in areas such as fostering, event planning, social media posting and more. To learn how you can get involved visit PetsForVets.com.
3. Sponsor a child with the Haiti Child Sponsorship.
Based in Suwanee, the Haiti Child Sponsorship Program empowers Haitian leaders to bring dignity, hope and a brighter future to the communities they serve. The program currently works with the people of the Good Shepherd School and Church in Pele, an impoverished community in Port-au-Prince, to help local leaders improve their living conditions in the areas of water, food and sanitation, as well as support Young Life Haiti in bringing spiritual transformation to the lives of young people. The Haiti Child Sponsorship currently serves more than 1,000 students in kindergarten through 10th grade and employs 44 staff members including teachers, administrators, cooks and security. The support of the school program depends on sponsors who pledge at least $30 per month to help fund the school's needs. Learn more about sponsoring a child at HaitiChildSponsorship.org.
4. Donate a care package to the Slover Foundation.
was created with the sole purpose of helping people whose lives have been altered due to fire. For most families of burn victims, it is their first experience with the special care needed to protect the injured from infection and subsequent complications. A tragedy with the magnitude of life-threatening burns is difficult to navigate for families without help and a lot of support. The Slover Foundation works to help support these families through contributions from the community. To learn how you can donate a care package or get involved through volunteering visit SloverFoundation.com.
5. Donate items to Annandale Village's "Wish List."
Suwanee's Annandale Village is a place where people living with intellectual and developmental disabilities can lead lives that reflect quality, independence, self-worth and achievement with the utmost care and compassion. Characteristically, individuals served are 18 years of age or older with a primary diagnosis of intellectual or developmental disability, and those who have experienced an acquired brain injury. Annandale Village works to offer a comprehensive array of programs and services designed to improve the quality of life of each of these individuals according to his or her own unique needs and abilities. As a nonprofit organization, Annandale relies on "in- kind" donations as well as monetary contributions. To see Annandale's full wish list or for more ways to contribute visit Annandale.org/wish-list.
6. Be Smiley for Kylie in an effort to find a cure for childhood cancer.
In 2014, Kylie Myers was diagnosed with Ewing's Sarcoma, an aggressive bone cancer. Throughout her fight, Kylie developed a unique ability to steal joy even from cancer and fought back with a smile and a positive attitude. She made pictures and videos to share her joy with other fighters and her Smiley For Kylie followers. Toward the end of her radiation cycle, however, it was revealed that her cancer was deemed incurable, and sadly Kylie lost her battle with the disease on February 13, 2015. The Myers family created the nonprofit Smiley For Kylie in an effort to raise awareness of childhood cancer and support those families who are impacted by it. Its purpose is to help raise funding for research that will lead to safer and more effective cures for childhood cancer. To learn more or donate to Smiley for Kylie visit SmileyForKylie.org.
7. Sponsor a child or senior with North Gwinnett Co-op.
In addition to providing holiday meal boxes to families in need, which are filled with side items for a holiday meal in addition to a $20 gift card for perishables, North Gwinnett Co-op also offers the opportunity for community members to play the role of Secret Santa to a child or senior this Christmas. Sponsor a child by donating a winter coat, set of pajamas, one outfit for school or church, one pair of shoes, and a toy (not to exceed $30). Sponsor a senior by providing a winter coat, robe and/or pajamas, clothing or household need, one pair of shoes, and personal care items. Sponsors will receive the child's or senior's name and identification number, their sizes, favorite color and a few ideas for toys/gifts. For holiday volunteer shifts, a list of meal box items and other needs, visit NorthGwinnettCoop.org.
8. Donate to Cooper's Crew.
Cooper O'Brien was diagnosed with Clear Cell Sarcoma Cancer at the age of 13 in May of 2013. Throughout his fight, Cooper faced each day with a strong and positive attitude that inspired everyone around him. He never let cancer get in the way of spending time with family, playing basketball and laughing with his friends. After a 14-month fight, Cooper passed away on July 5, 2014, leaving a hole in the heart of our community. Now, Cooper's Crew is dedicated to giving other kids, just like Cooper, the opportunity to live their lives to the fullest, too, by bridging the childhood cancer funding gap, finding a cure for Sarcoma, making wishes come true for children with cancer and granting scholarships for North Gwinnett High School students who have overcome unique adversities or hardships. To learn how you can get involved visit CoopersCrew.com.