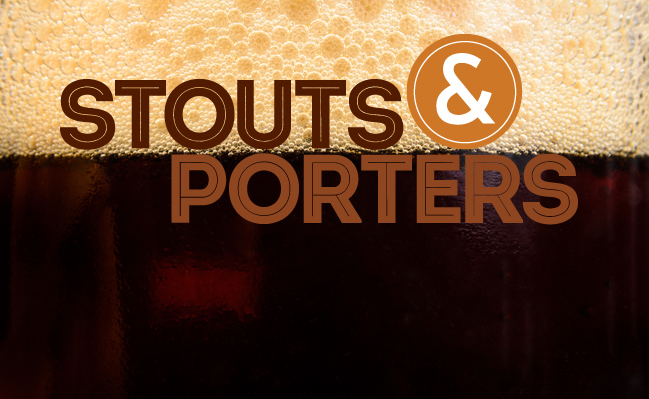 Cold months ahead. Bring on the STOUTS & PORTERS
By: Curtis Stockwell of The Beer Growler
It's that time of year again, gone is the warmer weather and in comes cooler temperatures and shorter days. Some people dread the coming months of cold and dreariness, none of which I am particularly fond of, but it does mark the entrance of some beers meant to keep you warm and cozy at night. I am speaking of course, of stouts and porters. Typically I would spend much of this article giving you the history of each of the styles and their nuances and then touch briefly on some beers you should try. This time I will be brief with the history and spend more time focusing on some beers I think you should open your palate to.
To begin our brief look at their history, we will look back to the early 18th century where we will find the first mention of a porter. Most references seem to point to 1722 and a fella by the name of Ralph Harwood. He created a beer called "Entire." This was based off a popular blend at the time consisting of three different beers (beer, ale, and strong beer) mixed together at the point of service. "Entire" quickly became the workingman's most popular choice of beer, which leads us to believe that the term "porter" was coined for this particular style because of its strong following by the porters who labored at the local markets and made deliveries to pubs. Stouts were originally referring to the heaviest and/or strongest beer in a brewer's portfolio.
Essentially they were one in the same and only recently have begun to take on lives of their own. As a general rule of thumb, porters are typically characterized as being more malty and full-bodied, whereas stouts tend to be drier and toastier than their counterparts. Both styles are dark in color, rich in flavor and are derived from the heavily roasted malts used during the brewing process. The malts bring out notes of toasted bread, coffee, chocolate, and espresso in most cases.
Now on to the good stuff! First I will go over what my favorite local options for stouts and porters are and then tell you about my favorite stout of all time. Our friends at Terrapin will be releasing Moo-Hoo Chocolate Milk stout and Wake 'N' Bake Coffee Oatmeal Imperial Stout very soon. Sweetwater's Happy Ending is an Imperial stout and is available starting in December and goes through March. Jailhouse's Breakout Stout is a year-round brew that is bold with a nice hoppy sturdiness. Red Brick has quite a few of these to offer! To start they have a traditional Porter; then they offer the Vanilla Gorilla, which is a seasonal porter, brewed with imported smoked whole vanilla beans. The Robust
Porter is a winter seasonal and packs a little more punch than the original. And finally, another seasonal beer is Red Brick's Chocolate Cherry Porter, which is quite tasty and will be available in December. They offer a traditional stout from December to February, and since this year marks their 20th Anniversary, they also produced an Imperial Stout aged in Bourbon barrels. There is still some of this beer floating around so if you happen to come across is make sure you get your hands on some! Aside from the 20th Anniversary Ale from Re d Brick, all of the beers mentioned above will always be in their portfolios. But, be on the lookout for small batch and special projects these local breweries release this time of year; they tend to be quite good!
After much deliberation I have decided to put into writing that North Coast's Old Rasputin Russian Imperial Stout is my favorite stout…that I have tried thus far. Similar to India Pale Ales, Imperial stouts were developed in Britain to survive the journey to Russia. In my opinion, the bitterness of hops balances perfectly with the heaviness of roasted malts providing your taste buds with a complex journey with each sip. There is just something about that beer that I love and that keeps me coming back! Try it next time you are in the mood for something big and robust.
As with all of these articles I am barely able to begin to cover everything that I would like to write about for each of these styles. I know there is a lot that I have missed, so please forgive me! But, when the temperature drops and you are looking for some liquid company…give a stout or porter a try, you will not regret it! Cheers!