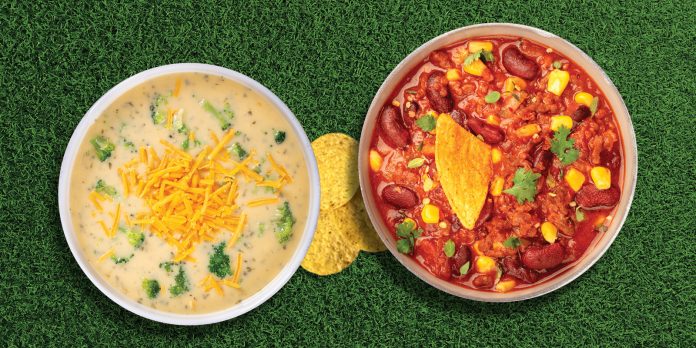 By Natalie Garrett
Happy New Year, friends! Hopefully you're finding some time to relax and decompress as you work through that holiday hangover. Cheers to 2023! Now that we're diving into January and February, we can set our sights on the goal line. Not only figuratively, but quite literally… because it's almost time for THE BIG GAME! AKA, the next opportunity to rally around the Southern trilogy: food, friends, and football. Since this is more of a casual festivity, I'm digging into my playbook and pulling out some super simple ways to elevate your watch party. Efficiency is key when there are buzzworthy commercials and a can't-miss halftime show on our hosting hands, amirite? Ready… Set (the table)… Hike!
Super Snacks
Soup-er Bowl Dinner: Homemade vegetable, chicken noodle, white chicken tortilla, loaded potato, broccoli cheddar… are you feeling all warm and comforted yet? Soup is a real winner in the winter season. Not only can it be an economical dish that yields large portions, but you can turn this main course into a potluck style affair by letting guests bring their favorite. Just make sure to provide plenty of bowls and spoons so everyone can try the various kinds.
PRO TIP: Grab a pack of yellow napkins and label them "Penalty Flags." You'll need napkins anyways, and these will guarantee at least one good chuckle from the group!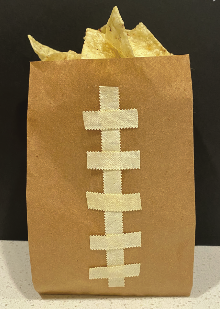 Champion Chips: We often just throw the chips in a bowl and move on with the party, right? Well hold up, because I suggest stepping it up a notch. First, snag some brown paper bags (i.e. the old school lunch sacks). Next, on the front of the bag, run a piece of white tape straight down the center. Then, cut some smaller strips of white tape and add those horizontally across the vertical strip, mimicking the lace on a football. Now you can fill each bag with chips so attendees have their own pre-portioned (and festive!) serving, ready to grab and go.
Chili Cook Off: Another idea for the competitive type… charge an entrance fee that's presented in the form of chili. Then the group can duke it out all the way to the endzone over who makes it the most delicious. Plus, it's always fun to explore other people's twists on this age-old recipe. And again — your fellow fans are pitching in, which takes some of the culinary pressure off of the host.
Games… on AND off the TV
There's plenty of competition already happening on the big screen, but try spicing up your shindig by incorporating a little friendly competition of your own. Do a quick search for Super Bowl Bingo on the ol' trusty Pinterest and check out the options! Some are more commercial themed while others include more technicalities of the game, so choose a template that fits your crowd the best. You'll just need to print out the cards and provide some writing utensils, then you'll be on your way to singing B-I-N-G-O.
Or, another way to approach football bingo is to select a customizable printable template instead of a premade design. This is where things can get interesting! Before kickoff, pass out the blank cards and have each party goer fill in the spaces themselves. They could write anything from a touchdown to a pizza advertisement to an announcer mentioning the weather. Those who think they hold the most knowledge of the sport will probably be confident they can hit bingo pretty quickly… but only if they play their cards right.