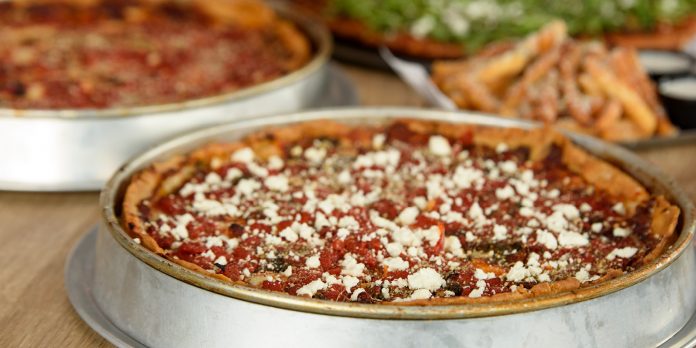 Two Cities Pizza Co. brings New York-style thin crust and Chicago deep dish pizzas to Suwanee.
By Alicia Carter | Photos by Karl Lamb
There's perhaps no food more universally loved than pizza. There's also probably no food debate more heated here in the States than which style of pizza reigns supreme: New York-style thin crust or Chicago deep dish. Lucky for us, we can have the best of both worlds under one roof at one of Suwanee's newest restaurants, Two Cities Pizza Co. Combining their entrepreneurial spirit and love of food, longtime friends Zach Greves and Sean Spurlock opened the original Two Cities location in the suburbs of Cincinnati in 2016. The restaurant has received a number of accolades since opening, including a spot on Yelp's List of the Top 100 Places to Eat in 2021. Just a few months after opening, the restaurant was even voted the best pizza in the Queen City — no small feat for a pizza joint located in the 'burbs. While the food is exceptional, Greves and Spurlock put just as much thought and care into the design and overall atmosphere of the restaurant itself.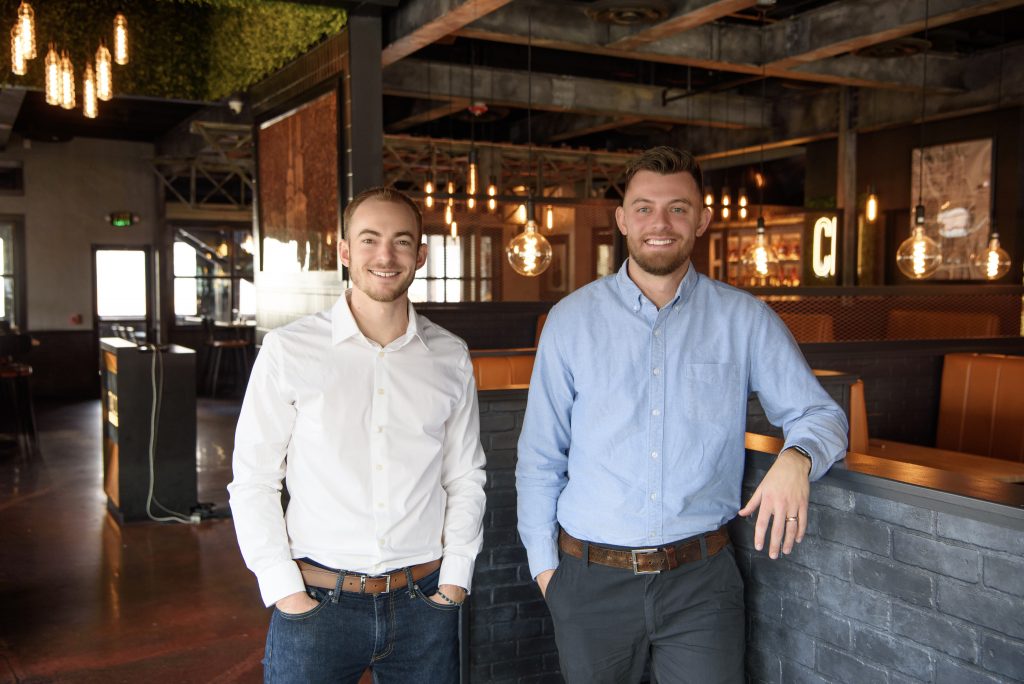 Following the success of the Cincinnati location, Greves and Spurlock brought their concept to Suwanee in March 2022. Greves, a fan of Chicago deep dish pizza, and Spurlock, who prefers the thin, foldable New York-style slices, wanted to bring a touch of those classic northern pizzerias to the South. While developing the menu, they met with restaurateurs at pizza spots in Chicago and New York, and developed different dough recipes for each style of pizza.
"We make everything in-house," Spurlock says. "The process and the ingredients for the New York and the Chicago pizzas are completely separate. What we've found is that some places will say they have a deep dish on their menu or a stuffed crust pizza, but they're using the exact same dough for their thin crust. They're using the same cheese. They're using the same sauce. At Two Cities, the dough, the cheese, and the sauce for our New York pizzas and Chicago pizzas are all different. We make the dough fresh in-house every day, and if we don't make the product in-house, we're sourcing it directly from New York or Chicago."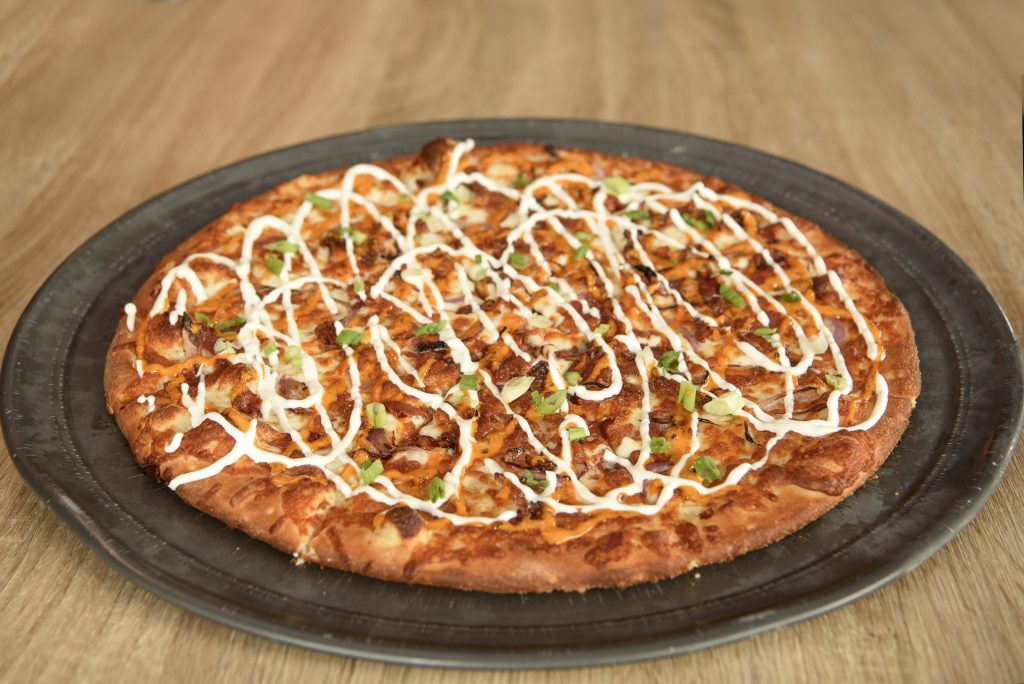 Explore the Menu
The menu includes several kinds of New York-style and Chicago deep dish pizzas, along with gluten-free and vegan options. Standouts include New York's Finest, featuring pepperoni, bacon, sausage, yellow onions, green peppers, mushrooms, mozzarella and a classic red sauce. The Cabbie is like a comforting baked potato on a pie, with mashed potato, bacon, red onions, scallions, mozzarella, chipotle aioli and a garlic crema drizzle. Miss Brooklyn is a good-looking white sauce pizza with goat cheese, red grapes, bacon, mozzarella, a balsamic drizzle and a hearty helping of arugula on top. On the Chicago side, The Wrigley Pie is an ode to the Windy City with mushrooms, spinach, red onions, feta, whole milk mozzarella and a chunky red sauce.
The menu also includes a variety of salads, appetizers like parmesan fries and fried pickles, and a handful of kids' menu options. Don't miss out on the Bootleg Bread, an addictive cheesy bread baked with garlic and herbs and served with Two Cities' famous ranch.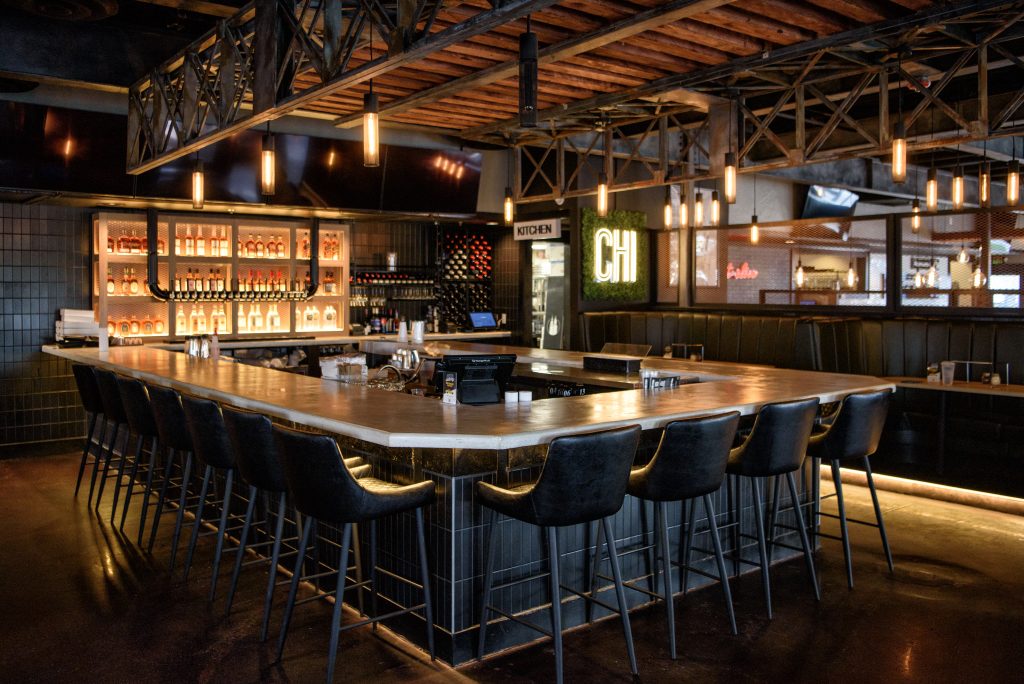 Make it a Night Out
Two Cities' bar program is also top-notch and features several cocktails, frozen drinks and wines. The beer selection includes a variety of Chicago and New York brands as well as local beers like Ale of Two Cities Pale Ale, brewed exclusively for the restaurant by Suwanee- based StillFire Brewing.
Two Cities invites patrons to make it a night out with half-priced beer pints on Tuesdays and half-priced bottles of wine on Wednesdays. For a meal with a view, take advantage of the rooftop bar. If it looks familiar, it's because the rooftop was designed to look like a Chicago L train, a clever way to transport patrons to Chicago and round out the entire experience.
"The rooftop seats 100 people, and we're currently in the process of having it covered," Greves says. "In the summer there will be shade and fans, and in the colder months we will have dropdowns and heaters. There will be roughly 15 TVs playing all the games. It's a great place to sit down with friends, have a drink, watch a game, or even host a big party."
Greves and Spurlock note that Friday and Saturday nights are their busiest, so they encourage guests to take advantage of their waitlist option online. You can put your name on the list and receive an estimated wait time, then just show up to the restaurant when it's your designated arrival time. Delivery is also available.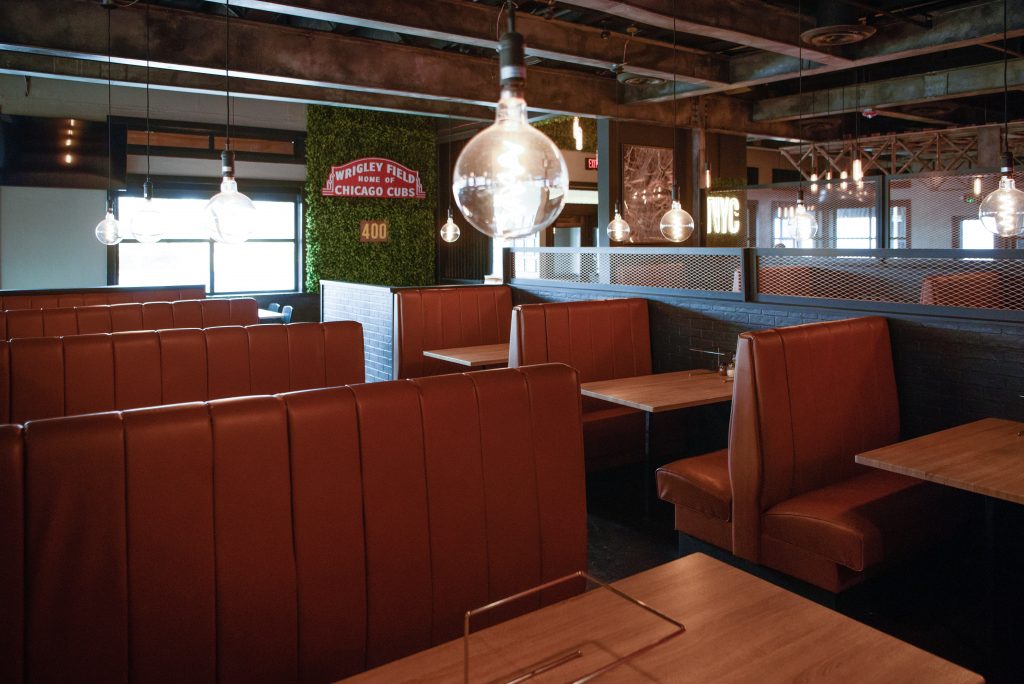 A Personal Touch
When designing the Suwanee restaurant, Greves and Spurlock made sure to include touches of the Big Apple and the Windy City. Guests are greeted by a New York City yellow cab out front and the interior features a Wrigley Field sign hung on an ivy-covered wall. If you look closely at Two Cities' logo, you'll notice the Empire State Building and the Willis Tower, formerly the Sears Tower, standing in for the I's in the name. "We just really love those buildings," Greves says. "They're iconic, and we personally feel connected to them, too. Things like that are really fun to be able to include — those little details. It's just a really fun concept."
The restroom includes a New York subway platform and train car complete with graffiti on the walls. It's a duplicate of the restroom at the original location, which won Cintas' America's Best Bathroom Award in 2021. While the Cincinnati restroom is modeled after New York's City Hall Station, the Suwanee restroom took inspiration from the fittingly named Flushing Station, a real station in Queens.
It's clear that Greves and Spurlock have put a lot of thought into Two Cities Pizza Co., and Suwanee is lucky to have a great pizza restaurant that is family-friendly, while also offering a first- class dining experience with a five-star level of service. When you eat at Two Cities Pizza Co. it's like being transported to that neighborhood pizzeria where the regulars catch up over drinks at the bar and families bond over slices of their favorite pizza. And that's perhaps what Greves and Spurlock are most proud of.
"Pizza is the perfect communal food," Greves says. "It's so fun to literally break bread together. It's a very fun business to be in because we get to see people at their best. They're coming in to celebrate and they're coming in to enjoy each other's company with good food. And sharing a pizza is a very fun way to do that."
Two Cities Pizza Co. is located at 3433 Lawrenceville- Suwanee Road in Suwanee. Open Tuesday-Thursday 4-11 p.m.; Friday-Sunday 11 a.m.-11 p.m. For more information, call 678-889-2625 or visit TwoCitiesPizza.com/suwanee.