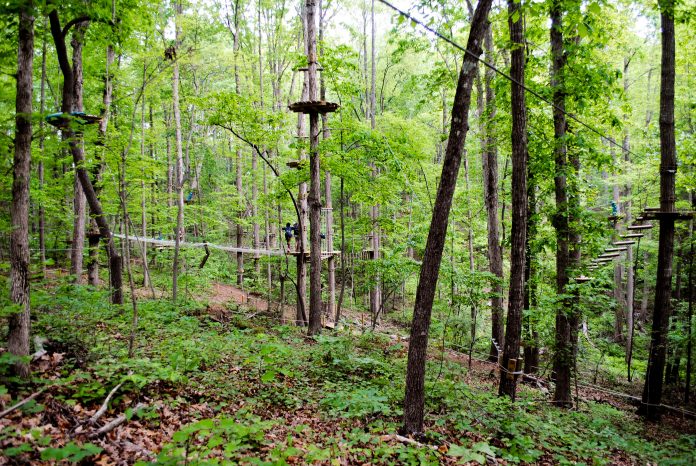 Treetop Quest | 770-670-9908 | 2020 Clean Water Drive Buford, GA 30519
www.treetopquest.com
No tiptoeing in these treetops! Soar, zip, climb, crawl, and swing through the most unique and exhilarating eco-adventure course of its kind in Georgia. Treetop Quest is an exhibit at the Gwinnett Environmental Heritage Center, located just a stone's throw from Suwanee in nearby Buford.
At Treetop Quest guests as young as four and older can navigate the courses that include about 15 obstacles including monkey bridges, Tarzan jumps, swings, zip lines and more while integrating educational and environmental facts along the way. Treetop Quest opened in the Gwinnett Environmental Heritage Center Sept. 2011 adding a physical activity aspect to the overall experience at the center, and since then, many have taken the two and a half hour self-guided expedition that allows kids and adults to go at their own pace.
Cloe Amara, Park Manager for Treetop Quest, said they have received positive responses from the exhibit. "No one has left unhappy," she said. And she added that people are amazed they have a place where they can zip line in their own backyard.
With a central pavilion, Treetop Quest can also accommodate special groups such as birthday parties for all ages, corporate employees for teambuilding exercises, and more.
Nick Masino, Suwanee resident and former Mayor of Suwanee took his family during Spring Break in April and said this about the adventure, "We had an amazing day at Treetop Quest in Gwinnett County. Local friends, you have to check it out – such a wonderful experience for us all!"
For directions, hours of operation, prices and more, visit their website www.treetopquest.com.