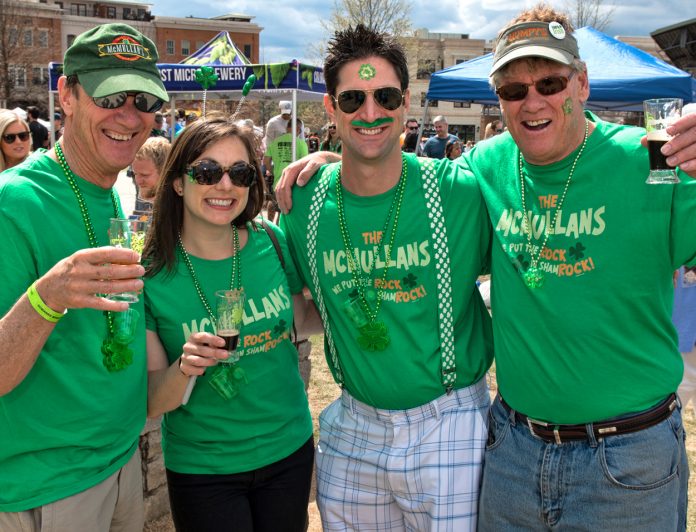 On March 18th, 2017, the 7th Annual Suwanee American Craft Beer Fest returns! A day where beer nerds and beer novices alike are invited to descend upon Suwanee Town Center Park for an afternoon of brews, tunes, and fun! Sessions, Belgians, IPAs and Pilsners live in harmony at this massive St. Paddy's Day throw-down which features a whopping 300+ craft beers from around the nation – making this award-winning festival one of the biggest beer events in the South. We have your guide to all the beertastic activities…
By: Michelle Fasig | Photos by Karl Lamb
Suwanee American Craft Beer Fest event organizers promised an event that was bigger and better than ever last year, and they definitely delivered. The festival expanded the entire layout of Suwanee Town Center Park to accommodate the thousands of hopheads looking to sample their share of over 300 craft brews, which ranged from hard-to-find seasonals to perennial favorites.
A UNIQUE EXPERIENCE
Each year the beer fest team is committed to providing the best experience possible, and in 2017, they promise to have a lot of new surprises up their sleeve. "We want to continue to provide an experience that is new, exciting, and surprising year after year, while maintaining the integrity of a true American craft beer festival," explained Rachel Pillow, Suwanee Beer Fest Marketing Director.
For the second year in a row, Suwanee Beer Fest will host an exclusive Georgia Craft Beer Garden featuring about 30 local breweries like Creature Comforts, Abbey of the Holy Goats and Jekyll Brewing. Newcomers from Atlanta, such as Scofflaw Brewing Company will also be making their debut, ensuring access to covetable and new brews. Over 100 national breweries will be represented throughout the festival, and of the 300 beers available, multiple breweries use this opportunity to showcase their new or seasonal beers making this a one-of-a kind tasting experience.
SOMETHING FOR EVERYONE
Designed around the motto, "something for everyone," this festival features activities like giant Jenga, live entertainment, and cornhole! And, for the first time, Sponsor Tannery Row Ale House is even providing a mechanical bulldog! Yes, that's right! Festival attendees can enter to be crowned "Tannery's Top Dog," by lasting the longest on the ride. The winner will receive the coveted title, bragging rights, and a $50 gift card to Tannery Row.
Stop by the Taco Mac booth to grab some free swag like a t-shirt and some free wings. Head over to Phoenix Roasters to try some of their delicious, cold-brewed Nitro coffee. Then swing by On the Border Mexican Grill to grab some chips and salsa to soak up your beers.
LIVE ENTERTAINMENT
When it's time to put down your brew and put on your dancing shoes, head over to the main stage to check out Atlanta's own kings of Rockabilly, Rodeo Twister. Blending Honky Tonk and Rockabilly style, these performers have shared the stage with legends of the music scene like: Zac Brown, Dale Watson and Webb Wilder to name a few. This band is sure to get you on your feet with their high-energy performance, outstanding vocals and electric vibe. Following Rodeo Twister, popular Chicago band, Fulkinetic, is back for their sixth year! Be prepared to be blown away by the musical style of this Blues and Funk inspired rock band. Each year they debut their new material for festival attendees at Suwanee Beer Fest, so this set is not something you want to miss!
THE VIP EXPERIENCE
The VIP tent is the place to be for the true beer connoisseur. With a selection of nearly 30 beers, the VIP tent hosts one-offs, casks, speciality brews, and beer brewed exclusively for the festival. VIP ticket holders will also get the opportunity to try J.R. Revelry Bourbon this year, poured directly by the owner and maker himself.
For the first time, well-known restaurant, Marlow's Tavern, will be coming up with a unique and creative menu to serve alongside all of the speciality beers available in the VIP tent. Marlow's Tavern is known for featuring the "best of the best" in American tavern fare and are designing a menu specifically for this event.
Dimensional Design, a local design and branding firm, returns again as a sponsor of the VIP tent and has partnered with festival organizers to bring a one-of-a-kind experience to the festival. From delicious bourbon, a carpeted lounge, a meal catered by Marlow's Tavern, exclusive beers and high end finishings, the VIP tent has it all.
BENEFITING COOPER'S CREW
Event organizers are dedicated to giving back and supporting the community, and as tradition holds, will donate a large portion of proceeds to local charities. This year's benefiting organization is Cooper's Crew. Volunteers from Coopers Crew have generously donated their time to volunteer at the festival and are excited about giving back to a cause they hold dear to their hearts:
Cooper's Crew is a Suwanee-based organization that was created in honor of Cooper O'Brien, who lost his battle to a rare form of cancer called Clear Cell Sarcoma at the young age of 14. Cooper will forever be remembered as an inspirational, courageous, generous, athletic and adventurous young man. Your participation in Suwanee Beer Fest helps support the Cooper's Crew Fund and the Cooper O'Brien Scholarship Fund.
The Cooper's Crew Fund provides funding for research and development to find a cure for childhood cancer. Did you know that only 4% of U.S. federal funding is allocated to any type of childhood cancer research? Cooper's Crew is committed to changing that number and has collaborated with CURE Childhood Cancer to help fund research projects specific to Sarcoma cancers.
The Cooper O'Brien Scholarship Fund grants scholarships to three graduating seniors at North Gwinnett High School each year, who have overcome unique hardships. Please join us in raising funds and awareness for childhood cancer and to celebrate Cooper's legacy. For more information on Cooper's Crew, visit CoopersCrew.org.
2017 HOME BREW CONTEST
The 6th Annual Suwanee Beer Fest Home Brew Competition sees over 300 unique home brewed beers entered each year, with categories such as Light Lager, Pilsner, Light Hybrid and Speciality Beer. Last year, Carl Leitz won "Best in Show" with his Classic American Pilsner, "Cheryl's Pils." Organizer, Bob Carlton, Owner of Brew Depot in Alpharetta, has expressed excitement along with the other 30+ judges about what will be presented to the 2017 table.
Beers in this competition are judged based on a strict set of criteria, including: mouthfeel, aroma, appearance, flavor and overall impression. The highest score possible is a 50 – which judges have yet to award. Judging for this BJCP (Beer Judge Certification Program) begins on Saturday, March 11th with the winners of each category moving on to compete for Best in Show. All finalists will then be judged at the Suwannee Beer Fest on March 18th with the "Best in Show" victor being crowned onstage at the event.
Home brewing is a mix of passion, art and science. For those who are interested in learning more about how to brew and want to consider entering the competition next year, Brew Depot offers "Home Brewing" and "Wine Making" classes. So, whether you want to try it out as a hobby or are thinking about it as a career, stop by Brew-Depot for all your brewing needs!
NEW BREWERIES AT SBF17
Steady Hand Beer Co, Roswell, Georgia
Steady Hand is a brand-new craft brewery coming soon to the Roswell, GA. area. Steady Hand is about high-quality, hand-crafted beer and an artistic communion with nature, traditional brewing and the community that shares it.
Scofflaw Brewery, Atlanta, Georgia
Brand new on the Atlanta craft beer scene and is already producing some seriously outrageous brews. After two years of intense R&D, Scofflaw is now operating in northwest Atlanta's Bolton neighborhood.
Arches Brewing, Hapeville, Georgia
Arches' focus is bringing the best of old-world and modern brewing practices together to deliver many beer styles never commercially brewed in Georgia. Through many hours of brewing and tasting, they now have over 30 different distinct recipes.
Hi-Wire Brewing, Asheville, North Carolina
Straight from the heart of craft beer country comes Hi-Wire Brewing. Hi-Wire Brewing produces approachable, balanced and delicious craft beers!