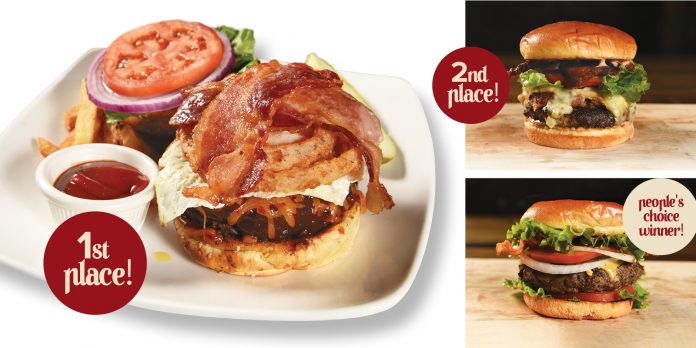 For our 2022 food issue, we decided to once again go in search of the best burger in Gwinnett! We're talking a well-seasoned, juicy patty on a fluffy bun with all the fixins!
By Alicia Carter | Photos by Karl Lamb
In pursuit of burger bliss, we reached out to restaurants in our distribution area with a great burger on their menu to participate in this year's contest. In the end, eight local contenders accepted the challenge and delivered their best burger to our office to put before our judges, three local foodies whose taste buds would be put to the test to declare a winner! We also tasked the Suwanee Magazine staff with sampling each burger to vote on a "People's Choice" winner. And we couldn't leave out our readers! We posted each burger online and asked the community to vote on their favorite.
MEET THE JUDGES:
Skye Estroff
Skye is known as "Atlanta Food Expert" on TV and radio. She began her career in food by receiving her bachelor's degree in Dietetics from the University of Georgia. After college, she took root in Atlanta and began working for local food and media companies, Atlanta Eats then Taste of Atlanta, before founding Skye Estroff LLC, a food-focused social media company, and Foodie Roadtrip LLC, a food production company and regional TV show. Her lifelong goal is to connect people through food, and she is sharing that perspective with Foodie Road Trip.
Victoria Hawkins
Victoria Hawkins is the Senior Director of Marketing and Destination Development at Explore Gwinnett, the official tourism and film office for Gwinnett County. Basically, this organization gets to market Gwinnett as a destination and tell visitors about the fun things to see and do in Gwinnett County. Explore Gwinnett also hosts Gwinnett Burger Week every March.
Buddy Maughon
Buddy Maughon is a Master Meat Cutter and owner of downtown Buford's Bare Bones Steakhouse. From ribeyes, filets, and strips to massive tomahawks and porterhouses, Buddy's passion and precision are ingrained with each cut of his knife. "It was a 40-year dream of mine to open a steakhouse," he says. "I wake up every morning and still can't believe it."
JUDGING CRITERIA:
Each burger was judged in three categories:
• APPEARANCE: Bun, Toppings, Overall Presentation
• TASTE: Cook Level, Quality of Meat, Seasoning, Toppings, Texture
• OVERALL IMPRESSION: Creativity of Ingredients, Probability of Ordering Again
THE WINNERS:
First Place:
The Diner at Sugar Hill: Texas Burger
4500 Nelson Brogdon Blvd.,Sugar Hill
TheDineratSugarHill.com
Since 2009, The Diner at Sugar Hill has delivered a satisfying home-style dining experience with a side of Southern hospitality to its loyal customer base. And now, their Texas Burger has been voted the Best Burger by our team of judges! Featuring a hand-crafted ground Angus beef patty seasoned and grilled over an open flame, the Texas burger is basted with barbecue sauce and topped with a farm-fresh over-medium egg, hand-battered onion rings, hickory-smoked bacon, lettuce, tomato and red onion on a sesame seed bun. Our judges couldn't get enough of the classic burger taste!
"Awesome classic burger!" — Victoria Hawkins
"Great burger!" — Buddy Maughon
Plus! The Texas Burger was the Reader's Choice Winner! We asked our readers to vote on their favorite of the eight burgers in an online poll. After nearly 300 votes cast, one burger stood out. The judges and readers of Suwanee Magazine agree, The Texas Burger at The Diner at Sugar Hill's is the best in Gwinnett!
---
Second Place:
Uncle Jack's Meat House: Ooey Gooey Mooey Burger
6590 Sugarloaf Pkwy., Suite 201, Duluth
UuncleJacksMeatHouse.com
Custom William Jack Degel Blend of Prime beef with onion jam, maple bacon, lettuce, tomato, blue cheese fondue, blue cheese crumble and "special sauce" on a brioche bun.
"Excellent! Classic burger!" — Victoria Hawkins
---
People's Choice Winner:
The Dawg House: Big Bark Burger with Cheese
2380 Peachtree Industrial Blvd., Buford
TheDawgHouse.com
Hand-formed premium Angus beef patty with double the garden. Leaf lettuce, tomatoes, pickles, onions, ketchup and mustard on a fresh baked bun.
"Tastes like a gourmet classic burger." — People's Choice Judge Madison North
---
Marlow's Tavern: Black and Blue Burger
1950 Satellite Blvd., Duluth
MarlowsTavern.com
Marlow's nicely seasoned tavern burger topped with gorgonzola, applewood smoked bacon, lettuce, tomato and onion on a sesame brioche roll.
"The dressing was a unique touchpoint." — Skye Estroff
---
Tannery Row Ale House: All in Burger
554 W. Main St., Buford
TanneryRowAleHouse.com
Half-pound burger topped with pulled pork, fried egg, Gouda cheese and pecan-smoked bacon with lettuce, tomato and onion.
"The combination of egg, pulled pork, and bacon is delicious." — People's Choice Judge Madison North
---
Over The Top Burger: The Hangover
2685 Buford Hwy., Suite 800, Buford
OvertheTopBurger.com
Two patties on a sugar waffle, topped with candied maple bacon, American cheese, a fried egg, hash brown, maple syrup and dusted with powdered sugar.
"So. Freakin'. Good! Unexpected combo, but it's so good!" — People's Choice Judge Kaylee Skelton
---
Local Republic: Celine Dijon
139 N. Perry St., Lawrenceville
LocalRepublic.com
The Celine Dijon burger features fried mozzarella, bacon jam, arugula and Dijonnaise.
"The first time I've had fried cheese on a burger, but I definitely don't want it to be my last! Very creative!" — Skye Estroff
---
Diesel Tap House: Ole Drunken Burger
2669 Buford Hwy., Suite 200, Buford
DieselTapHouse.com
A half-pound of custom blend burger, American cheese, hash browns, bacon, lettuce and tomato on Texas toast. This bad boy is also known as the "ODB."
"The perfect breakfast burger!" — People's Choice Judge Kaylee Skelton