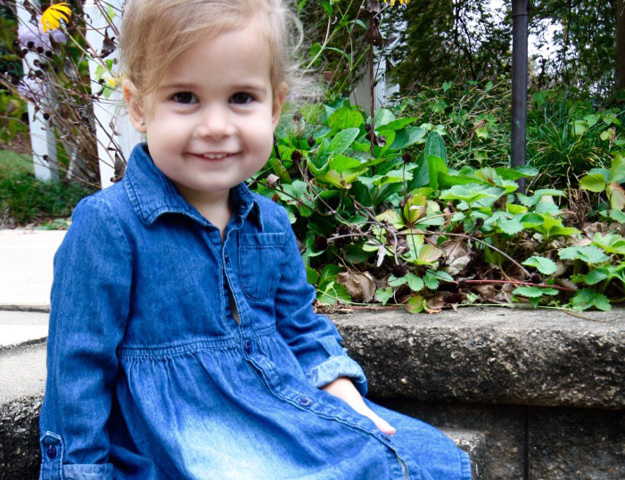 One small step for man, one giant leap for 3-year-old Lucy Stafford. On October 12, Lucy made her big-screen debut playing Karen Armstrong, daughter of Neil Armstrong, in First Man. The film details the life of Neil Armstrong, played by Ryan Gosling, and his journey to become the first man to walk on the moon.
What began as a response to a Facebook ad by Suwanee native Lauren Stafford, turned into a movie role for her daughter Lucy. We had the chance to talk with Lauren and find out what it was like for Lucy to act alongside major movie stars such as Gosling and Claire Foy.
How did Lucy land this role?
Lauren Stafford: There was an ad on Facebook asking for a little girl to audition, and without thinking anything would come of it, I submitted a photograph of Lucy. A week or so later I received a phone call saying they were interested in her! I then submitted a video of her\ acting candid around the house, and before I knew it Lucy was filming in Tyler Perry's studios.
What was it like working with the cast?
Lauren Stafford: Damien Chazelle (the director), Ryan Gosling, and Claire Foy were all so great. They wanted Lucy to be comfortable and made sure she was always taken care of. When we first met Ryan, he went straight to Lucy and wanted to get down on her level and really made sure she was comfortable with him. Claire was so motherly and even took the time to check on Lucy when she came to set with a runny nose.
Since Lucy is so young, how was the overall experience?
The word I kept using was surreal. Every morning we would go to wardrobe and then they would let me drive my van to the back lot so Lucy had a place to take a break if she needed it. They allowed her to rehearse and bond with Ryan and Claire for about a week before we actually began filming. Everyone made sure it was a great experience, and that Lucy remained comfortable.