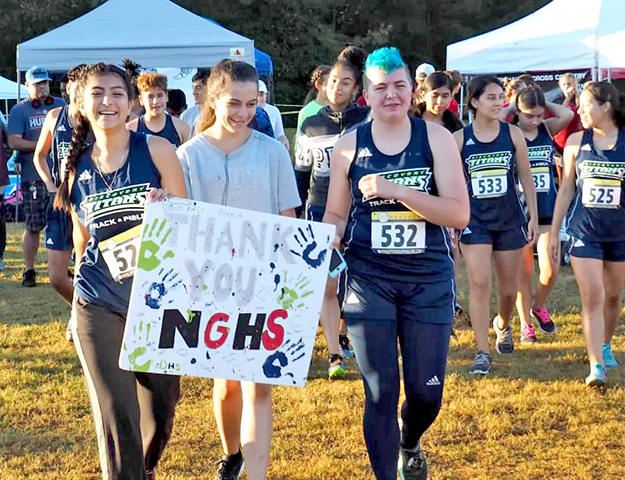 Going into its fourth year as a Title 1 school in Lawrenceville, Discovery High School serves more than 2,600 students. The majority of those students, however, come from households with limited income and often face adversities that many other high school students don't have to deal with.
Many of these students struggle to afford the dues and equipment needed to participate in high school athletics. Discovery's Head Cross Country Coach, Jessica Ursprung, and Assistant Principal, Traye Moore, recognized this growing issue on both the boy's and girl's cross country teams and wanted to do something to help.
"I grew up very fortunate to be able to have everything I needed to be a successful runner," Ursprung says. "My athletes do not have every opportunity that I had at their age, so I set out to look for any opportunity to provide for them."
Ursprung, a former North Gwinnett cross country runner, and Moore, a former North Gwinnett track coach, decided to reach out to North Gwinnett about a possible fundraiser. Without hesitation, Coach John Rowland, Athletic Director Coach Grady York, and, and the rest of the North Gwinnett team got to work raising money and taking uniform donations.
"The generosity that NGHS offered us was one of the greatest blessings I could find," Ursprung says. "Their program generously donated gently used running shoes, racing spikes, and a check that allowed me to provide uniforms and racing spikes to every kid on both the boy's and girl's teams."
The Discovery cross country team was truly grateful for North Gwinnett's generous donations and wanted to present the athletes and coaches with a handmade poster, as well as baked goods they made together as a team.
"The athletes took their own time to meet up and do this without my knowledge," Ursprung says. "This really showed tremendous accountability and maturity."
Thanks to the guidance of Ursprung and the donations from North Gwinnett High School, the Discovery High School cross country program has seen a tremendous increase in the number of athletes who are able to participate in this season. The team has also improved from previous years with a drop in race times and a new girl's school record — with a new boy's record not far behind.