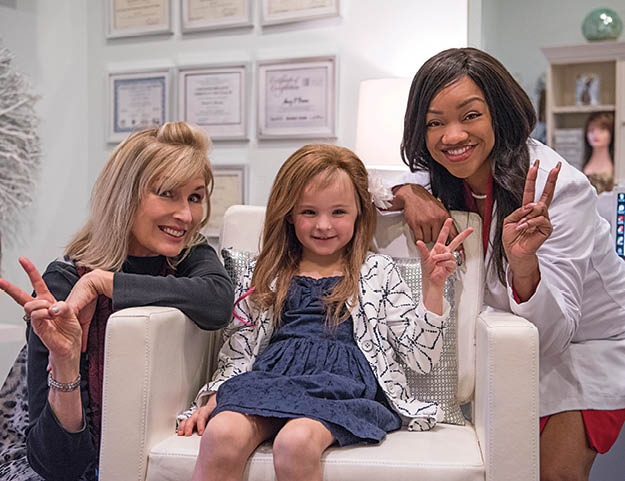 Matt James Solutions for Hair Loss may have just officially opened its doors last year, but the company was born out of a true passion for helping people struggling with medical hair loss and 40 years in the professional hair industry.
By: Rachel Pillow | Photos by Karl Lamb
Dee Borders-Cannon owns Details Salon Professionals in Buford and over the course of her professional career, her sought-after expertise in hair styling has brought many types of clients through her door, including clients suffering from hair loss. "I developed a special place in my heart for taking care of clients suffering from medical hair loss. I had clients going through chemo whose heads I would shave and I had clients with wigs that they wanted cut and colored. It became my passion to help people struggling with hair loss," she said.
At the time, Dee didn't know that the issue would hit even closer to home. For seven years Dee stood by her husband's side during his fight with cancer. When he lost that fight in 2010, her mission became even clearer. So, Dee founded Matt James Solutions for Hair Loss – named after her son, Matt, and her late husband, James. "I just know this is what I was meant to do with my life," she said. But over the next several years, a series of personal roadblocks and challenges ensued before Matt James could really get off the ground.
AN OPPORTUNITY TO PURSUE HER PASSION
In 2014, Details Salon Professionals was forced to relocate. Dee decided it was time to officially open Matt James for business. She knew that moving to a new location could sometimes be detrimental for business, but instead was going to use it as an opportunity to pursue her passion and help others. In 2017 she found the perfect business partner through their affiliation with American Hair Loss Council. Nancy V. Brown is a Master Certified Hair Loss Expert with the American Hair Loss Council and equally passionate about serving others. "The two words that define what we're about are hope and encouragement. This is like a form of ministry to us. By the time people come to see us they are feeling pretty hopeless and like their whole world is spinning out of control; we're trying to give them something they can control again," said Nancy.
NOT A TRADITIONAL SALON
There are many reasons that people lose hair: hormonal changes, lupus, alopecia, anxiety, stress, female pattern baldness, Trichotillomania, which is an obsessive compulsive nervous disorder that causes one to pull their hair out, and more. "When they come in it is important that they know they aren't going through this alone," said Dee.
Matt James Solutions for Hair Loss is located inside Details Salon, but when clients walk in they don't feel like they are in a traditional salon. They are taken into a private room for full privacy and confidentiality, where Nancy and Dee will determine the best course of action, whether that is hair replacement (wigs, extensions, partial hair pieces, toppers, weaves, medical hair loss wigs) or hair restoration (stimulating growth). They also have a partnership with several specialists and doctors in the area for hair transplants or other issues that need more advanced medical attention.
Matt James Solutions prides itself on being multi-cultural and multi-lingual, working with all hair types and ethnicities, as well as people of all ages. As authorized partners of the national organization "Wigs For Children," working with a younger clientele is one of their specialties. "We love working with children. We have tons of fun with them. Just the other day I had a young girl in my office and we were jumping up and down and laughing and dancing, making sure the wig fit and wouldn't fall off, even if she was doing gymnastics," said Nancy.
But, no matter how old or what they're going through, the goal is always the same: offering support, advice, hope and encouragement. "Hair loss can be a devastating experience, but as soon as they sit down, we treat them as if they were our own family: offering support and advice, even praying with them," Nancy explained. They make sure that every client walks out with a renewed sense of hope and confidence.
With Nancy's extensive experience in medical hair loss solutions and Dee's extensive career as a hair stylist, they are a force to be reckoned with. Every hairpiece and wig is completely customized so that it's the perfect fit, color, length and shape to complement people's unique face shape and skin tone. They train their clients how to care for, clean, maintain and style their hair pieces, will walk them through how to file insurance claims so that it's covered, and for out-of-town clients they even have a condo attached to the salon for them to stay in.
"While there were many challenges and what seemed like roadblocks to getting Matt James off the ground, we had many good things come our way to point us in this direction," said Dee. In the face of adversity she persevered. Shortly after the salon was relocated, Dee came across a sign that summarizes her story, "Some things fall apart so that other things can fall together." Today, that sign hangs in her office as a constant reminder of what she has overcome and how Matt James Solutions for Hair Loss is now helping others on their own path to transformation and triumph.