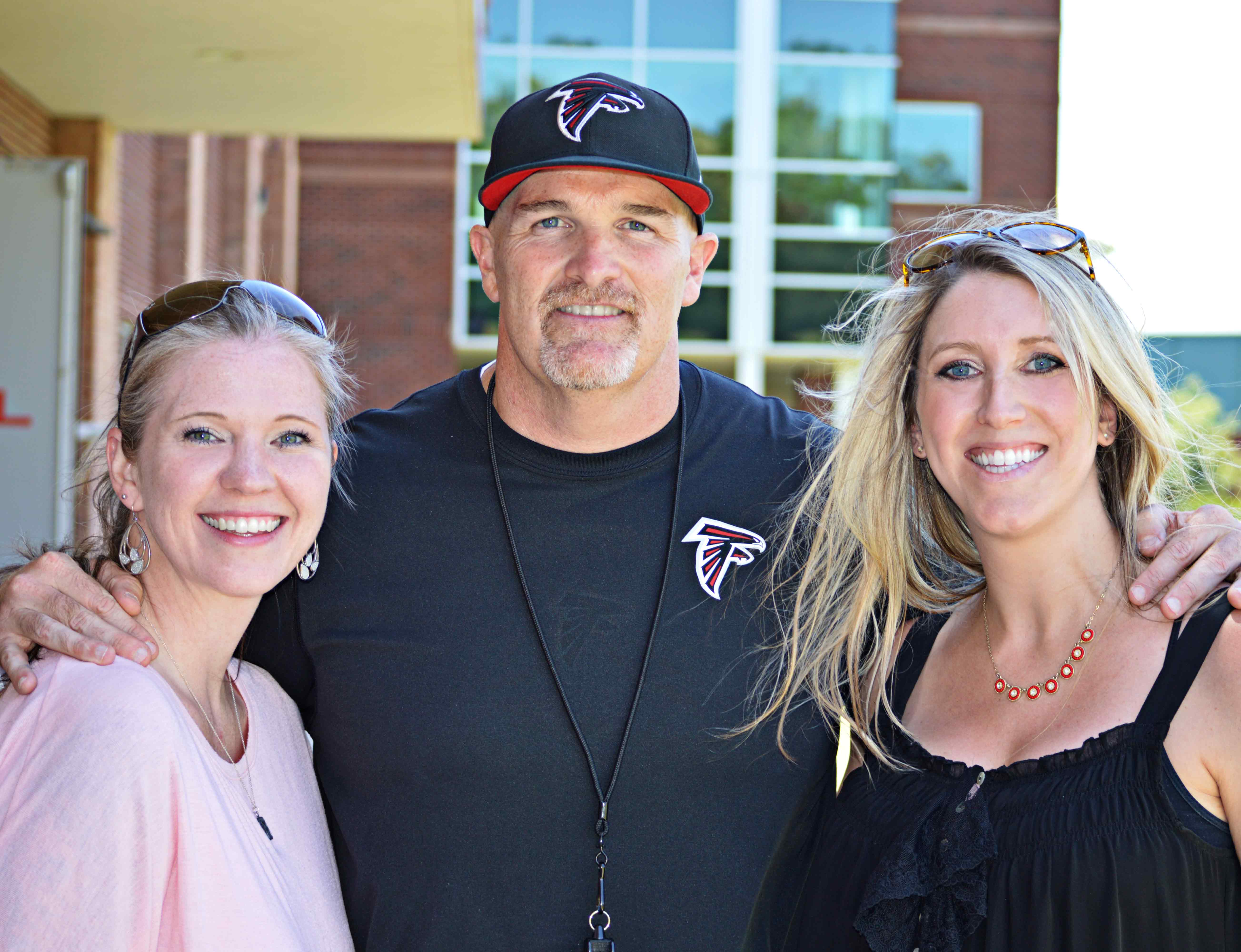 Edited By: April Miller
The Atlanta Falcons will begin their preseason games on August 11th against the Washington Redskins. Suwanee Magazine had an opportunity to meet with Quarterback Matt Ryan, Quarterback Matt Shaub and Head Coach Dan Quinn following a practice to get an inside look at the team, draft picks, off-season changes, the upcoming 2016 season, goals and you… THE FANS!
QUARTERBACK MATT RYAN:
ON NEW CENTER, ALEX MACK: Alex has been great, he has been fantastic. He's who has been around a number of and including a year Cleveland and he's a which is really important page and he's been really This is probably the most veteran a guy like that it helps a lot.
ON LAST YEAR'S SEASON: Every year I put pressure on myself. When the season ends and you start the new season you're excited about the opportunity. What we did last year really has no effect on what we're going to do this year. What we're doing now in the off season program, those are the things that are going to help us.
ON COACH QUINN: There is great open dialogue between me and Coach. We both have an open understanding of our team. That's one of the best parts of being in year two in a system and we're going to be better for that. We're very different than we were last year. We understand who we are better than we did at this point last year. We're way ahead of that this year.
ON OTAS: We're a lot further along than where we were last year, being comfortable and guys being on the same page. We've gotten some really good work in – the effort has been there. Overall I've been pleased with how we've practiced the last couple weeks.
QUARTERBACK MATT SCHAUB:
ON RETURNING TO THE FALCONS AFTER 10 YEARS: I definitely see more camaraderie within the team. The locker room was still set up the same way it was 10 years ago when I left initially; so when I came back and they were starting to change it I was like, "Wow this is a breath of fresh air, this is going to be great to mix the guys up, open it up and really have a team atmosphere." I think that's really going to help with the camaraderie; you really see it starting to come together because, you know, we are a young team as a whole and the more you can bring guys together and gel….that's how you win games in November and December when it really counts.
ON SHANAHAN'S PLAYBOOK: I think I can help the team just by being another set of eyes for Matt (Ryan). I will assist in that process in any way possible. It's about taking care of the ball, positive plays and not putting yourself in negative situations – because down there yards are so hard to come by. It's reaction-based and it's understanding what we're trying to get done with plays and checks. We've really taken a hard look at it and have a good plan going forward into this season. There are only so many ways to draw lines on paper, I think the big thing that will help out is being able to run the ball effectively. If you can run the ball and force their hand a little bit then it will result in us being in the end zone more. The combination of Coleman and Freeman was really effective last year, so if we can carry that inside the 10 yard line then we'll get more points on the board, chew up the clock and keep our defense fresh.
ON COACH QUINN AND HOW HE KEEPS THE TEAM MOTIVATED: The way DQ starts out our meetings puts us in the right mindset for the day. The theme is always "compete." Everything we're doing, I mean from basketball to ping-pong in the meeting room… we're just always competing and it's always at the forefront of our minds. Then you come out to practice and the music gets going right away and the coaches are pumped – you know, they'd get into the drills themselves if they could. That competitive mindset carrries throughout our whole day.
ON THE IMPORTANCE OF THE FALCON'S FAN BASE: It's great when they notice you at Publix, in the neighborhood or at a red light because it shows they really support their local team. They're true fans that are with you through thick and thin and those are hard to come by. It's a cool feeling and it helps motivate you in these days when games are so far away, but on a Tuesday or Wednesday in June it keeps you going!
HEAD COACH DAN QUINN:
In 2015, Dan Quinn became the 16th Head Coach in Atlanta Falcons history. His NFL coaching career began in 2001 as Defensive Coordinator and Defensive Line Coach of the San Francisco 49ers. His coaching history includes the 49ers, Miami Dolphins, New York Jets and Seattle Seahawks. As Defensive Coordinator of the Seattle Seahawks, he led the League's top defensive unit in 2013 and helped lead the team to victory over the Denver Broncos at Super Bowl XLVIII in 2014. His "Fast and Physical" motto has permeated the Falcons in everything they do, and he hopes to lead the team to victory in their upcoming 2016 season.
ON GROWING PAINS: Some of our growing pains last year were about the football and our turnover margin being about the ball, we've got to live that way. That part of our game we're intending on getting right. I don't let anyone else's comments motivate me. It's going to be about us and our team. We don't let anyone outside of our room dictate how we're going to play or how we're supposed to feel. We're gonna attack it with everything we've got.
ON THE ROSTER'S 25 ROOKIES: We're throwing so much at the rooks and this is their time to cram it in and we're certainly doing that. We want to take every single guy here as far as we can! It's really important for the coaches to get to know all of those 25 guys and learn what unique stuff we have, and we're gonna try like crazy to draw it out of them. If a guy can do certain things then now is the time to start switching positions, or seeing if he can do more than one thing…that's been the real emphasis. There have
been a number of guys that are totally going for it that are coming through and we're seeing the different things they can add to the team.
ON IMPROVING AS HEAD COACH: For me, it starts number one with communication and articulating exactly to the staff what we want from the players; then it's about my communication with the players – can that be better, can we bridge that so we all have a really clear vision of how we want to play. So yeah, I've been working really hard on a lot of things too and on getting to know these new guys as well as I can…being present in those conversations – making sure we can find and dig into every single guy to take them as far as we can.
ON PRESSURE TO GET US TO THE "BIG GAME" SOONER AFTER THE CITY OF ATLANTA WON THE BID FOR THE SUPER BOWL IN 2019: Honestly you play for the moment right now and this season we're in 2016 and we're hoping to play our very best ball right now….we aren't waiting for 17 or 18. We don't look that far ahead, it's just, "How good can we get right now?" One of the things that I love about it, with the Super Bowl being awarded here, is that it shows how much we love football in our city; and that part gives me a lot of pride to coach a team where football is so important.
ON HIS "FAST & PHYSICAL" MOTTO: During the off-season the players are working so hard for one another and they are demonstrating the respect that they have for one another by how fast and how hard they play. So, that part is coming together. They're making the calls come to light. Fast is not just how fast you can run in a timed sprint, it's having the mental quickness to know what you have to do so you can totally let it rip. It's when you really have your details down, and you really know your assignments, and you do 1,000 reps then say, "Hey I'm gonna go do it again right now like I've always done it." But you've gotta put the work in, whether it's in the weight room, on the field or in the meeting room. You put the work in and it allows you to take that to a game and say, "This is what I do all the time." That way, we don't need to change our practice habits – we just really gotta pick it up today – every time we step out onto the grass we wanna go for it!
ON BEING INVOLVED IN THE COMMUNITY: It's a real humbling experience to be a coach and a player in the NFL, so whenever any of us get a chance to make an impact in the community; whether its for a day or an interaction with someone or a fan, it's a real rewarding experience because we know not everybody gets to have this opportunity in the NFL. To be able to provide that, whether its a quick interaction or a meaningful moment for somebody, it fills you with a lot of humility knowing that this is a really cool opportunity that we get to share.
It was such a pleasure talking with Coach Dan Quinn and a few members of the Atlanta Falcons. We hope as readers you enjoyed getting to know them a little better and as fans you are ready, now more than ever, to "rise up" this 2016 season! With the changes and additions this off-season, the hard work and dedication, a focus on better communication and Coach Quinn's mantra of "fast and physical" we definitely see success in the future for our Falcons.