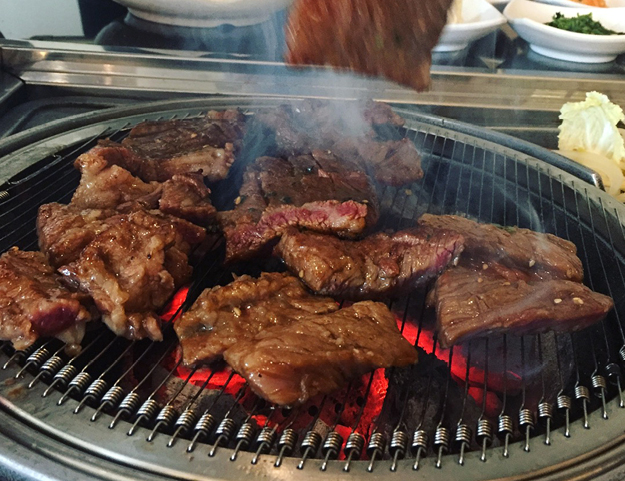 The Korean lifestyle has knit itself into the fabric of Gwinnett County, earning certain parts of North Gwinnett the nickname "K-town." Drive around areas of Duluth and Suwanee and you will see Korean restaurants on every street corner, making it hard to choose which ones to try. As self- professed newbies to the Korean food scene, a couple of us ventured over to Atlanta Gom BBQ on Old Peachtree Road in Suwanee to try authentic Korean BBQ for the first time, and it's safe to say that new enthusiasts were born that day.
Story and Photos By: Rachel Pillow
Atlanta Gom BBQ stands prominently in the Assi Plaza Shopping Center, a well-known Asian supermarket surrounded by Korean shops, businesses, salons, retailers, karaoke bars and restaurants. Admittedly, approaching a shopping center where nearly all of the signage is written in Korean can be intimidating for those unfamiliar with the culture, but Atlanta Gom BBQ's ambience and staff were extremely inviting and approachable.
Some of you may remember our article on Gom Shabu Shabu, a Japanese Hot Pot restaurant with a Korean twist, and the first of its kind in metro Atlanta. Well, when we found out the owners, Tae Kim and Chon Moon Kim, also opened Atlanta Gom BBQ in September of 2016, we knew it would be a great dining experience.
Upon arriving we were promptly greeted by the restaurant manager, Julia Yu, who walked us through the menu and explained exactly how Korean BBQ dining works. The first thing we noticed was that every table has a personal oak wood-burning grill where patrons cook their own meat. "We are the only Korean BBQ restaurant that uses oak chips for our grills rather than gas and there is definitely a difference in the taste of how the meat turns out," Yu explained. And that difference she was referring to can only be described as a distinct yet subtle smokiness and crispiness to some of the most tender, melt-in-your-mouth cuts of meat that we have experienced.
To add an additional layer of flavor, the thick cut pork belly special is smoked in an open oak wood fire for hours before it comes to the table. "We pride ourselves on using the most high quality meat available: from our ribeye steak to the Korean marinated beef rib, to our charcoal grilled brisket – everything is the best quality that you will get out of any Korean BBQ place in Atlanta," said Yu. "Even our all-you-can-eat options use the same quality of meat as any of our a la carte dishes," she continued.
Similarly, their sides are the finest quality, with most being made from scratch in-house. "We have a special homemade steak dipping sauce that is similar to a soy or ponzu sauce, but is completely made from scratch and unique to our restaurant," said Yu. With every order guests receive a variety of sides including pickled veggies, kimchi, lettuce (to wrap meat and make lettuce wraps), rice cake wraps, sauces and more. Part of the fun is mixing and matching different combinations to find out what you like best. One of the most surprising things to us was that every meal started with a complimentary "omelette." As the grill fires up at your table, your server will crack a couple eggs, add in some cheese and green onions and serve as your appetizer. Then "dessert" is a complimentary Korean soup that cleanses the palate when you're finished. Guests can also enjoy a variety of beer and wine to complete their meals.
If, like us, you are not accustomed to cooking your own meal at a restaurant, Yu and her experienced staff will walk you through it and help cook some of the meat at your table until you know how you like it prepared. But, once you can overcome that initial trepidation, we highly recommend you dive in and DIY. It will certainly be one of the most unique, fun and delicious dining experiences you have ever had.
Then, if you really want to top off your "K-Town" experience, venture a few steps over for late-night Korean karaoke and drinks…but just promise that you'll record it and share it with us on social media.