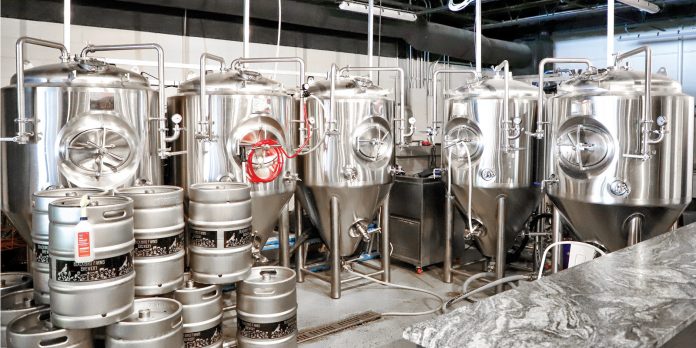 Matt Williams' craft beer dreams have come true with Blackbird Farms Brewery, a farm-inspired brewery centered around the Lilburn community.
By Jessica Dacey | Photos by Aleen Karakashian and Jessica Dacey
A dream more than 10 years in the making is now a reality for Blackbird Farms Brewery owner and head brewer, Matt Williams. After beginning his brewery career more than 20 years ago, Williams knew he had the expertise and knowledge to venture out on his own. Located in Lilburn, Blackbird Farms Brewery is known as a family- and pet-friendly neighborhood brewery that makes everyone feel welcome.
How did you get involved in the brewery industry?
I've been in the brewery industry my whole career, since I was 21. I started out in Wisconsin working in brewpubs and cleaning kegs, and then I moved up to being an assistant brewer just like many other people start out in this industry. I built myself a path by surrounding myself with people who were really good at the craft, and I was able to learn from mentors who were considered some of the best in Wisconsin, which then allowed me to bring that skillset down to Georgia.
What made you decide on Lilburn as the location to open Blackbird Farms?
Lilburn needed something like this. A few years ago, there weren't many breweries in Gwinnett and now you're seeing more and more pop up as time goes on, and we're a part of that growth. We knew we wanted to be in a standalone building on a busy street if possible, and we wanted to be in an area where we felt welcomed and desired. When we spoke to the city of Lilburn early on, they seemed to be excited to have us and so that was a big part of it: feeling welcomed and wanted by Lilburn. There wasn't much of a beer scene over here so we felt it would be the perfect place to plant roots. We're proud to be making beer here in Lilburn and to help change the craft beer culture in the areas outside of the Perimeter.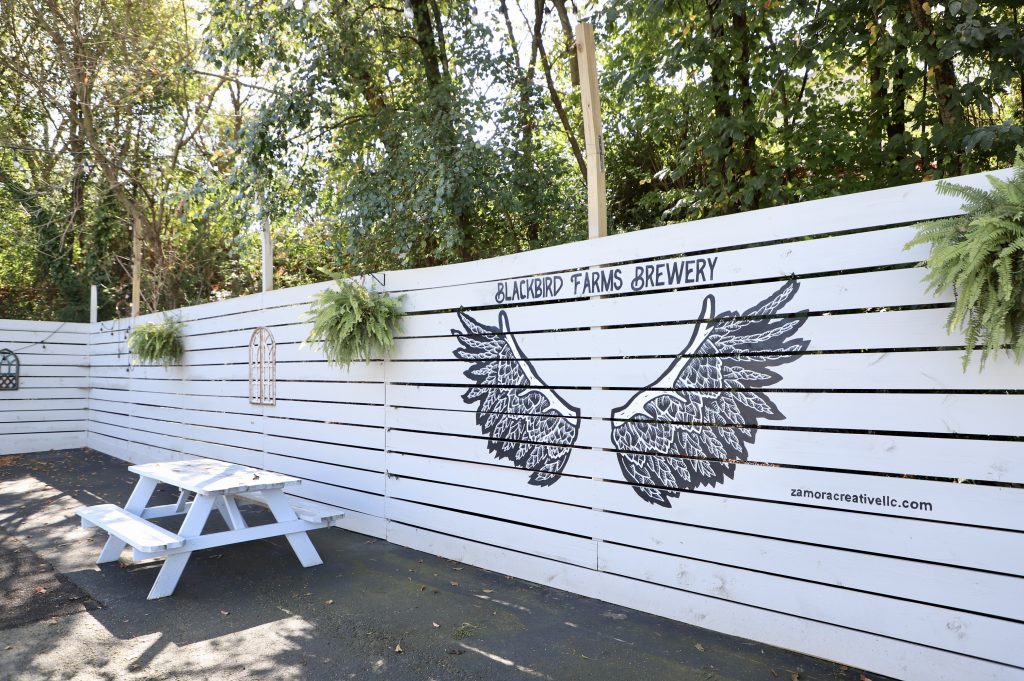 What was the inspiration behind the design and interior of the brewery?
We knew we wanted something with a clean, modern, and farmhouse vibe — hence the name Blackbird Farms. Our design just sort of evolved into what it is now once we got started. There are church pews along the walls which gives the brewery a churchy, gospel, kind of rock 'n' roll vibe along with our massive leather granite bar that can sit upward of 30 people. There are a handful of old- school arcade games for the kids — and adults — to play for free and a massive beer garden out back that extends our interior taproom to the outdoors. We also design our own merchandise in house that we're really proud of. Each piece of merchandise is based off of some of the beers that we brew. A good friend of mine owns an apparel company called Gleeson and just does an awesome job.
What sets Blackbird Farms apart from other breweries in the area?
I brew foraged beer, which means I'll use local farmers' ingredients or even ingredients from Lilburn's Community Garden. I used to work in ingredient sales, so I've really learned how to utilize each and every ingredient by working with many local farmers. I like to use ingredients that are somewhat out there or not commonly known and include that into the name of the beer so guests really know what they're drinking. I also strategically built this brewery to be a one-person job. You'll see me batching new beers and pouring beers for customers in the taproom. You may see our brew dog, Bobby Joe, helping out from time to time. He's a rescue beagle mix, so we are certainly pet friendly out in the beer garden.
What is your favorite part about brewing beer?
When it comes down to it, the brewing process is pretty much the same for each beer and at the end of the day, it's manual labor. So really, the tasting part of the process is the best. What's exciting is when you design a beer and execute it the way you had hoped and end up with a final product that you are proud of. The fun part is turning around and sharing your final product with the customer.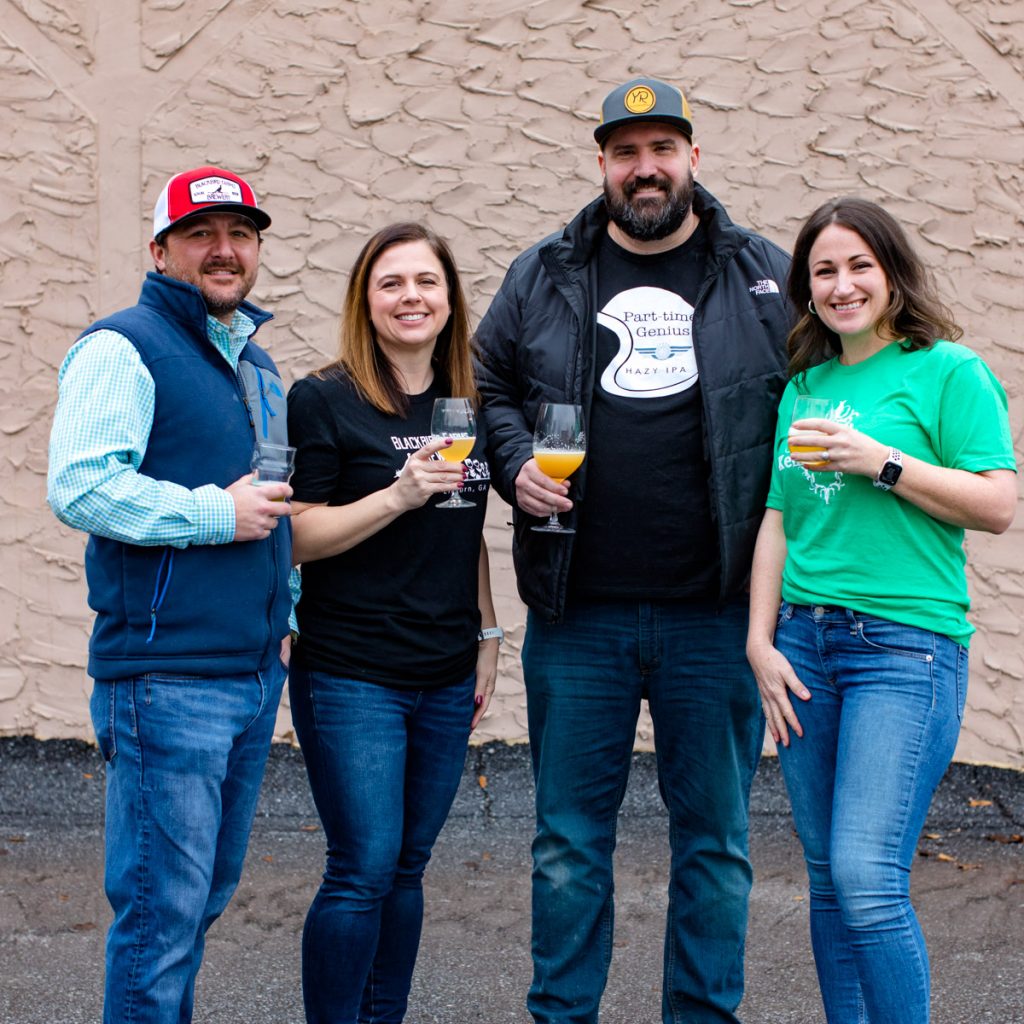 What is your top seller?
Our Hazys and IPAs seem to always be the top sellers, but we do have an Imperial Stout called Trophy Husband that is absolutely gorgeous. It's big and full-bodied at 11%, but still drinks soft.
Do you host events?
We love having live music at the brewery. Right now we're doing live music once a month and we host trivia on Wednesday at 6:30 p.m. We also are a part of the Peachstate Cornhole League on Wednesday nights. We also offer the brewery as an event space for things like baby showers, class reunions, birthdays, and other private events. In addition to the beer, Blackbird Farms patrons can enjoy an outdoor beer garden and old-school arcade games the kids will love.
How has the response been since opening?
It's been great, we see 10 to 20 new customers every weekend since we opened about a year ago, which means our customer base is loyal and has been sharing and talking about us which is great. It takes time, but we're going to be here for a long time and we love seeing new customers discover us.
Blackbird Farms Brewery is located at 4098 Lawrenceville Highway in Lilburn. For more information visit BlackbirdFarmsBrewery.com or follow them on Instagram @BlackbirdFarmsBrewery.