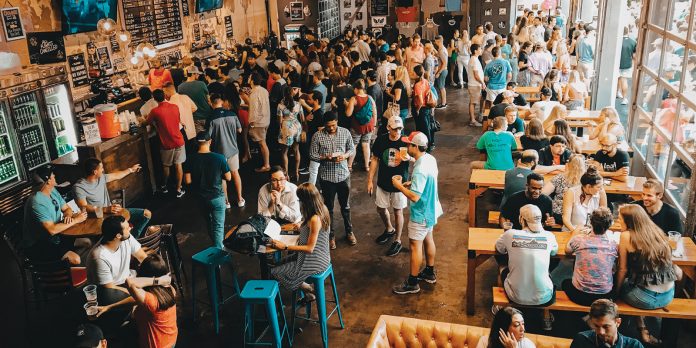 Gate City Brewing celebrates five years of crafting unique beers.
By: Lizzy James | Photos courtesy Gate City Brewing
Gate City Brewing has been producing delicious craft beers while also working to build a sense of community for more than five years now. The taproom, located in a former auto body shop, features a two-story 30bbl brewhouse that cranks out and serves up to 20 house-brewed beers on draft at a time. Since opening in 2015, the brewery has continued to grow each year purely out of a passion for creating craft beers that bring the community together. We had the chance to meet up with co-founder Brian Borngesser and hear more about how Gate City is making waves in the Georgia craft beer community.
How did you get involved in the craft beer industry?
My partner Pat Rains and I met through the Roswell Rotary Club. We had both been entering homebrew contests and we built a friendship off of that. We started homebrewing together and our beers started to win some awards. We were both entrepreneurial driven and opening a brewery was a pipe dream of ours, but we also had full-time jobs. We decided to begin doing research and slowly looking at Georgia laws to see if there was a chance to make it happen. We started checking off boxes, and finally jumped off that ledge and decided to open Gate City. 
Tell us the story behind the name Gate City.
Roswell is a very historic place, and we wanted a name that reflected that. In the early 1800s Atlanta was nicknamed "Gate City" due to it being the center of commerce in the South, serving as a hub for railroads heading north and ports going south toward Savannah. We thought that was interesting and that it could tie into Roswell's history as well. 
You just celebrated five years in Roswell. What has the community support been like?
The community support has been amazing since day one. We wanted to first and foremost build a place that the community could come and spend time at. Our distribution has continued to reflect that as our primary focus has been making sure our beer is being distributed within a 20-30 mile radius of the brewery. Pat and I are also very philanthropic, and we knew before we were even profitable that we wanted to give back to the community. We've made sure we are involved with charitable organizations since day one, and I think that has really helped strengthen our involvement and perception within the community. 
What sets you apart from other Georgia breweries?
I think our space is a big thing that sets us apart. We are very family-friendly with a big open taproom space. We started Gate City when we had young families of our own, and we wanted it to be a place where people can bring their younger kids and hang out. I think something else that sets us apart is the beer we produce. They are unique in the fact that we skip a lot of classic styles and put our own twist on them. We constantly try to figure out ways to make more interesting beers in a subtle way that people will enjoy. We've also just recently released nitro-infused cocktails in the taproom so that non-beer drinkers have something to enjoy as well.
Tell me a little bit about your head brewers.
Corey Regini has a pretty long legacy in the craft beer industry. She started out brewing in Colorado, where Terrapin reached out and recruited her to come to Georgia. She loved brewing at Terrapin but ultimately missed the smaller brewery feel, so we jumped at the opportunity to bring her on board. Our co-brewer, Pat Rains, and I went to college together. He was a head brewer at another local brewery a few years ago and had actually gotten out of the craft beer industry. We reached out to him when opening to see if he would sit down and give us some advice, and he ended up coming on part-time with us. 
What is your best seller in the taproom right now?
Our Fast Fjord is a Norwegian Farmhouse Style IPA that we released as a product test back in 2019. It became increasingly popular and is now our best seller in the taproom. It is brewed with a Norwegian strain of yeast called Hornindal Kveik Yeast, which is very unique because it can ferment out at much higher temperatures. This gives it a nice tropical flavor that everyone seems to love. 
Tell me a little bit about your Freedom Fighter IPA.
One of our connections through the Roswell Rotary Club is on a national task force to end human trafficking. They reached out and asked if we'd be interested in throwing a party to help raise funds for human trafficking. We loved the idea and decided to brew a beer and release it for the party in October. A few months later, Delta reached out to us and said that they were interested in having our Freedom Fighter IPA served on over 40 of their flights throughout the entire month of January in honor of Human Trafficking prevention month. Having one of the largest companies in the world ask to serve our beer was definitely a real pinch us moment. 
Where else can people find your beer other than the brewery?
We are distributed statewide, but we mainly focus on a 20-30 mile radius around the brewery. You can find us in Kroger, Publix, Trader Joes, local liquor stores, and we just recently started distributing to Walmarts around Roswell and Marietta. As far as getting our beer on draft, we are in restaurants at the Battery and the majority of craft beer-centric bars in the North Fulton corridor. 
Tell me a little bit about the events you have at the brewery.
We host cornhole nights every Tuesday and Wednesday in the spring with Cornhole Atlanta. We also have live music on both Fridays and Saturdays in the warmer months and just on Saturdays during the colder months. All of our bands are booked six months in advance and added to our calendar on our website so people know when their favorites are going to be in the taproom. We also allow customers to bring food in from outside as well as have a barbecue food truck on-site every Saturday afternoon. We also love to throw parties around things like St. Patrick's Day and we are also the main sponsor for Alive In Roswell and host block parties the first Thursday of every month. 
Can you give Suwanee Beer Fest attendees a sneak peek at what Gate City beers might be at this year's festival?
Our beer lineup at Suwanee Beer Fest is going to include our Copperhead Amber, Citras Maximus India Pale Lager, and our Raspberry Tarty McFly sour. 
Gate City is located at 43 Magnolia St. in Roswell. For a complete beer list and to stay up to date on taproom events, visit GateCityBrewingCompany.com or follow them on social media.