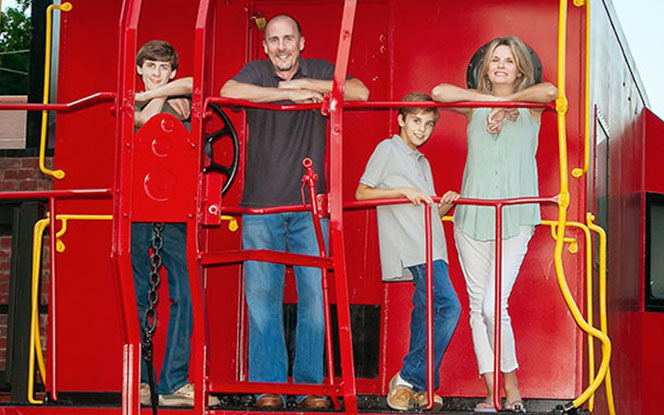 Suwanee teen and family remain positive in battle against rare form of cancer
BY: Rachel Fasig
Photos: Angie Barrett Photography
The O'Briens represent Suwanee's typical family: the type of family that gives back to the community and is a joy to be around. They have a beautiful home, a great marriage, awesome friends, a talkative cat named Allie and two boys: Parker, age 11 and Cooper age 13, who love sports, hanging out with friends, going to youth group and playing outside.
But, there is one major factor that sets them apart. Cooper O'Brien, an 8th grader at North Gwinnett Middle School, has Stage 3 Clear Cell Sarcoma – a cancer that started in a lymph node under his arm and recently spread to his lungs.
When Cooper was 11 years old, he noticed a small bump under his arm and his mom asked their doctor to take a look during a routine checkup. "Oh, it's nothing to worry about, the lymph node is just a little bit larger than normal," the doctor said. Two years later, the bump under his arm started irritating Cooper more, causing him pain around his armpit and down the side of his back. At that point, his pediatrician suggested getting it removed. The O'Briens were assured that there was nothing to worry about, that it was just a reactive lymph node, and he'd be better in just a day or two after a quick outpatient surgery.
Little did the O'Briens know that their entire world was about to turn upside-down.
When Cooper went under for his outpatient surgery, the surgeon noticed that the mass under his arm was large, deep and very concerning. He removed a small piece and told the O'Briens to wait three weeks for test results. Three agonizing weeks later, in May 2013, they found out that Cooper was fighting Stage 3 Clear Cell Sarcoma.
Kevin and Donna didn't know anything about this type of cancer, nor did they know how to even begin dealing with it. They proceeded to ask a million questions and discovered that only 1% of Sarcoma diagnoses are Clear Cell and that it's generally unresponsive to chemotherapy and other traditional cancer treatments. A state of numbness, depression, shock, anger and a rollercoaster of emotions hit the family.
Suddenly, they had to figure out how to fight this disease to try and save Cooper's life, all while continuing to make a living, remain positive and retain a sense of normalcy for the sake of their boys.
But, their friends, family, neighbors, coworkers, peers, classmates, church, school and the community of Suwanee was not, and will not, let them fight this battle alone!
In the past seven months, Cooper has been blessed with an outpouring of support. He was named Honorary Captain of the North Gwinnett High School football team during the Corky Kell Classic and again at the Class AAAAAA State Championships at the Georgia Dome. Knowing that basketball is Cooper's passion and that many of his friends are on the team, North Gwinnett Middle School named him Assistant Manager of the 8th grade boy's team. He had the opportunity to eat breakfast with the Atlanta Hawks, tour the Falcons stadium, meet Matt Ryan, fly a stunt plane on WSBTV 2, throw the starting pitch at a Gwinnett Braves game; and in November the entire O'Brien family was sent on a weeklong vacation to Oahu, Hawaii where Cooper got to fulfill his lifelong dream of swimming with dolphins – courtesy of Make-a-Wish Foundation. There have also been numerous fundraisers, including the "largest charity golf tournament ever hosted at the River Club in Suwanee," said Donna.
"It truly is amazing how everyone has embraced Cooper…we had no idea the community would support us like this. We are incredibly thankful!" said Cooper's father, Kevin.
The journey is just beginning for the O'Brien family as they search for further treatment options for Cooper. And although Cooper's type of cancer is rare and very aggressive, they remain hopeful. "You can't have a miracle unless you believe in a miracle. We're all going to be a part of something special," said Kevin. The O'Brien's said they try to make the best of each day they are fortunate to have.
Cooper's family is passionate about bringing awareness to his condition and hope that they can help other families who are also struggling. "The rare diseases and cancers get the least attention and the least amount of funding," said Donna. Because of that, Cooper's specific type of cancer has very few studies or clinical trials available, especially for children. But, there are initiatives in place to help bring more awareness and funding. The last day of February each year is Rare Disease Day – an international advocacy day to help raise awareness and generate action to help those struggling and their families.
So, how can you help the O'Briens? "First, with lots of prayers," said Donna. But, they also hope that their story reaches others, "we're trying to blaze the trail, hopefully we can help others that don't have the know-how, community and support that we're blessed to have," Kevin added.
Cooper continues to go to school and "wants to be just like every other kid," his mom said. He is a strong, young man and his positive spirit has inspired the community of Suwanee. As the O'Briens like to say: through Cooper, we're all witnessing a miracle in the making!
Visit rarediseaseday.us for more information about Rare Disease Day. Visit curecooper.com for more information about Cooper O'Brien or to make a donation to the family. ■