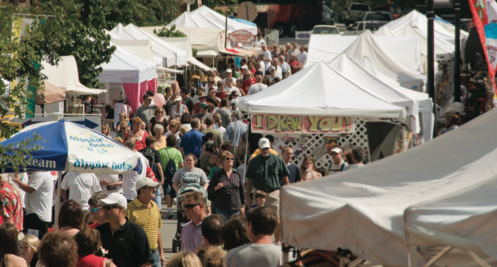 Duluth Fall Festival: Saturday, September 28th & 29th, BY: Kathryn Willis
Ask anyone in Duluth what is the biggest thing every year, and all would give the same answer, the Duluth Fall Festival. Almost everybody in Duluth is involved in one way or another. More than 400 volunteers don the annual Festival t-shirts, and most of the community, church, and school groups have their biggest fundraisers at the festival. Others look forward to just attending and having a great time.
This year the Duluth Fall Festival will be held Sept. 28 and 29. A parade through the streets of Duluth will kick things off on Saturday morning and then the opening ceremony will be held at the Festival Center located on the Town Green. In keeping with tradition, the parade will include dignitaries and more than 100 troops from Fort Benning. In fact, three former commanders of their unit will be our Honorary Grand Marshals this year. Continuous entertainment at two venues will follow.
On Sunday things start fast and furious with a 5K Road Race and more than 600 runners making their way through Downtown Duluth. A community worship service will take place at 10 a.m. on the Town Green followed by many different groups taking their turns performing and entertaining the crowd throughout the day.
However, the heart of the festival is found in the more than 350 arts and crafts and food booths. Festival attendees will find handmade crafts including: clothing, linens, furniture, jewelry, toys, fall and Christmas decorations, plus much more. There will be a "Man's Corner," a separate area for kids games, plus a full-fledged carnival – making the event a festival for the whole family.
The festival committee sponsors many other events as well throughout the year including Festival Taste of Duluth, an annual cookout, a community picnic, the Christmas tree lighting ceremony, community workdays, a free concert and various socials.
During the past 30 years, almost two million dollars has been donated to the city, and all funds that have been raised by the Festival through the years have been spent to improve Downtown Duluth. However, it's the camaraderie and friendships formed by all of these different people working together for a common goal that perhaps has been just as important as the funds raised and has gone a long way toward keeping the wonderful small town spirit of Duluth alive.
■ For more information, visit www.DuluthFallFestival.org