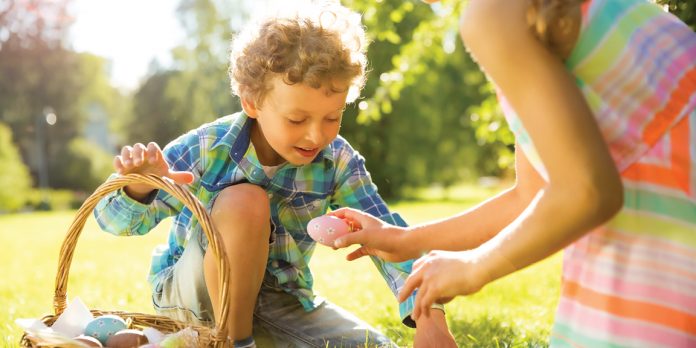 The days are getting longer, flowers are blossoming beautifully, and birds are beginning to sing their praises again. Spring is officially in the air! For many, Easter kicks off this glorious season of rising from the dark, cold winter and finally getting a taste of what's ahead — that warm, beloved sunshine.
By Natalie Garrett
If you've read any of my columns before, you can probably already imagine that I'm slightly obsessed with monogrammed Easter baskets, babies in bow ties and suspenders, and deviled eggs dyed pink, yellow, green, and blue (yes, been there, done that), but, for this issue I want to focus on highlighting one of the most fun aspects of celebrating this special holiday together. The egg-citement that can be seen only through our children's eyes, even if our vision is blurred by the overload of pastels and Peeps!
Time to think outside of the egg! We all know the kiddos will be itching to jump out of their Sunday best and into the taunting field of plastic eggs, but consider incorporating a twist on the ceremonial hunt this year. While littles everywhere are eager to bust open each egg and discover the treasure it holds, there are some different ways to transition this age-old activity into an even more memorable one for your family. Check out these ideas to potentially peak the interest of your Easter crew, including the older ones who might even become motivated to get back into the bunny business!
Hunters Come Out at Night
I tend to gravitate toward the glow-in-the-dark versions of games and activities… I suppose I have this notion that it can instantly add a bit of thrill? I mean, what could be more egg-citing than getting to stay up past your bedtime awaiting sundown, just so you can run wild into the night searching for illuminated prizes? If you opt for the miniature-sized glow sticks, they should fit comfortably into Easter eggs with room to spare for a small piece of candy. Win-win!
Color-Coded Favorites
Aside from the fact that color coding makes my heart happy no matter the task at hand, I think it would turn this occasion into one that the entire family could enjoy. By assigning each person their own egg color, you're not only leveling up the challenge a bit as each person is seeking out their dedicated loot, but it serves as the optimal chance to personalize the goodies inside. For example — blue could be Dad's color, filled with those oh-so-hopeful lottery tickets. Purple could be for Mom, reserved with her favorite gourmet candy that she is most certainly not obligated to share. Green could be allocated to the unenthusiastic teenager who would probably be willing to change his or her mind when they unexpectedly open some cash. Pink could be for the ultimate girly girl, adorned with assorted bottles of nail polish. Yellow could be for the energetic boy, stuffed with Hot Wheels that are ready to burn up the track. There's truly something for everyone if you go this route!

Brain Buster Race
This option is ideal for groups who are participating in a larger hunt together, or perhaps your older children who relish in a bit of sibling rivalry. Either way, I recommend having enough people who can turn this into a competition. First, you'll need two sets of Easter eggs and designated areas to keep the sets separated. Next, choose the brain buster you want to serve as the object of the game. This could be anything Easter related, such as a Bible scripture, poem, brain teaser, funny joke, etc. Print out your brain buster and cut individual pieces, breaking it up into single words (or phrases if you choose longer content). Insert each slice of the puzzle into an egg and then distribute them randomly throughout the hunting space so they're all mixed up. Now, the race begins! Allow each team to collect all of the eggs from their allotted area. Once they've retrieved all of their eggs, they must hurry to unscramble the words or phrases and figure out the correct order so they can read it from beginning to end. The first team to correctly reveal the secret brain buster wins the golden egg, which is the grand prize!
Everyone's Easter celebration is unique to their beliefs and traditions with loved ones. For our family, Easter Sunday always begins with church, followed by an afternoon field day. Playing games is a prioritized pastime in my husband's family, so it's a requirement to bring a change of clothes, tennis shoes, and an open mind in order to adequately prepare for the unknown ahead… only after we indulge in a scrumptious outdoor picnic, of course. So, whatever your Easter fellowship looks like and whichever egg hunt you choose, it's sure to be well spent if you slow down and appreciate what the day means to you and yours.