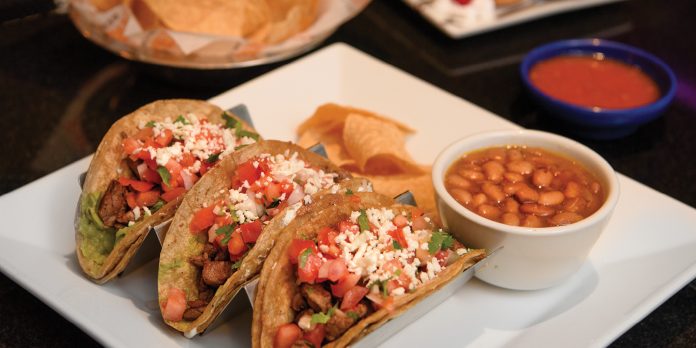 Suwanee staple Frontera Mexican Grill celebrates its 35th anniversary of serving metro Atlanta's favorite fajitas.
By Alicia Carter | Photos by Karl Lamb
Local restaurant group Norsan Restaurants has launched many successful restaurants in metro Atlanta over the years, including Frankie's the Steakhouse, Pampas Steakhouse, and Luciano's Ristorante. However, its very first restaurant concept, Frontera Mexican Kitchen, may be its most successful. Frontera Mexican Kitchen has served traditional Mexican favorites to hungry diners across the metro area since 1987, and has made a name for itself with its brand of fast-casual dining combined with exceptional service. This year, Frontera celebrates its 35th anniversary and has seen the type of success that many restaurants only hope to achieve. In fact, there are now 11 Frontera Mexican Kitchen locations, with a 12th planned for Hamilton Mill in the near future. It's safe to say that the restaurant's focus on service and its adherence to using only quality ingredients has played a large role in its growth and longevity.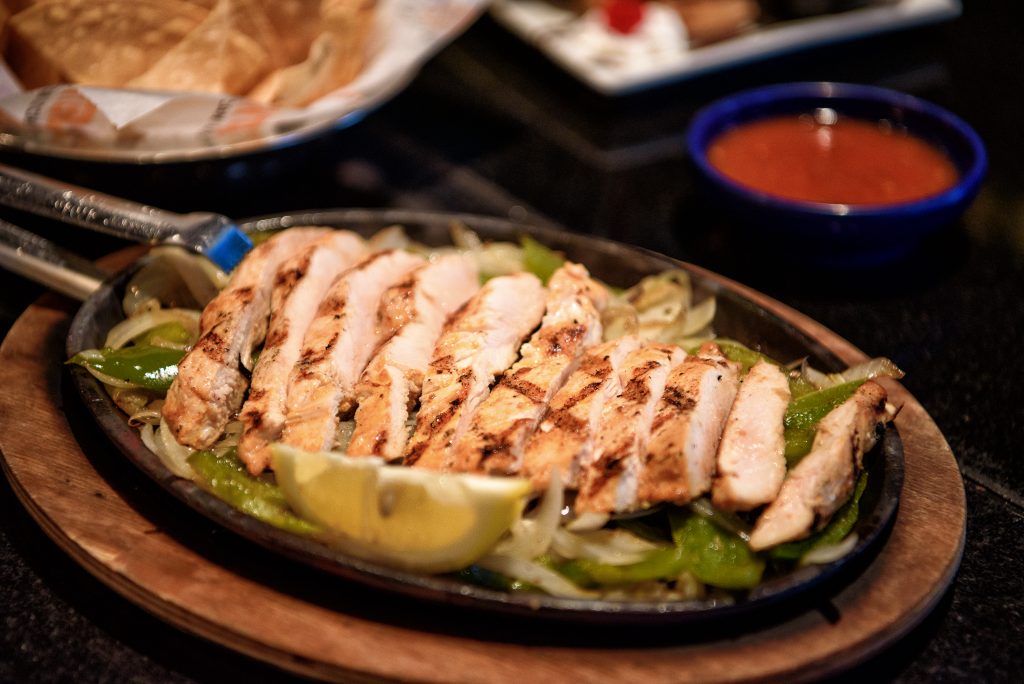 "We have really established ourselves as a staple here in metro Atlanta," says Gabriella Copello-Hall of Norsan Restaurants. "We're family-friendly but still serve high-quality food, and I think that's one of our unique selling points. We have a fast-casual vibe and we're a place that's friendly for people to bring their kids, but at the same time, we're serving amazing Mexican favorites. We source all our meats from our sister company, Prime Meats, so we're ensuring really good quality."
The high quality of the food is seen in menu standouts such as the burrito al carbon, which is served with either marinated skirt steak or grilled chicken breast strips and smothered in delicious cheese dip. The vampiro tacos are also a popular choice, and are described as a tasty combination of a quesadilla and a taco. They come served with Oaxaca cheese, a spread of guacamole topped with marinated New York strip steak, fresh pico de gallo, and fresco cheese alongside black refried beans.
"We're so much more than just a regular American Mexican restaurant because we offer some really cool stuff," Copello-Hall says. "The vampiro tacos are filled with steak, specialty cheese, double tortillas and are flash fried, which makes them unique. Our chicken fajitas are also a big hit. As part of our big 35th anniversary push, we've been coming up with some taglines and one of my favorites is 'Serving Atlanta's favorite fajitas since 1987.'"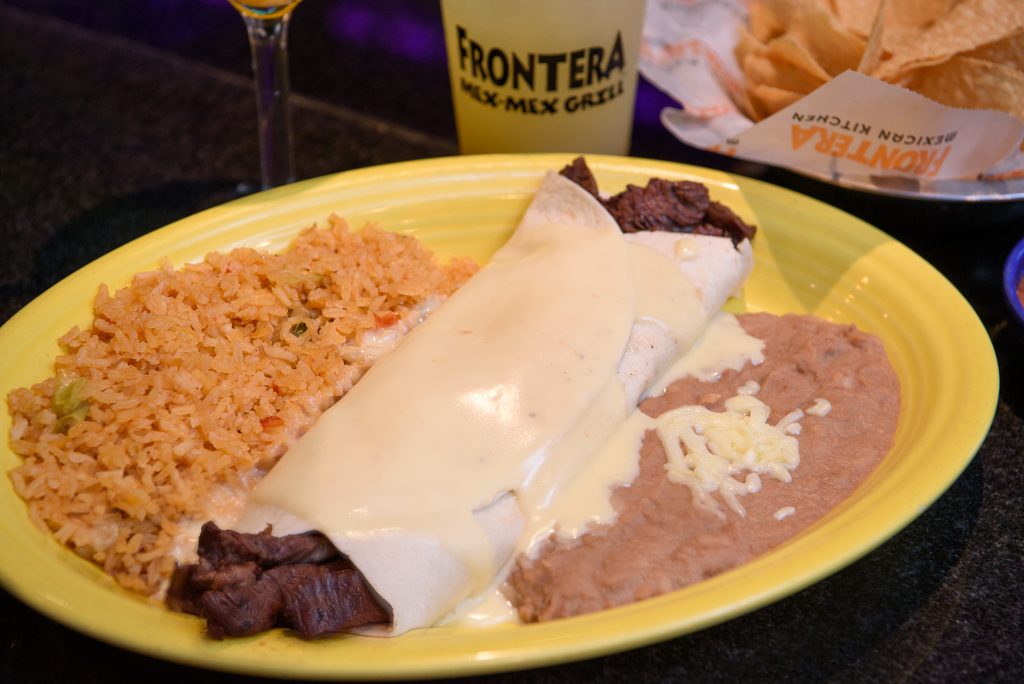 While the food will always remain the main event, Copello-Hall says that one thing that truly sets Frontera apart, as well as Norsan's other restaurant concepts, is their focus on service and creating an inviting atmosphere. "We want people to feel at home," she says. "Just like you feel at home at your local grocery store or your local coffee shop that you always go to. It's a place that's always there for you, always has your favorite food, and you know you're going to get exactly what you want. We work hard to connect all the different pieces of a cozy dining experience — friendly staff, comfortable seating, warm lighting, and even our decor, we want it to feel inviting."
The team behind Frontera has worked hard to build an atmosphere that is both family-friendly as well as a fun place to grab a few drinks after work. Copello-Hall praises Frontera's bar program, noting "you don't have to go down I-85 to Atlanta to get delicious, well-crafted margaritas." Frontera's drink menu includes Corona-ritas, sangrias, and a Skinny Margarita, as well as beer from local breweries such as StillFire Brewing. In addition to the inviting atmosphere, high-quality menu, and stand-out service, Frontera is also firmly securing its place in the future of dining with the introduction of Paquito, the restaurant's new robot server. "Paquito is friendly and he talks; he'll bring you your food," Copello-Hall says. "It's just a really cool and unique dining experience right here locally." A favorite among diners, Paquito has even been known to lead a cheerful rendition of "Happy Birthday" to guests celebrating at the restaurant.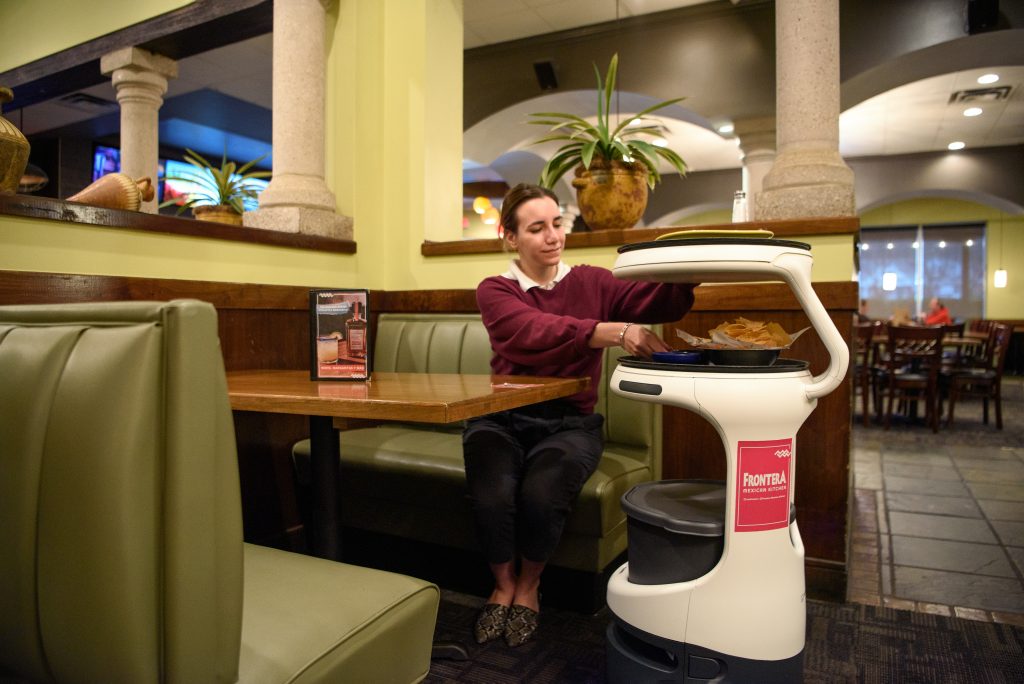 The future sure looks bright for Frontera Mexican Kitchen. With the addition of Paquito as well as a brand-new location opening soon, the restaurant isn't planning to slow down any time soon. And as long as they continue to focus on serving the high-quality food we've come to know and love, locals will continue to visit again and again.
Frontera Mexican Kitchen is located at 2137 Lawrenceville-Suwanee Road in Suwanee. For more information call 770-963-3872 or visit MyFrontera.com.